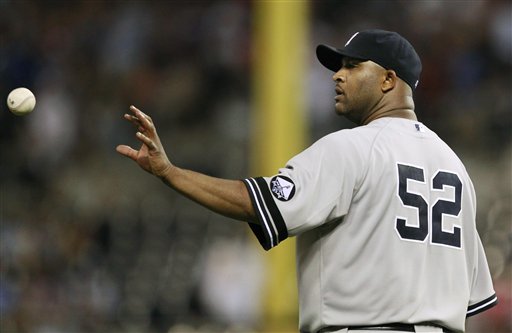 Despite having zero 20-win seasons to his credit, CC Sabathia has been here before. Just about two weeks his took the mound against the Orioles with a chance for his 20th victory of 2010, but the O's jumped on him early and often and sent CC and the Yankees home losers that night. Their game plan was to jump on Sabathia early in the count, so it'll be interesting to see how both sides adjust tonight. If Baltimore sticks with that same approach, I get the feeling that CC's going to chew them up and spit them out.
Here's tonight's lineup…
SS Jeter, Derek
DH Swisher, Nick – hey, look who's back
1B Berkman, Lance
3B Rodriguez, Alex
2B Cano, Robinson
C Posada, Jorge
CF Granderson, Curtis
LF Gardner, Brett
RF Curtis, Colin
And on the bump, it's Carsten Sabathia.
Boo for Saturday night games. This one starts a little after 7:00pm ET and can be seen on YES. Hopefully it's not a dramatic a last night, but with the same end result. Enjoy the game, everyone.