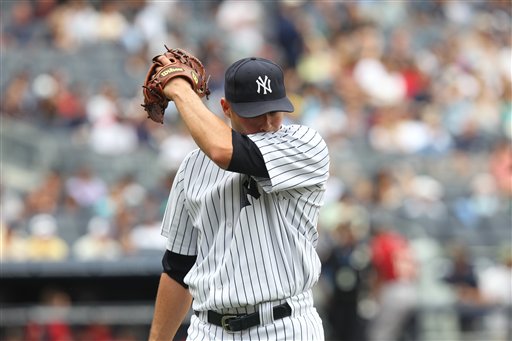 You could see it happening. It was that ugly seventh inning of last night's game, the inning when starter turned mop-up man Javy Vazquez fell completely off the rails. A walk then three consecutive hit batters to force in a run. That from a guy who had hit four batters in his first 149.2 innings of the season and has demonstrated good enough control to unintentionally walk just 2.1 batters per nine innings pitched this century. The game was basically lost by that point anyway, but in the big picture it was the moment that Vazquez lost any chance to ever pitch another meaningful inning in pinstripes. What happened in the last two innings was completely irrelevant, his fate had already been decided.
I wanted to like Javy, and I still do like him actually. He's an extremely nice and self-deprecating guy, or at least he comes across that way in interviews, but that doesn't count for anything on the mound. While I certainly appreciate that mid-season stretch when he was arguably the team's best pitcher, he's been basically unusable since mid-July. The Yanks tried tinkering with his mechanics, tried giving him extra rest, tried him in the bullpen, but the results just aren't there any more. The stuff, to put it kindly, has deteriorated to junk, and he hasn't been able to adjust to it yet.
That's not to say that Javy is a lost cause forever, remember it took Mike Mussina a year or so to figure out how to pitch with his mid-80's gas. But for the Yankees, that's it, any chance Vazquez had at redeeming himself was washed away when that curveball hit Kelly Shoppach in the back to force in a run last night. There's almost no chance of him making the postseason roster even as the "break glass in case of emergency" 11th reliever, there's absolutely no chance of the Yanks offering him arbitration after the season even though he projects to be a Type-A free agent (by the skin of his teeth).
Sure, Vazquez will throw some garbage time innings when they're resting the regulars next week, but if it wasn't obvious before, it is now. He's just too unreliable for a team trying to win a World Championship, and he won't get another opportunity to prove himself. It's kinda sad when you think about it, especially since the trade was pretty well-received at the time. The Yanks gave up so little for a guy that seemed certain to give them 200 innings of at least average pitching. Arodys Vizcaino had never pitched in a full season league, Mike Dunn is a usable bullpen piece but hardly a shutdown reliever, and Melky Cabrera was about to get super expensive ($3.1M salary this year [!!!], and just think, if the Melkman was still around, he'd have taken at-bats away from Brett Gardner). All three were easily replaceable, and effectively have been already.
Anyway, back to Vazquez. The anti-Javy crowd that maintain that he can't handle New York will think they're right when in reality it was just his stuff that betrayed him. The fastball velocity is gone, the breaking ball doesn't bite anymore, and the changeup isn't as effective as it used to be because the fastball isn't there to back it up. It's gone downhill so quickly that I can't help but wonder if he's hiding an injury. And if he is I guess it's admirable, but he did himself nor his team any good by pitching through it.
If an offseason of rest manages to help him get healthy, some East Coast National League team is going to get a pretty sweet deal when they sign Javy for one year and about $4M this winter (my money's on the Marlins, nice and close to his home in Puerto Rico) and he gives them bulk innings against lesser competition. Either way,  last night was almost certainly the last time he'll ever pitch in the Bronx as a member of the Yankees, and ironically enough, there weren't enough fans left at the park to boo him off the mound.