After two somewhat tense but otherwise gratifying wins in the first two games of the series, Wednesday's game against the Rays was a complete let down in pretty much every way. Tampa jumped out to an early lead, then a two hour and 11 minute rain delay interrupted the bottom of the third inning. Once the game resumed the Yanks just couldn't seem to dig themselves out of a hole the bullpen kept digging, and the end result was just their second loss in the last six games.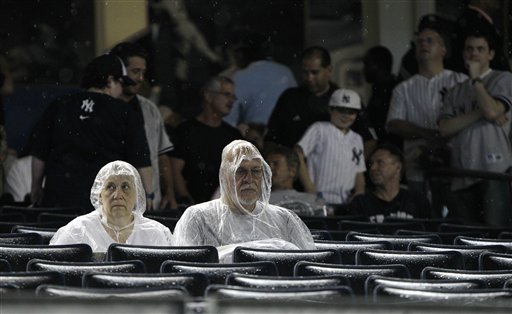 Back-To-Back And There Goes The Ballgame
More than anything else, the most annoying part of this game was that every time the Yanks scored, the bullpen immediately gave back the runs if not more. Chad Gaudin came into the game for reasons unknown in the seventh inning after the Yanks closed the gap to 3-2, and he actually managed to get two quick ground outs from John Jaso and Ben Zobrist. Three pitches later, the Rays had two more runs thanks to back-to-back solo homers from Carl Crawford and Evan Longoria. Ho hum, as if we should have expected otherwise.
Crawford's homer was the biggest WPA swing of the game for Tampa at +.139.
Fat Elvis Has Left The Building
About the only bright spot for the Yanks in this game was Lance Berkman getting his first homerun in pinstripes. Jeremy Hellickson left a 1-2 changeup up a bit, Berkman put a good swing on it and hit it out to right-center. It wasn't a total cheapie, a few rows back, but it's certainly not a ball that would have left all 30 parks. Anyway, I'm glad Lance got that out of the way. Hopefully a few more start to follow.
Garbage Pitchers In Non-Garbage Time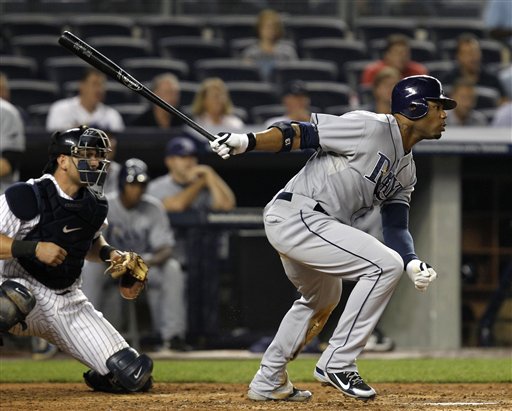 I understand that when the weather causes a delay, especially early in the game, it can be rather tough to navigate all those innings with the bullpen. That's true even in September when there's plenty of extra arms around. Joe Girardi turned to the southpaw Royce Ring after the delay because a bunch of lefties were due up, and he chipped in five rather uneventful outs before walking John Jaso. Not bad for a guy making his first big league appearance since August 1st, 2008.
Dustin Moseley relieved Ring and naturally got smacked around, his first action in ten days. Five of the first six men he faced picked up a hit (Ring's inherited runner scored), and the only reason he escaped the sixth inning with just one run crossing the plate is because Mark Teixeira put on a nice little clinic at first. He threw a runner out at the plate on the groundout before turning a nifty 3-6-3 double play to end the inning.
Gaudin replaced Moseley, pitching for the sixth time in the last twelve games, and he of course gave up those two homers. His line in those six games: 5.2 IP, 9 H, 6 R, 6 ER, 4 BB, 4 K, 3 HR. He doesn't deserve to be on the postseason roster, but I bet you he is anyway. Jon Albaladejo relieved Gaudin and immediately walked the first two men he faced, the second of which he forced in a run. He then allowed another run in the ninth. I'm guessing the ten days' worth of rust was an issue.
It's not so much that they pitched poorly as a group (aside from Ring, really), you have to expect that with these guys, it's that this game was still very winnable. It was 1-0 coming out of the rain delay and still just a one run game when Gaudin entered in the seventh. It just makes Girardi seem hypocritical to go with the garbage time relievers in a close game after he said "Our goal is to win the division" that afternoon. I have no trouble with him resting guys before the postseason, none at all, but the walk and the talk don't match right now.
Leftovers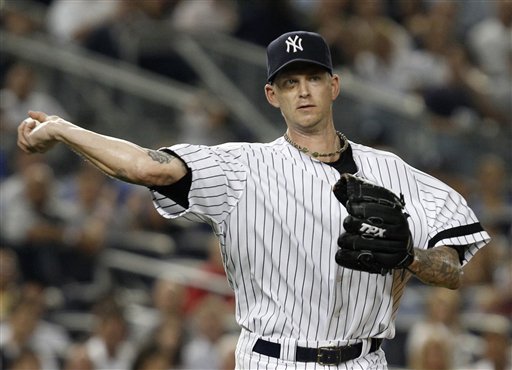 A.J. Burnett was generally okay in his three innings of work before the rain. The first inning run scored on a ground ball single between Robbie Cano and Mark Teixeira, a walk to move the runner into scoring position, a ground out to move the runner to third, and then a sac fly. He allowed a single in the second (another grounder) and a walk in the third, but that's pretty much it. A.J. threw 51 pitches total, 33 for strikes. It was his second rain shortened outing in his last three starts and at least his third this season.
Aside from Berkman's homer, the offense did a whole bunch of nothing. Alex Rodriguez drove in the other run with a bloop single to left and Derek Jeter extended his hitting streak to 11 games with a 2-for-4 effort. Tex took yet another 0-fer and is now seven for his last 57 (.129) with 14 strikeouts. I get that he's nursing a broken toe and bruised hand (and he got hit by pitch in the back of the leg in this game), but there's been way, way too many cold streaks from him this year. Hopefully he finishes strong and mashes in the playoffs.
The Red Sox managed to beat the Orioles, so the magic number to clinch the division remains at three. The division lead shrunk to one-and-a-half games with the loss.
WPA Graph & Box Score
Look at that thing, the game was so close until frickin' Gaudin showed up. Sigh. Anyway, MLB.com has the box score, FanGraphs some other stuff.
Up Next
Series finale tomorrow night is a rematch of last week's pitching duel. CC Sabathia takes on David Price at 7pm ET, except this time the Yanks' bullpen is rested and ready to go. I think.