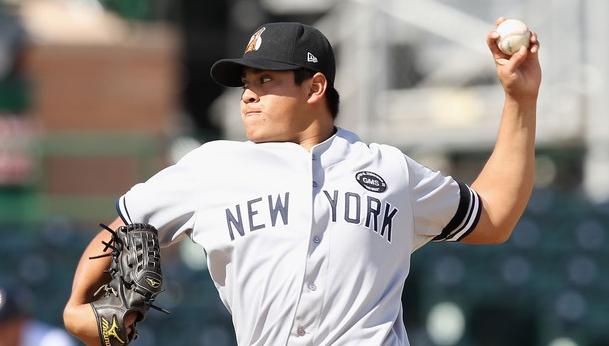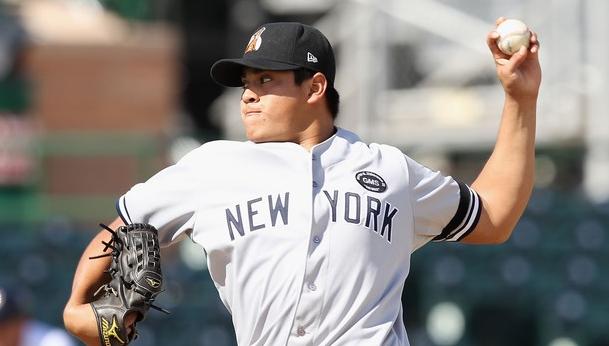 Manny Banuelos | LHP
Background
Born in Durango, Mexico, Banuelos signed with Sultanes de Monterrey of the Mexican Baseball League at a very young age (I can't figure out when, exactly) and as far as I can tell he never pitched for them. Lee Sigman, the Yankee scout that covers Mexico, signed a then 17-year-old Banuelos away from Monterrey along with three other players in early 2008 for a total of $450,000. Al Aceves also came over in the same transaction.
Pro Career
The Yankees held Banuelos back in Extended Spring Training after signing, and he made his professional debut later that summer with the team's rookie level Gulf Coast League affiliate. He made three starts and nine relief appearances with the GCL Yanks, pitching to a 3.72 FIP in 42 innings. Banuelos was assigned to Low-A Charleston as an 18-year-old the next year and he was nothing short of brilliant. He logged an impressive 108 innings with the River Dogs, striking out 8.67 and walking just 2.33 men per nine innings, good for a 2.76 FIP. Although he was selected to the Futures Game, Banuelos did not pitch in the game because of a weather delay. The Yankees rewarded him with a late season promotion to High-A Tampa, and he tossed a perfect inning of relief (two strikeouts) in his only appearance with the team.
Still just 19-year-old, Banuelos was scheduled to start the 2010 season with Tampa before an appendectomy got in the way. He had surgery in Spring Training but was out until late-June, then he made two quick rehab starts (5 IP, 1 H, 1 R, 1 ER, 3 BB, 6 K) before moving up to Tampa. Banuelos was once again brilliant, making ten starts in High-A this summer. He struck out 62 and walked just 14 in 44.1 innings, a stout 1.71 FIP. Not wanting to waste that kind of performance in the low minors, the Yankees bumped Banuelos up to Double-A Trenton at the end of the season. He made three starts with the Thunder, striking out 17 and walking eight in 15.1 innings (4.24 FIP).
Although Monterrey retained Banuelos' winter ball rights, but the Yanks worked out an arrangement with them that allowed the lefty to participate in the Arizona Fall League this year. He made seven starts with the Phoenix Desert Dogs, striking out 16 and walking ten in the notoriously hitter friendly league. All told, Banuelos has thrown 240.2 innings as a pro, during which time he's struck out 244 batters and walked just 72. He's also allowed just ten homers.
Scouting Report
The scouting report on Banuelos has changed quite a bit since he signed. He joined the Yankees as a short little left-hander that offered an 88-90 fastball with inconsistent offspeed pitches, but he's added velocity and developed more consistency in his three years with the organization. Still short and left-handed, Banuelos is listed at 5-foot-10 and 155 lbs., but there's no way that weight in current. He's probably closer to 175-180 or so, maybe even more. His fastball now routinely sits 90-94 and he ran it up as high as 96 during the summer, backing it up with a changeup that fades down-and-away from righties. That's his second best pitch. Although his curveball is improving, it's still inconsistent with some development left.
Banuelos earns praise for three things. First is his simple and deceptive delivery and the way the ball explodes out of his hand. His fastball jumps on hitters and often leads to ugly swings, allowing him to pitch upstairs consistently. Second is his control and command, which is already major league average and continuously improving. Third is the tremendous poise and mound presence he exhibits, which is what caught the Yankees' attention in the first place. It's worth mentioning that there's no projection left in Banuelos' frame; unless he has an early-20's growth spurt, what you see is what you're going to get. Regardless, it's a front-of-the-rotation package thanks to progress he's made during the last three seasons.
Here's some video courtesy of Mike Ashmore, and you can find a ton more on YouTube.
2011 Outlook
After finishing up this season with three starts at Double-A Trenton, Banuelos will return there to start the 2011 campaign. He's still extremely young (doesn't turn 20 until March), so there's no rush. Expect the Yankees to keep him there for the majority of the season, and if any promotion does occur, it likely won't come until August or so. A lot would have to go right for Banuelos while a lot goes wrong at the big league level for him to make his major league debut in 2011. A 2012 debut is far more likely, and even then he'll still just be 21 years old.
My Take
While you can certainly make a case for Dellin Betances or Andrew Brackman, Banuelos is the best pitching prospect in the organization in my book. I love the combination of age, stuff, command, and poise, plus he's got a much better health record than those guys. I honestly can't remember the last time the Yanks had a left-handed starter with this kind of potential in Double-A, we probably have to go all the way back to Brandon Claussen or Eric Milton. My only real concern is long-term durability given his size, but that's more anecdotal than anything else. The Yankees have something special in Banuelos, but the real test begins now that he's in Double-A.