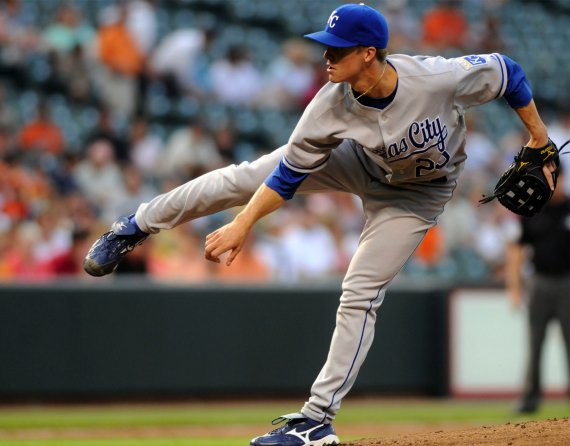 Yesterday we were all a little shocked to see the Royals trade Zack Greinke to the Brewers. That led to two inevitable questions. First, could the Yankees have topped Milwaukee's offer? Second, what players would it have involved? As normally happens with these situations, at least one of those questions got a bit clearer the day after. It started with SI's Jon Heyman reporting that the Royals wanted Jesus Montero and Eduardo Nunez. But, while he reports that Greinke would be amicable to a New York move, the Yanks "weren't convinced NY was right for the kid."
Before we jump to conclusions about what this means, let's make sure to note the caveats that go along with Heyman's statement.
1) The Royals might have wanted Montero and Nunez, but they likely wanted more than just those two.
2) There's no guarantee that the Royals would have even taken the Yankees package had they offered it.
3) We don't know what he meant by the Yanks not thinking NY was right for Greinke. We also don't know where that information originated.
Let's start with the last point first. Might social anxiety disorder have affected Greinke to a greater degree in New York than elsewhere? Maybe. Maybe not. To make an assumption either way is a folly. For most of the off-season we've heard comments about how Greinke couldn't handle the pressure of New York, with the only evidence being SAD. But SAD comes in many varieties, and literally no one making such a comment has any idea what Greinke has experienced. Any presumption of his reaction to New York, then, is further folly. The only things we know about Greinke involve his performance on the pitcher's mound.
That works both ways. After reading Joe Posnanski's brilliant profile of Greinke on Friday, I was even more convinced that Greinke would be a fit in New York. A guy who despises losing above all? That seems to fit right in with the New York mindset. Yet to think that his SAD wouldn't affect him in New York is as great a folly as assuming that it would. We don't know what it would do. Again, all we can do is judge him as a ballplayer. That moves us to the first point.
That goes back to the argument that Joe Sheehan made, and that I echoed, last week: only trade Montero for the very best. In many ways, Greinke ranks among the very best. But in other ways he might not. The biggest obstacle here is not Greinke's performance or his health issues, but rather his time under team control. He becomes a free agent after the 2012 season, which means the Yankees would be giving up six-plus years of Montero for two of Greinke. During that time span Greinke will make $27 million. Montero likely won't make $27 million total until, at the very earliest, his second year of arbitration. And if he made a cumulative $27 million after his second year of arbitration, he'll have put up some absolutely insane numbers.
Then there are the other chips to consider. As Joel Sherman notes, the Yankees view Nunez as a starting shortstop. He might not be as good a prospect as Alcides Escobar, even in the Yankees' lofty estimation, but if they view him as a starter they shouldn't treat him as a throw-in for every potential trade. On top of that, the Royals probably wanted one of the Yankees' many right-handed arms. At this point we're at a pretty substantial package. I'd argue that Montero, Nunez, and a RHP — whether it be Betances, Warren, or whoever — can provide more value to the Yankees in the next six years than Greinke will. That might come through performance, or through inclusion in another trade. But when we add up the value these players will provide, I'm confident it will be more than Greinke's value in the next two seasons.
The Yankees have a difficult balancing act right now. They have a small window for their current crop of superstars. But then they have to reload for the next window. If they trade Montero for Greinke they lengthen the current window, but they hamper their chances of re-opening one soon. That might be tough for many of us to reconcile. After all, we want them to have the best possible team in 2011. But holding onto Montero is the correct move here. His bat will help replace the production of their current aging superstars. That should help them maintain a top team for years to come.