With the stench of a record-setting six double plays still on their uniforms, the Yankees took the field on Saturday afternoon looking to get back on the winning side of things. The starting pitching has been sketchy at best early in the season, and everyone was understandably skeptical when Freddy Garcia toed the rubber in the first inning. Sweaty Freddy is already operating with a slim margin of error, but add in the fact that he'd thrown one inning in the last two-and-a-half weeks, and well … I was scared.

Like A Chief
Even without Josh Hamilton, the Rangers have a great offense. The lineup is deep and balanced, capable of beating you with power and/or speed. And they were no match for Garcia's slow, slower, and slowest approach. Sweaty Freddy threw 84 pitches on the afternoon, and not a single one clocked it at more than 87.5 mph according to PitchFX. He threw "fast"balls, curveballs, changeups, sliders, splitters, you name it. It was a good old fashioned junk festival, yet Texas squared very few pitches up and mustered just two hits off the Yankee starter.
It's impressive enough that Freddy silenced the Rangers bats like that, but it's even more impressive that he did it in an almost constant rain and brutal cold. He's been around, this guy has pitched through everything and it showed today. Garcia changed speeds not only with different pitches, but within the same pitch as well. One changeup would be 83, the next 78. As cliche as it sounds, he straight up "pitched" today, mixing everything up and keeping the Texas batters guessing. Tip your cap to the guy, I think CC Sabathia's seven shutout innings against the Twins two weeks ago is the only other game by a Yankees starter that tops this one. Freddy brought the pain on Saturday.
Teixeicuted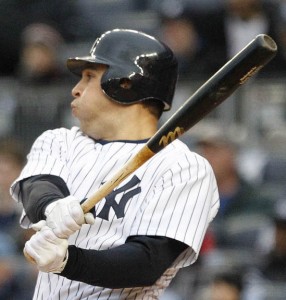 Of course, Garcia's fine pitching work was only half the battle, the Yankees had to score some runs as well. They took care of that right in the first inning, when Mark Teixeira clubbed his fifth homer of the season. Nick Swisher was on first after turning an 0-2 count into a 3-2 count and then into a single, so this shot counted for two. The most impressive thing about the homer? Tex was batting right-handed (against the lefty Derek Holland), and he hit it out to the opposite field. It was his first opposite field homerun as a right-handed batter since 2008, his fourth since 2005, and the tenth of his career. We're talking about a guy with 280 dingers to his credit.
Two innings later, Teixeira helped tack on what proved to be the game-winning run. Derek Jeter led the third inning off with a walk, then moved over to third on Swisher's double. Tex handled a 0-2 fastball and drove it to center, plenty deep enough for Jeter to jog home on the sacrifice fly. RBI's are stupid except when someone on your favorite team has a lot of them, and Teixeira now leads the American League with 14.
An Almost-Meltdown
Because he hadn't started in so long, Garcia was lifted after six innings even though his pitch count was still very manageable. Joba Chamberlain struck out two in a scoreless seventh, but things got out of hand in the eighth. Rafael Soriano, the all-important Eighth Inning Guy™, wasted no time giving the Rangers some life, allowing a leadoff ground-rule double to Mitch Moreland. A Julio Borbon ground ball move Moreland over to third, but then Soriano walked Ian Kinsler on five pitches. Just like that, Texas had the tying run at the plate with the heart of the order due up.
Elvis Andrus, who I still hate after his garbage infield hit barrage in the ALCS, slapped a single to right to plate the Rangers' first run and again put men on the corners. Michael Young followed that up with a junkie infield single, and all of a sudden the tying run was in scoring position (go-ahead run on first) with the 4-5-6 hitters due up. Soriano threw Adrian Beltre nothing but cutters and sliders, hanging a few but lucking out because they were either a) fouled back, or b) crushed deep into the outfield before being blown just foul by they wind. Serious, Beltre missed a three-run homer by about five feet, tops. The seventh pitch of the encounter resulted in a lead-preserving 4-6-3 double play, ending a 27-pitch outing for Soriano.
I guess the good news is that Rafi's missing velocity came back; he threw several pitches at 93-94 and averaged a little over 91. Soriano didn't get one swing-and-miss though, and he's already allowed six earned runs this year after allowing just a dozen total last year. There was talk after the game that he has trouble pitching in the cold (in fairness, it was ugly out today, cold and wet), but this guy spent the first five years of his career pitching in Seattle. You'd think he'd be used to it by now. If the cold really is that much of an issue, they're going to have to find someone to take his place on the roster if the Yankees make the postseason, because that kind of performance simply won't cut it.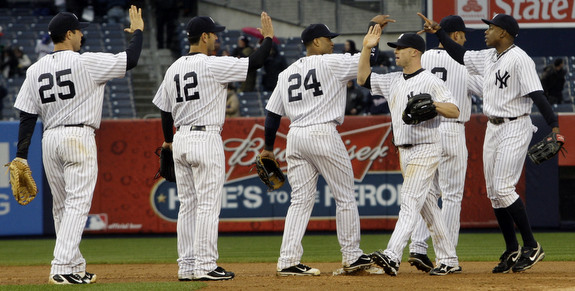 Leftovers
After Soriano's near-blowup, Robinson Cano got the runs back with a two-run homer off the right field foul pole in the next half-inning. That was Holland's 112th pitch of the day, which seems completely ridiculous since a) it's April, b) they were losing, c) he's 24, and d) he spent nearly three months of last season on the disabled list with a shoulder issue. I get that Nolan Ryan wants to extend his pitchers and get to work a little deeper into games, but my goodness.
Alex Rodriguez left the game in the sixth inning with what was called "stiffness" in his lower back and oblique. Joe Girardi said after the game that he'll see how A-Rod feels tomorrow before deciding whether or to put him in the lineup. Given how great he looks at the plate, I wouldn't have any problem if they played it safe and gave Alex tomorrow off. Better one day now than a whole bunch later.
It's amazing how much better Jeter looks against left-handed pitching than he does against right-handed pitched. He only reached base once today (on that walk), but he also drove a ball deep to left-center that the wind knocked down. In the middle of the summer, that ball might have been a homerun, which would have been no small feat for the Cap'n.
Swisher and Andruw Jones had two hits apiece, and Curtis Granderson beat out an infield single. Mariano Rivera was himself in the ninth, reminding everyone what a real eight-figure reliever looks like after Soriano's sloppy inning.
Believe it or not, this was Garcia's first scoreless start of at least six innings since September 19th, 2006. For some perspective, the Yankees starter that day was … Jeff Karstens. Yeah, it's been a while.
WPA Graph & Box Score
MLB.com has the box score and video highlights, FanGraphs the nerd score.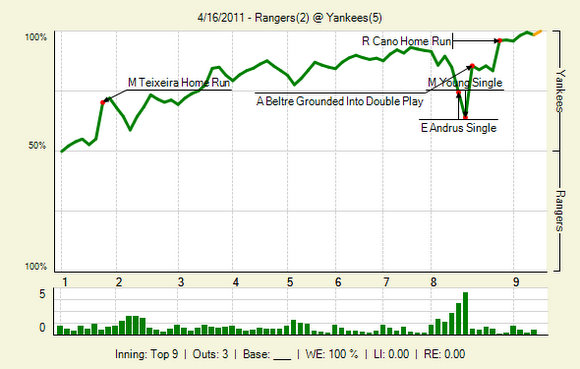 Up Next
For the second straight weekend, the Yankees will play the rubber game of their series on ESPN's Sunday Night broadcast. CC Sabathia gets the ball against Alexi Ogando. Just win series, baby. Just win series.