It was bound to happen at some point, it's just unfortunate it had to happen against the Yankees. The Red Sox won their first game of the 2011 season on Friday, eight days after New York captured its first W. It was a fairly typical Yankees-Red Sox game in that it featured a lot of offense, a lot of pitching changes, and lasted about four hours.
The Phil Hughes Problem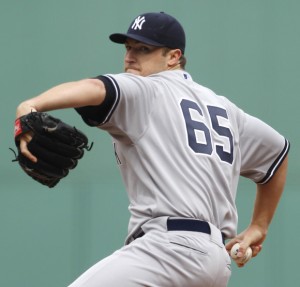 For the second straight start, Hughes was simply awful. He was actually worse than his first start against the Tigers, both in line score (2 IP, 7 H, 6 R, 6 ER, 2 BB, 0 K) and overall look. Phil's fastball was fast in name only, topping out at 91.9 mph (one of just eight pitches over 90) and averaging just 89.84 mph. His breaking balls just tumbled, they didn't have any sharp break and were just spinning in place it seemed. Of his 47 pitches, 30 (!!!) were cutters, and that's no way for a non-Mariano Rivera pitcher to live.
"[I was] just trying to find a way to get [batters] out," said Hughes after the game, essentially admitting that he has no answers for his troubles. He pitched defensively, afraid to come near the zone and challenge hitters, and he paid dearly. The Yankees can talk all they want about not being worried because they believe he'll find the missing velocity, but they should be concerned. You almost hope he's hurt in some way (not seriously, of course), because at least then we'd have some kind of explanation. I assume the team will have Phil checked out medically (MRI or whatever) just to be certain; they'd be foolish not to.  Their prized 24-year-old right-hander looks like a shell of his former self.
What's the solution? I wish I knew. In my completely amateur opinion, I think they should let Hughes take another turn or two just to see what happens, because maybe it is something as simple as building up arm strength. If that doesn't work, then you consider a disabled list stint or a trip to minors since Kevin Millwood's opt-out date will be fast approaching. The Phil Hughes that was on the yesterday was not a Major League pitcher, and there has to be concern.

The Bartolo Colon Solution
Hughes was relieved by a guy who knows all about losing stuff and fighting back, and boy, was Colon sharp. He worked both sides of the plate with two fastballs, a straight four-seamer and a running two-seamer that resulted in quite a few called strikes. Colon used the Greg Maddux pick rather effectively a few times to strike out lefties, throwing that two-seamer inside and having it dart back over the inside the corner. For my money, I don't know if there's a prettier pitch in baseball. Here, look. Gorgeous. (thx Rich Iurilli)
Colon threw 62 pitches over 4.1 innings, striking out five against just two hits and one walk. He allowed an unearned run in the fifth then one earned run when he wasn't even on the mound, but we'll get to that in a bit. After Hughes' awful two innings, Colon gave the Yankees plenty of time to get back in the game, and frankly he looks like he belongs in the rotation. It was only one outing of course, but if the Yanks do end up having to yank Phil from the rotation at some point, Bartolo made a fine case for a starting spot today. Give that man a round of applause.
The Boone Logan Problem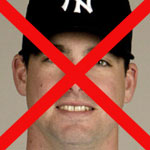 With Pedro Feliciano on the shelf for what I'm just assuming is indefinitely at this point, Logan is the guy Joe Girardi is going to turn to to get out tough lefties. Three appearances into the season, he hasn't come close to doing that. With a man on first in the seventh, Logan ran a 3-1 count to David Ortiz before allowing a double off the monstah. A full count to J.D. Drew and an RBI single followed that, a run that was charged to Colon. Logan allowed the first five left-handed batters he faced this year to reach base before retiring Jacoby Ellsbury to end that inning.
I saw some people jump on Girardi for lifting Colon, but I don't agree with that for a second. That's all on Logan, he's got to get the job done there, plain and simple. For a guy whose track record of success in the big leagues consists of like, 20 innings at the end of last season, Logan needs to improve his performance and fast. He's not exactly an indispensable cog in the machine.
General Awfulness
Mark Teixeira went 0-for-4 with a walk and is now hitless in his last eleven at-bats. Jorge Posada took an 0-for-4 as well and is hitless in his 14 at-bats. That dates back to his second inning homer off Scott Baker in the first game of the Twins' series. Russell Martin has two hits (both singles) in his last 13 at-bats, and Curtis Granderson has just three singles in his last 20 at-bats, though one came in this game. That's a lot of slumping bats in the lineup at one time.
Derek Jeter's 1-for-5 effort was marred by sixth inning double play that ended the inning. The Yankees had men on first and second at the time and were down by just a run, and former Yank Al Aceves was asking for trouble, missing his spots badly. Jeter let him off the hook though, the double play checked in at -.143 WPA. The only play that decreased New York's chances of winning more was Dustin Pedroia's two-run single in the second (-.176 WPA). If that wasn't bad enough, the Cap'n popped up a first pitch bunt after John Lackey walked Brett Gardner to lead off the game. Lackey walked two batters in the inning and the Yankees ended up scoring two runs despite Jeter gift-wrapping Boston an out.
For the second straight game, Tex let a playable ball slip under his glove for a run scoring hit. Maybe we've set our standards too high because of his glovework over the last two years, but those are balls he's got to scoop up to save some runs. Just knock it down at least.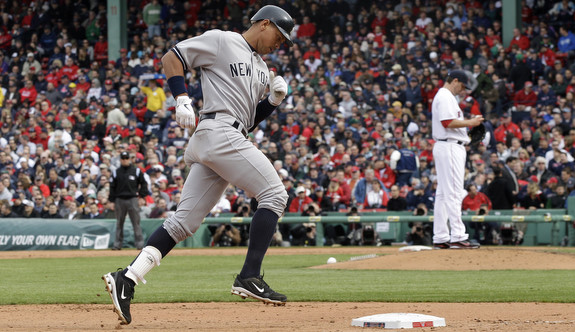 Bright Spots
We've talked enough about the bad stuff, let's make sure we mention the silver linings as well. Brett Gardner was awesome, reaching base four times thanks to a double, a triple, and a pair of walks. He also stole a base and saw 23 pitches in five trips to the plate, and has reached base in six of his last eight plate appearances. That's more like it.
Alex Rodriguez clubbed a solo homer to lead off the fifth, and he also reached base on a walk and a hit-by-pitch. A-Rod scored half of the team's six runs because Robbie Cano was doin' work behind him. The second baseman had two doubles, the first clear over Ellsbury's head in center and the second off the big green wall. Only he could start the season with multiple hits in nearly half his games and still make it appear as if he's slumping.
Believe it or not, David Robertson did not get dry humped. He warmed up and actually pitched in the game, working a scoreless eighth inning after Logan let things get out of hand. The Red Sox mustered very little offense against non-Hughes and Logan pitchers in this game, which I suppose bodes well for tomorrow, right?
WPA Graph & Box Score
MLB.com has the box score and video highlights, FanGraphs the nerd score and no video highlights.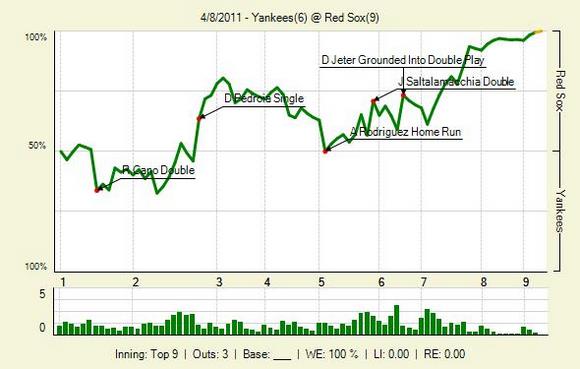 Up Next
Game two of the series will be broadcast on FOX tomorrow afternoon (boo) at 1:10pm ET, not the usual 4pm start FOX throws at us. Ivan Nova gets the ball against Clay Buchholz.