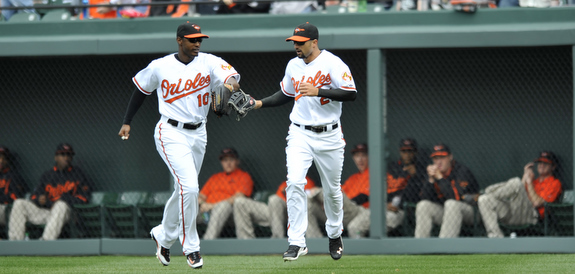 Take a look at the AL East standings, and you'll see an unfamiliar name at the top. The Baltimore Orioles, at 6-3, lead the division (one game better than the Yankees) and have the sixth best record in all of baseball. Buck Showalter's magic from late last season has apparently trickled over for the time being, though real improvement was definitely expected this year. I feel pretty confident saying the Orioles' true talent level is not a .667 winning percentage, but they aren't the total pushovers they've been for the last decade or so.
Unfortunately, it looks like the weather may be a factor in this series. There's a 70% chance of rain from right now through basically tomorrow morning. There's also a 50% chance of rain tomorrow night, though Thursday looks to be nice and sunny in the boogie down. Who really knows with the weather, the rain could wreck the series or not have any impact whatsoever. Finding a makeup date won't be an issue, these two clubs play enough games throughout the season. Here's a look at the coming series, in which first place be on the line*.
What Have They Done Lately?
Like the Yankees, the O's are coming off a scheduled off-day on Monday as well as a weekend series that saw them lose two of three. Baltimore ran into the juggernaut known as the Texas Rangers, though Mother Nature spared them defeat on Friday with some thunderstorms. Rookie southpaw Zach Britton stuck it to Texas for 7.2 shutout innings Saturday afternoon, resulting in the Rangers' first (and only) loss of the season. It all went south from there for the Orioles, who lost 13-1 on Saturday night before getting shutout three-zip on Sunday.
Despite their hot start, the Orioles have lost their last two games and three of their last five. That happens when you play the Rangers and run into Justin Verlander. They've also had three days off in the last week, so they're well-rested, if nothing else.
Orioles On Offense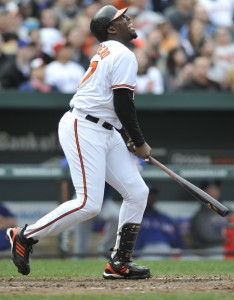 Much was made of the Orioles' offseason improvements, which saw Vladimir Guerrero, Derrek Lee, Mark Reynolds, and J.J. Hardy join the likes of Brian Roberts, Nick Markakis, and Luke Scott. Well, a little over a week into the season, all Baltimore has to show for those upgrades is 35 runs scored, the sixth fewest in baseball. Their team .282 OBP and .281 wOBA are both bottom five marks in baseball and would be the worst in the division if it wasn't for the Rays.
On a micro level, the O's have just two regulars with a better than league average wOBA (lg avg is .319 right now): Markakis at .320 and Reynolds at .344. The former is mired in a 2-for-18 slump while the latter has been all-or-nothing: Reynolds has three multiple-hit games, one one-hit game, and five 0-fers. Brian Roberts and Adam Jones are the only O's with more than one homer (both have two), and they have identical .280 wOBA's. Roberts has been on base three times in his last 21 plate appearances, though Jones is coming in hot: 5-for-14 with two homers in his last four games. Vlad has warmed up after a slow start, going 8-for-21 in his last five games.
Scott, last year's offensive dynamo, has been battling a groin strain and has just a .252 wOBA in five games played. He's been limited to pinch-hitting duties and might not be able to return to the outfield until Wednesday or Thursday. The rain could keep him out further as I imagine they wouldn't want to risk re-aggravating the injury on wet grass. Felix Pie and Robert Andino have been filling in for the time being, and … well … they're Felix Pie and Robert Andino. Hardy will not be available this series due to (yep) an oblique strain, meaning Cesar Izturis is playing short. That's good for the Yankees. Lee and Matt Wieters are both off to slow starts (312 and .239 wOBA's respectively).

Orioles On The Mound
Game One: Chris Tillman: Part of the infamous Erik Bedard trade, Tillman has struggled to establish himself in the big leagues in each of the last two years (5.90+ FIP in 110+ IP between 2009 and 2009). He fired six no-hit innings against the Rays in his first start then got taken to the cleaners by the Tigers (4 R in 4.2 IP) next time out. Tillman is usually a low-90's fastball guy, though it'd been down in the upper-80's early on this year. Lack of velocity is the new black, apparently. He also throws an over-the-top curveball and an okay change, but so far he hasn't missed as many bats as his stuff says he should, and he's always been a guy that hands out a healthy amount of walks. Add in fly-ball tendencies, and Tillman plays right into the Yankees strengths. You might remember that he gave up Derek Jeter's 2,722nd career hit, the one that gave sole possession of the franchise's all-time record.
Game Two: Chris Jakubauskas: A former independent leaguer, Jakubauskas went from Lincoln Salt Dogs in 2007 to the Mariners farm system in 2008 to the actual Mariners in 2009 to the Pirates in 2010 to the Orioles now. He's the definition of a replacement level player, a guy with an 89-91 mph fastball and the occasional curveball, changeup, and cutter with med command. At 32-years-old, Jakubauskas is unlikely to get any better than what he is, and that's a guy the Yankees should absolutely hammer. They crushed him in a relief appearance back in his Seattle days, the only time he's faced New York. This is one of those "no excuse" games, Jakubauskas shouldn't haven't a prayer against a Yankees' lineup even if half the guys are struggling like they are right now.
Game Three: Jake Arrieta: The O's didn't want to start Britton in Yankee Stadium so early in his career so they pushed him back a day and will have him pitch Friday instead of Thursday. Yesterday's off-day allows Arrieta to make that Thursday start on normal rest. You might remember him from last season, when he made his big league debut against the Yanks and predictably earned his first career win against them with a quality start. He also beat them in early September with 6.1 innings of two run ball, but I suppose the good news is that against everyone else, he's pitched to a 5.18 ERA with 48 walks and 51 strikeouts in 91.2 IP. The 25-year-old right-hander has some giddy-up on his fastball (92-94, will touch 96 on the rarest of occasions), though he usually lives off a low-90's two-seamer and mid-80's slider. Every once in a while he's bust out a curveball and/or changeup. Arrieta's minor league strikeout and walk numbers never stood out, but he's a legitimate back-end starter right now.
Bullpen: Showalter's bullpen has been pretty sketchy overall, backing up its 3.94 ERA with a 5.05 FIP. Kevin Gregg is a de facto closer and been okay in three appearances so far, though the setup crew has been remarkably strong. Jason Berken, Koji Uehara, and Jim Johnson have combined for 14 strikeouts and one walk in 11.2 combined innings. Mike Gonzalez hasn't been good so far, but he's still death on lefties. Jeremy Accardo will show his face from time to time, and Josh Rupe handles the mop-up work with Jakubauskas in the rotation. The key to the series for New York is simple: get to the Orioles' starters early and keep that stellar middle relief corps from being a factor.
* No, I didn't write that with a straight face.