It can be tough to salvage a split of a four-game series after dropping the first two, but the Yankees had the right guy on the hill to do just that on Thursday. As it turned out, the offense made the pitching matchup a non-factor rather quickly, and the Yankees coasted to arguably their easiest win of the season.

The Big Inning
After scoring a total of five runs (three on one swing) during the first three games of the series, it was painfully obvious that the Yankees were in a collective offensive funk. You don't have to worry about that anymore. Not only did they hang a 12-spot on the ChiSox in this game, they scored six runs in a fifth inning that featured three Chicago pitchers and nine Yankees batters before an out was recorded. It went down like this…
Brett Gardner solo homer (his third of the year)
Eduardo Nunez double
Curtis Granderson triple (one run scored)
Nick Swisher single (one run scored)
Robinson Cano single
Alex Rodriguez double (one run scored)
Eric Chavez intentionally walked (to load the bases with no outs!)
Russell Martin single (one run scored)
Jorge Posada walk (one run scored)
Gardner strikeout
Nunez pop out
Granderson strikeout
The first four batters of the inning combined to hit for the cycle, which is pretty cool. Tony Pena, the second ChiSox pitcher, left the inning with elbow discomfort, so the Yankees literally did some damage to him. Everyone is happy with that inning, whether you like homers, patience, solid singles with men on base, hits with runners in scoring position, you name it. That big inning put New York up by eight runs, taking the stress off for the night.

Cruisin'
Lost in the offensive outburst was another gem of a start from CC Sabathia. The big guy gave his team seven strong and efficient innings, allowing just three unearned runs thanks more in part to some sloppy defense behind him than poor pitching on his part. He struck out six and walked one, boosting his season K/BB ratio to 3.27. It had been sub-3.00 in his first two season with the Yankees. Only twice did Sabathia need more than 15 pitches in an inning (23 pitch second, 19 pitch seventh), and he actually picked up some velocity as the game went along. I feel bad not writing more about his effort, but when he pitches well, there's not much to say. Great job, CC.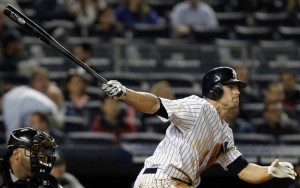 Signs of Life
A few slumping players started to come around in this one. Nick Swisher ended a career high 0-for-19 stretch by going 3-for-4 with a walk and his first homer of the year. Brett Gardner went 2-for-3 with a walk, the homer, and a stolen base. Both Eduardo Nunez and Gustavo Molina picked up their first hits of the season as well. In fact, the bottom two hitters in the lineup combined to reach base six times and score six runs. The only guy that didn't break out was Posada, who took an eyesore of an 0-for-4, though he did draw that bases loaded walk. His BABIP is down to .0698.
Leftovers
All in all, it was a great night and a great win in Yankeeland. Anytime Lance Pendleton can get two innings of work without me getting stressed out, something went right. I guess the two biggest complaints were on the defensive side of the ball. Eduardo Nunez committed a pair of errors, booting the first ground ball of the game and then throwing away another ball later on, leading to the three inherited runners. He's had throwing problems not just dating back to last year, these go back to A-ball. Eric Chavez showed his inexperience playing first base by ranging too far to his right on two occasions, leaving first base unmanned. Thankfully the score rendered the four combined gaffs irrelevant.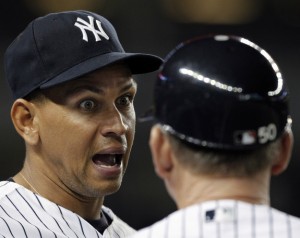 Yankees' starting pitchers in the last six games: 43.1 IP, 30 H, 9 R, 6 ER, 9 BB, 32 K, 58 GB, 41 FB. That's a 1.25 ERA and a 0.90 WHIP. Sabathia started this string of great pitching last weekend in Baltimore, and he kept the train going on Thursday. Al Leiter said stuff like this is contagious, meaning no one in the rotation wants to be the guy that throws the first stinker. So yeah, keep it up fellas.
Edwin Jackson not only walked five of the 20 batters he faced, but he also ran a three-ball count on three other batters. Of his 91 pitches, just 49 (or 53.8%) were strikes. The Yankees wore him right down then took care of business against the soft underbelly of the bullpen. That's how they roll.
I'll be completely honest: I'm surprised that the Yankees managed to keep Adam Dunn in the yard during a four-game series. You'd think he would have lifted at least on ball into the jet stream and into the right field seats at some point. Don't get me wrong, I'm not complaining, just a little surprised.
WPA Graph & Box Score
Boring, just the way I like it. MLB.com has your box score and video highlights, FanGraphs has everything else.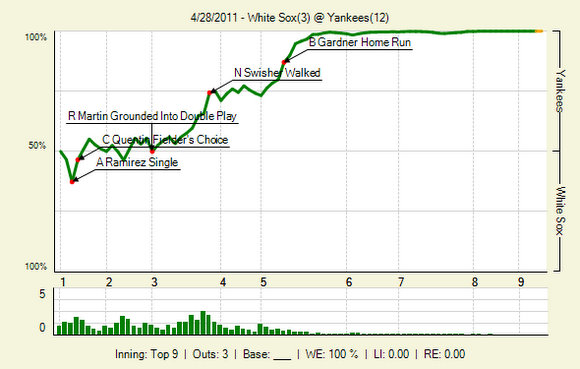 Up Next
Goodbye White Sox, hello Blue Jays. The AL East rivals come to town for a three game weekend series starting Friday night, when Freddy Garcia takes on Ricky Romero. If you want to head up to the Bronx to catch the game, check out all the dirt cheap tickets still available on the secondary market via RAB Tickets.