Bullpens blow games, even the best ones. It's an unavoidable evil over the course of a 162-game season. If a reliever doesn't have his best stuff and/or gets hit around a bit, fine it happens. But when the process is wrong, well then I have an issue. The Yankees were cruising for the first seven innings against the Twins on Tuesday, riding a pair of homers to for a four-run lead with their ace on the mound. Three innings later, they walked off the field losers.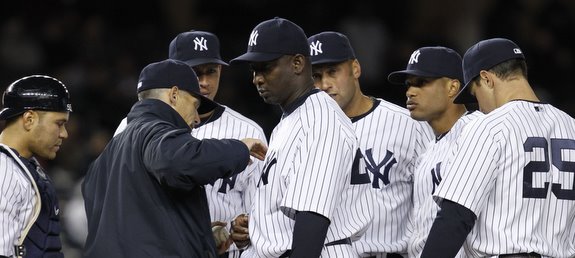 Let's talk about the bullpen (usage)

We all know what happened. Staked to a four-run lead in the eighth inning, Joe Girardi handed the ball off to Rafael Soriano for reasons unknown. I mean, what part of having a lead that size that late in the game with the bottom of the order due up says "I need to use my $10M+ a year setup man who just pitched yesterday without his normal velocity right now?" Soriano allowed four of the six men he faced to reach base (three on walks), and then David Robertson allowed the tying runs to score on a well-placed bloop double. The bloop happens, I'm okay with that, but the usage of Soriano is a complete head-scratcher.
For whatever reason, Girardi didn't have the confidence in Robertson to give him the ball to start the inning. In fact, he hasn't shown much confidence in him at all this season. Robertson's warmed up in all five games this year (twice in this one) but had only pitched once prior to this game. He wasn't good enough to start the inning fresh, but he was then deemed worthy of being charged with wiggling out of the bases loaded jam later on. That's great, that should be Robertson's role because of his strikeout ability, but you don't have to wait for those situations to use him.  Unsurprisingly, David's control was shaky after so much unofficial work over the last few days and it cost them.
"Because he's our eighth inning guy," responded Girardi after the game when asked why he used Soriano in that spot. If it's that simple, then what are they paying him for? A monkey can follow the cookbook. In the end, Soriano has to get those outs, back-to-back days isn't above and beyond the call of duty. And to make matters worse, he ducked out early and didn't speak to reporters after the game. If you're not going to own up to it, there are going to be problems, especially when some of the other guys stood there and took the heat. Weak sauce, Rafi. Very weak sauce.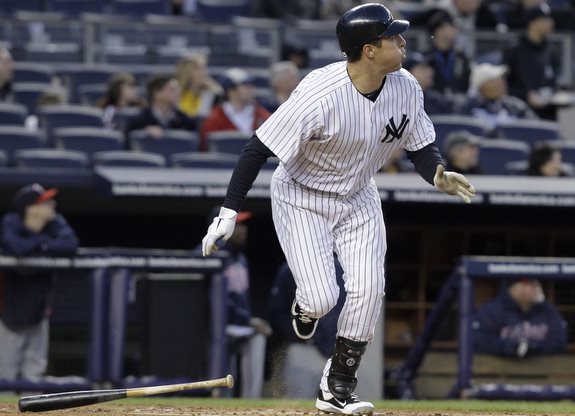 Anyway … yay Tex!
Long before the bullpen shenanigans, Mark Teixeira led a first inning offensive assault against Brian Duensing, launching a three-run homer to left after Derek Jeter walked and Nick Swisher singled. It was his fourth of the season and his first from the right side, and it came on a changeup of all things. We're used to seeing Tex swing over top of those like it's going out of style. Andruw Jones chipped in a solo homer one inning later, becoming the 13th Yankee since 1961 to homer in his first at-bat for the team. The last to do it? Curtis Granderson last season. Before that? How about Cody Ransom in 2008. Good times.
The 13 homers the Yankees have hit ties the franchise record for the most through the first five games of the season.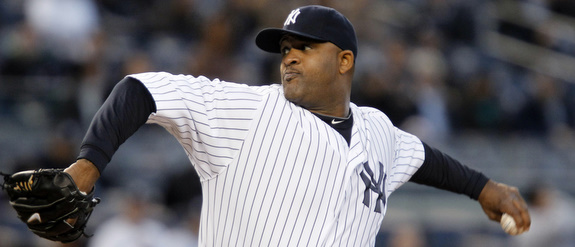 CC = Carsten in Charge
It tells you something when a pitcher fires seven shutout innings and is visibly annoying with himself. That's exactly what Sabathia did in this game, limiting the Twins to just two singles (in the same inning, no less) and one walk (in the first) all evening even though he was constantly shaking his head and talking to himself between pitches. He retired the last 17 Twins he faced, carving them up with a steady diet of fastballs (50 four-seamers and 19 sinkers) while mixing in the occasional slider (16), changeup (12), and curveball (seven). Minnesota batters swung-and-missed at five of those changeups, including for strike three twice. It was a vintage performance from the Yankees ace, but it's a shame he couldn't get a win out of it. A damn shame.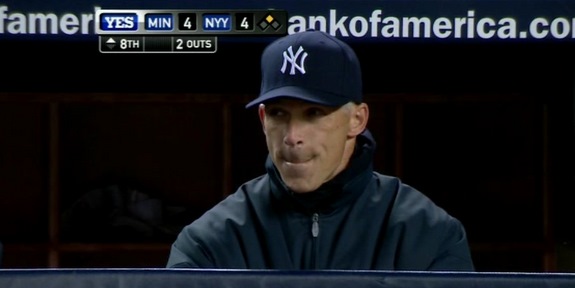 Leftovers
Four runs early, then nothing else the rest of the way. Duensing settled down and completed seven innings, allowing just two singles and a walk in his final five frames. Not for the nothing, the Yankees needed to tack some more on after scoring early runs like that. They can't just push four across early and expect to coast to the finish like they did on Monday.
Tex and Jones were the clear offensive stars, though Jeter singled and walked (before striking out to end the game) and Swisher singled twice. The rest of the lineup combined to go 1-for-21 (Alex Rodriguez singled) with five strikeouts. That won't get it done.
Boone Logan has faced eight batters this season and retired just three of them. Hurry back, Pedro. Chances are the only available relievers behind Freddy Garcia tomorrow night will be Joba Chamberlain, Luis Ayala, Bartolo Colon, and Logan. That's comforting. I'm sure Robertson will warm up anyway.
Make it four straight nights with a new record low attendance at Yankee Stadium; the announced attendance was 40,267.
WPA Graph & Box Score
MLB.com has the box score and video highlights, FanGraphs has some other neat stuff. Wheee!!!
Up Next
Garcia makes his long-awaited Yankees debut later tonight against someone New York tried to sign this offseason so they wouldn't need a guy like Garcia: Carl Pavano. I hope he's got seven innings in that arm.