It wasn't supposed to get any worse than Monday. I mean, six no-hit innings from Phil Humber? What's worse than that? Turns out that watching your $35 million eighth inning guy blow a lead and having two potentially game-winning ninth-inning hits taken away on great defensive plays is much, much more infuriating.

Ivan Nova's Big Day
This was a big start for Nova, who was essentially pitching for his spot in the rotation whether you agree with it or not. Juan Pierre gift wrapped the first out of the game, trying a drag bunt on Nova's first pitch only to get thrown out. He needed just eleven pitches to navigate the first inning, then just eight to get through the second, setting the pace for the night. The Yankees' right-hander pitched into the seventh inning for the first time in his career, giving up a run only when Alex Rios came around to score after he should have been out twice (once on the fly ball Curtis Granderson couldn't reel on, and then again when Robinson Cano dropped the throw on the steal attempt).
The key for Nova in this game was clearly his curveball. He did an okay job of locating his fastball away to both lefties and righties, but his ability to get that curve over for a called strike or bury it in the dirt for a swing-and-miss (which he got three of) is what allowed him to be so successful. The impatient White Sox hitters put nine of 13 balls in play on the ground and worked just five three ball counts in 25 plate appearances against Nova. The final line was five singles, two walks, and the one run in six-and-a-third innings of work, but unfortunately it was just the latest in a line of strong pitching performances that went wasted.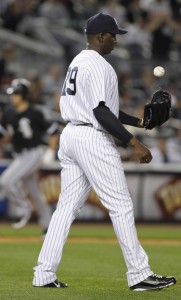 The Eighth Inning Guy™
Rafael Soriano has now appeared in ten games with the Yankees, and only once has he managed to not allow a baserunner: his first outing of the season. The damage tonight was hitting Carlos Quentin with a pitch and surrendering a go-ahead two-run homerun to Paul Konerko on a meatball cutter over the plate, turning a 2-1 lead into a 3-2 deficit with five defensive outs to go. The two baserunners he allowed after that are just salt on the wound.
Joe Girardi said after the game that he has no plans to change that damned 7th-8th-9th inning formula, meaning Soriano will still be force fed high leverage work even though he's done little to deserve it. The next time I see this guy on the mound, it'll be too soon.
Where's The Offense?
Three runs in two games, one of them coming on a solo homer by Brett Gardner of all people. Don't get me wrong, the White Sox have a pretty good rotation and Gavin Floyd is no chump, but three runs in two games? This team has to do better than that, they can't have the opposing starter open the seventh inning by throwing his 73rd pitch. Just an awful showing over the last two days, this lineup is better than this.
Oh, and the best part was that stupid sacrifice bunt in the ninth inning. Three outs left to play with and the man with the second most homeruns in the league (Granderson) just gives away an out. It was made even worse because not only has Matt Thornton struggled tremendously this season, but he also walked the next batter. Who knows what happens if they let Grandy actually try. I don't know when the Yankees moved to the National League, but someone in the dugout needs to start using their brain once in a while. The bunt increased the team's chances of winning by -6.1%, so it was a backwards move.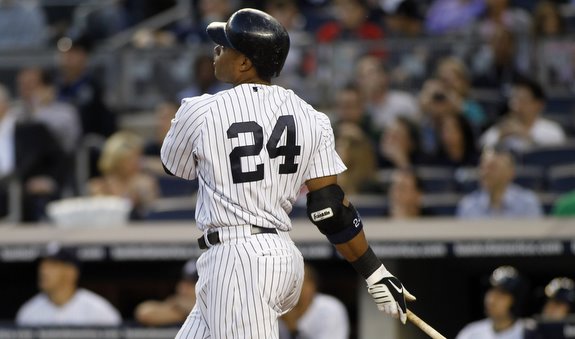 Leftovers
Brent freaking Lillibridge man. You know what the worst part is? That guy isn't even an outfielder, he came up as a middle infielder but learned other positions because he couldn't hit enough to play everyday and needed to up his versatility. Tuesday was his 29th career game in the outfield and eighth (eighth!!!) in right field. Alex Rodriguez and Cano did everything right, hitting the ball hard and deep towards the short porch, but that kid made two unbelievable plays. Just tip your cap to him in the ninth, nothing you can do there.
It's a good thing Mark Buehrle is pitching tomorrow, because the lefty hitting Nick Swisher sure does need a day off. He's hitless in his last 15 at-bats now, might even be 16. I don't really care to look right now. Granderson, Mark Teixeira, and A-Rod combined to go 0-for-9 with two walks and that brilliant sac bunt, and those three are pretty much carrying the offense right now. Eric Chavez had a great night in the field, but he went 0-for-3 with a strikeout and saw just seven pitches total. The two runs, as you probably know, came on solo homers by Cano and Gardner. Ironically enough, both guys showed bunt earlier in the at-bat. Le sigh.
Boone Logan is officially out of my doghouse now, he did a nice job on Sunday and then struck out Mark Teahen to lead off the ninth in this game. Yeah, Pierre singled after that, but it was a crummy little infield hit. It happens. So good job Boone, keep it up. David Robertson did some fine work wiggling out of trouble in the seventh inning. I don't think it's a stretch to say he's been the best non-Mariano Rivera reliever on the team so far. Buddy Carlyle has appeared in three games thus far and has gotten zero swings and misses. It'll blow up one of these days.
The Yankees grounded into at least one double play for the 12th consecutive game, with Granderson doing the honors on Tuesday. Just in case you're wondering, the all-time record is 34 straight games by the 1949 Red Sox. No one is close to them, the second longest streak belongs to the 1961 Athletics at just 22 games. The Yankees have a long way to go.
WPA Graph & Box Score
For the first time all season, the Yankees lost two games in a row. They're last club to do that, so … yay? MLB.com has the box score and video highlights. I recommend watching Lillibridge's two catches if you haven't seen them already, they really are spectacular. Too bad they robbed the good guys of game-winning (or at the very least, game-tying) hits. FanGraphs has some other stuff.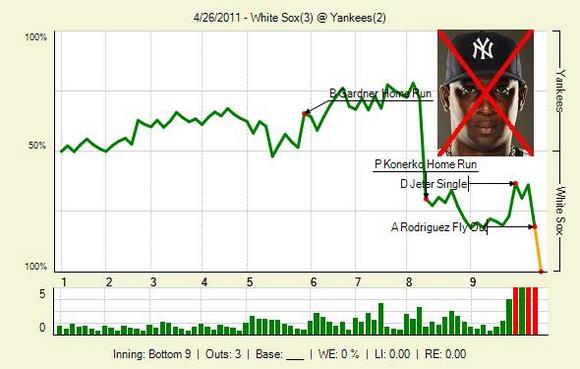 Up Next
The best and worst part of baseball? They play every day. The Yankees will send Bartolo Colon to the mound against Buehrle tomorrow night, though it'll be up to the offense to wake up. If you're interested in going, there are plenty of dirt cheap tickets available on the secondary market, so check out RAB Tickets.