Same shit, different day. The Yankees lost their fourth straight game on Saturday night, getting shut out for the fourth time this season and the second time by Josh Beckett. To make matters worse, Jorge Posada pulled himself out of the lineup for reasons that vary depending on who you ask. Neither the team nor Jorge needed the distraction, but that's another post for another time.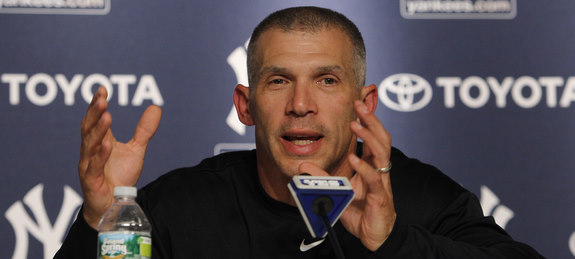 The Ugly Line That Wasn't
When everyone looks back at this start in the future and sees 6.2 IP, 7 H, 6 R, 6 ER, 3 BB, 6 K, 1 WP, 1 HB, they're going to think Sabathia sucked. But through six innings the Yankees' ace had held the Red Sox to just two runs on four hits and two walks, which is exactly the kind of start we're accustomed to seeing out of CC. But a wild pitch, a blown call on what should have been strike three to Jason Varitek, a bobble by Nick Swisher, and a homerun allowed on his 116th and final pitch of the night uglified his line and put a game that was essentially out of reach even further out of reach. That seventh inning ruined what was a valiant effort by the big guy.
Sabathia retired a dozen in a row after allowing the first two runners of the game to reach base, emphatically striking out the side (not in order) to escape the jam in the first. I was ready to flip when they intentionally walked Dustin Pedroia to load the bases for Adrian Gonzalez later on, but a routine double play showed why I'm just some schmuck that writes a blog instead of managing a team. The homerun was unfortunate, but I have a hard time hanging this loss on just CC.
Runs? Where They're Going, They Don't Need Runs!
Hitless in ten at-bats with men in scoring position and ten runners left on base. Just par for the course these days. The first two Yankees reached base in the first inning, then the next three batters went down like wimps. Red Sox pitchers (mostly Beckett) struck out the leadoff batter in the third, fourth, fifth, sixth, and seventh innings, so the Yankees didn't even put the ball in play and give themselves a chance to reach base. Batting average with men in scoring position isn't the be all, end all stat, but they have four singles and a double in 39 at-bats with men on second and/or third during this four game suckfest.
The only batter in the Yankees' lineup to get two hits and/or not strike out at all was Curtis Granderson, who is pretty much the only player worth watching right now. Alex Rodriguez took yet another 0-for-4, and the 5-9 hitters combined for three singles and a walk in 20 trips to the plate. Andruw Jones struck out three times, Robinson Cano twice, A-Rod twice, and Tex twice. At least the first baseman busted out of an 0-for-30 slump against the Red Sox with a dinky little seeing-eye single back up the middle in garbage time. I could go on about the terrible offense, but I'd just be repeating myself from the last few days.
Leftovers
What the hell is Fox trying to do by having Sarah Silverman in the booth while promoting Paul Simon's music between innings? What's the target audience there? And is anyone more outdated that Tim McCarver? Every reference that guy makes is to something that happened when there were just 48 states in the union. Relevant information, please.
The Yankees have lost four in a row, obviously, but they've also lost eight of their last 11 and have been outscored 54-41 in the process. They've dropped six of the last seven against the Red Sox, and eleven of their last 16. The next three pitchers they face? Jon Lester, David Price, and the awesome version of Jamie Shields. These next three days could get ugly.
WPA Graph & Box Score
MLB.com has the box score and video highlights, FanGraphs the other stuff.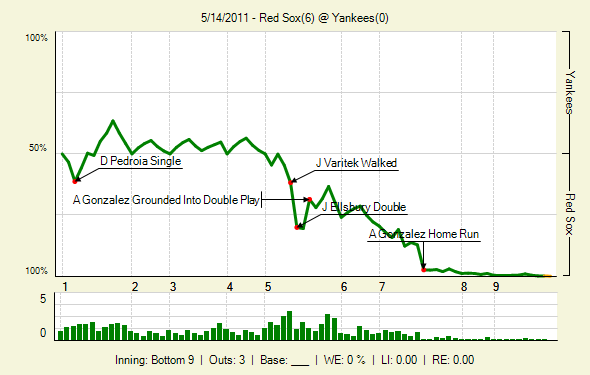 Up Next
Another ESPN Sunday Night Game, which is what, the fourth of the season? It's at least the third, I'm sure of that. Freddy Garcia gets the ball against Lester, so maybe reverse lock laws will apply. One thing to remember: a team is never as good as it looks on its best days or as bad as it looks on its worst. The Yankees are better than this, I promise you.