Ace versus ace, or at least that's what it felt like coming into the game. Bartolo Colon had pitched that well in his first two starts of the season, and he was strong again in the series opener against the Tigers on Monday, but it took a late rally to secure the win.
Ninth Inning Heroics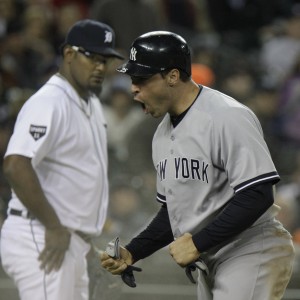 Let's start at the end and work our way forward. The ninth inning started with a beast of an at-bat by Curtis Granderson, who fouled off seven Jose Valverde pitches before drawing a leadoff walks. The only problem was that he was erased a few pitches later when he over-slid second on a steal attempt. At -.141 WPA, it was the most damaging play of the game for New York. Sure enough, Mark Teixeira drew a four pitch walk (one of the balls went to the backstop) as the next batter, then moved to second on an Alex Rodriguez single that was more of a botched defensive play than a hit. Valverde was clearly wild, and he fed Nick Swisher three consecutive 94 mph fastballs. The first was up out the zone, the second was a little further down and Swish swung through, the third was in his happy zone and the Yankees' right fielder sent it back up the middle to drive in the go-ahead run. It was the biggest play of the game for the good guys at +.306 WPA. An insurance came around to score on a wild pitch one batter later.
This inning, along with the first, was really the only time the Yankees' offense looked like itself. They wore Valverde down and let him work himself into trouble, capitalizing on a mistake pitch to regain the lead. Jim Leyland left his closer in to throw 35 pitches but just 19 strikes (about 54%) in the inning, and the middle of the order made him pay. I can't imagine Valverde will be available tomorrow, but it's pretty clear that Leyland has no trouble running his pitchers into the ground.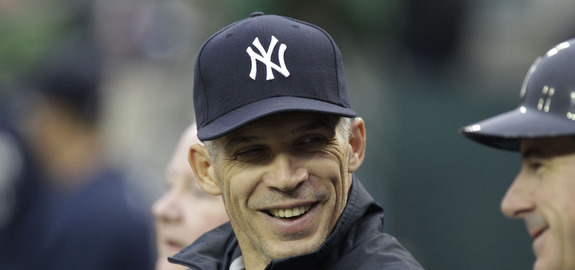 The Airing of Grievances (Part One)
The Yankees had a chance to retake the lead in the eighth inning, when Secret Weapon Al Alburquerque™ walked leadoff man Russell Martin. Since the team is oh so desperate for runs these days, Brett Gardner bunted him over to second on the very first pitch. Nevermind that Gardner a) had reached base in each of his five previous plate appearances and in eight of his last nine, or b) that SWAA™ had walked the first batter and just may have been wild, or c) that the two worst hitters in the lineup (Eduardo Nunez and Derek Jeter) were due up, gosh darn it, the book says you should bunt and bunt they did. Nunez grounded out on the drawn in infield and Jeter struck out, stranding the runner in scoring position. The bunt was completely and utterly asinine (-.025 WPA). I'm sorry. there's no other way to describe it. When small ball attacks, part too many to count.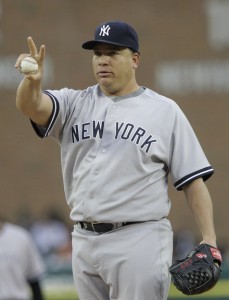 Big Bad Bartolo
Someone's going to have to make a compilation video of all these called strike threes on the two-seam fastball inside to lefties and away from righties at some point. That thing is gorgeous. Colon made basically two mistakes all night, leaving a pair of pitches out over the plate that Alex Avila drove over the fence to the opposite field. They were impressive shots, that's no gimme in Comerica Park. Bartolo struck out seven and walked none in seven innings, getting ten ground balls against just two air outs. He was efficient (97 pitches) and held his 92-94+ mph heat into the late innings. The Yankees hit the scrap heap mega-millions jackpot with Bart, regardless of what happens from here on out.
The Airing of Grievances (Part Two)
The Tigers did score one other run off Colon aside from the two homers, and for the life of me I can't figure out why things went down the way they did. It was the third inning, so early in the game, and the uber-annoying Ramon Santiago was standing on second base after a one out double. Miguel Cabrera, the one guy you look at in Detroit's lineup and say "we can't let him beat us," came to the plate with Santiago still on second with two outs, and for whatever reason Colon pitched to him. I mean, that's an obvious don't pitch to him spot, if not an outright intentional walk. But nope, Bartolo threw Miggy two fastballs, and sure enough the second wound up in right field for an RBI single. I don't get it, pitch around the guy and take your chances with Brennan Boesch (who went 0-for-4  on the night). There's still three more games left to be played in the series, so hopefully they learned from this (painfully obvious) mistake.
Jorge Catches Up To The Heat
Let's face it, there have been times this year when Jorge Posada has looked completely done. I mean done done, and as recently as last week. But Posada has showed some signs of life lately, doubling on Sunday and having another hit taken away by a diving second baseman in the same game. It's not much, but it's something. Jorge came to the plate with the bases loaded and two outs in the first inning, and frankly I don't think many of us expected him to do anything productive against the flamethrowing Justin Verlander. The first pitch of the encounter was a changeup out of the zone for ball one, but Posada got no respect after that. He saw nothing but fastballs the rest of the at-bat, and here's the velocities according to Gameday: 98 (called strike), 99 (ball), 99 (swing and miss), 99 (foul), 99 (foul), 99 (ball). The eighth pitch was a heater clocked at 100, but Posada caught up to it and drove it over Austin Jackson's head for a ground-rule double. Two runs scored but it should have been three if not for the unfortunate hop, but damn, looks like Jorge might have something left to offer after all. He went 2-for-5 in the game and has three hits in his last seven at-bats, not counting the hit he should have had if not for that great defensive play on Sunday.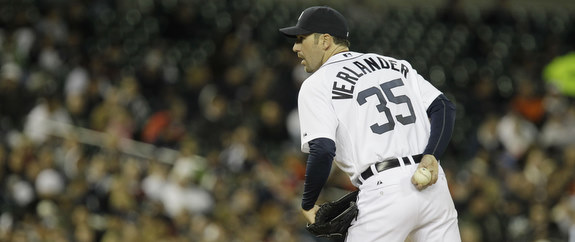 Leftovers
Verlander … man that guy is a freak. Look at his velocity graph, his hardest fastballs came after he'd already thrown 110 pitches, including his hardest at 100.3 mph. He's simply a physical marvel, a pitcher just isn't supposed to do that, not with his workloads in recent years.
Everyone in the lineup had at least one hit except for Granderson, who drew a pair of walks. A-Rod and Nunez were the only guys to reach base just once, though the latter hit a ball off the left field wall for a double (he got thrown out trying to stretch it into a triple). Gardner went 1-for-1 with two walks and has managed to get his season OBP up to .325 thanks to his hot week. Overall, the Yankees drew eight walks as a team, but they went just 2-for-14 with men scoring position. The two hits were Swisher's single in the ninth and Posada's double in the first.
Joba Chamberlain did some fine work in the eighth with the score tied, allowing just a single to Cabrera (forgivable) and retiring the other three men he faced. We even got our first fist pump of 2011. Mariano Rivera was flawless in the ninth for his 11th save. That was his third appearance in as many days, so you have to figure Rafael Soriano (who pitched on Saturday and Sunday) will get the call in the ninth inning on Tuesday. Joba and David Robertson will be the setup men with a little Boone Logan mixed in. Of course, CC Sabathia's a fine candidate to handle all nine innings himself.
The Yankees now have 13 steals in 22 attempts this year after getting caught two more times in this game. There was the Granderson over-slide in the ninth, and Jeter got thrown out trying to take second base in the first inning. In fairness, I'm about 90% sure that was a hit-and-run gone wrong. Grandy swung at a pitch well out of the strike zone and Jeter kept looking in to see if/where the ball was hit. But still, a 59.1% success rate on stolen base attempts is completely unacceptable; that has to be better, otherwise don't bother running.
WPA Graph & Box Score
It got a little dicey, but that happens sometimes. MLB.com has your box score and video highlights, FanGraphs everything else.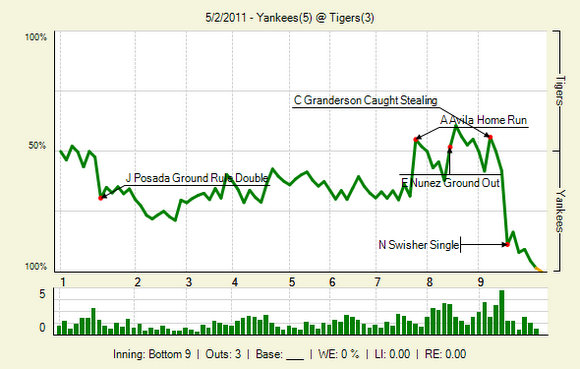 Up Next
Same two teams tomorrow night, when Sabathia gets the ball against Brad Penny.