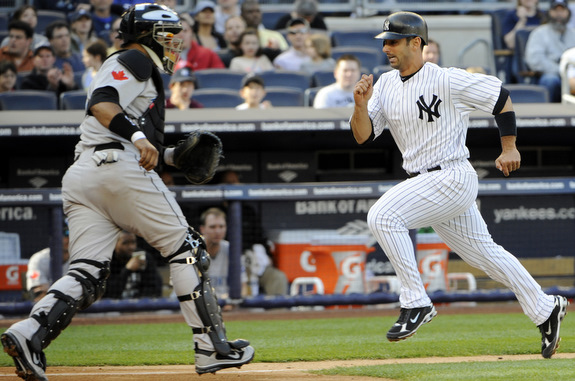 After Friday night's runner stranding competition, the Yankees came out of the gate on Saturday and piled up some runs against Kyle Drabek with some non-homerun tactics. Let's recap…
The three-run second inning went single, walk, fielder's choice (runner out at second), single (run scored), walk, sacrifice fly (run scored), single (run scored), strikeout. Three runs, six baserunners, not one extra base hit. What is this nonsense? Where are the rally killing homers? The Yankees tacked on two more runs in the third on three singles, two walks, and a wild pitch. They went 4-for-9 with runners in scoring position.
The five early runs were great, but the Yankees managed no hits and just one walk in 5.2 innings against the Blue Jays' bullpen. So either good job by Toronto or bad job by New York. It's probably a combination of both. Good thing the Yankees tagged Drabek for seven hits and four walks in just two-and-a-third innings pitched.
Another bend but don't break performance for A.J. Burnett, who threw just 82 pitches through six innings even though it felt like he threw 182. The Jays got him for nine hits but no walks, and he struck out four. His ERA sits at a tidy 3.93 after six starts, though it hasn't always been pretty.
The Formula™: 3 IP, 2 H, 0 R, 0 ER, 0 BB, 0 K, 3-6 GB/FB. Got the job done, but it wasn't exactly flawless. Joba Chamberlain threw just six pitches in his inning, and for the life of me I can't find a logical reason why he couldn't pitch the eighth inning as well. Slaving to designated innings marginalized an effective reliever for not the first time this year.
Derek Jeter came to the plate with the bases loaded and less than two outs (twice!) and managed to hit the ball in the air (twice!!!). How about that. Everyone in the lineup aside from Jeter and Jorge Posada had a hit, and Derek was the only guy not to reach base. Russell Martin drove in a run, threw out a would-be basestealer, and blocked plenty of A.J.'s 55-footers. Great afternoon for him. Brett Gardner has quietly reached base nine times in his last 14 plate appearances (five hits, four walks).
Looked like the sun was tough early on, both Curtis Granderson and Rajai Davis botched fly balls in the first inning. Only Grandy's miscue led to a run though.
Here's the box score and video, here's the WPA Graph.
The rubber game and final game of the homestand will be played Sunday afternoon at the usual 1:05pm ET start time. Ivan Nova takes on Jesse Litsch in the most uninteresting pitching matchup of the season (so far). RAB Tickets can get you there dirt cheap, and if you get to the Stadium early, you can have your skin examined for cancer and some other nasty stuff for free.