Is there a better way to end a ten game homestand than with a walk-off win? I don't think so. The Yankees got their brains beat in by the Red Sox in the first three games a week ago, but they finished with six wins in the final seven games against a pair of first place teams. Successful homestand? Successful homestand.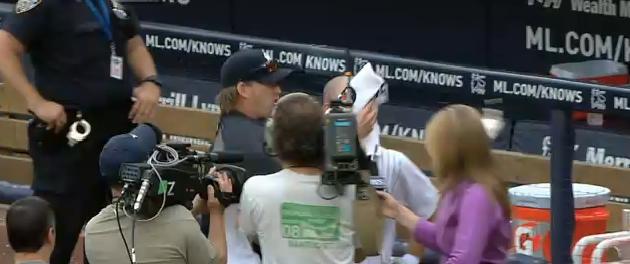 Brett Gardner, Not A Platoon Guy
Despite a .364 OBP against lefties this year and a .333/.414/.504 batting line since April 23rd, Joe Girardi decided to sit Brett Gardner in favor of Andruw Jones against Texas' left-handed starters on Wednesday and Thursday. Jones went 0-for-3 with three strikeouts and a walk before Gardner took over for defense late in a tie game on Thursday, but the regular left fielder did a lot more than play defense. With the score tied at two in the 12th inning, Gardner came to the plate with Curtis Granderson (bloop single) on second and Robinson Cano (phantom hit-by-pitch, I think it just hit the knob of the bat) on first with one out. Lefty Michael Kirkman went to his fastball, and Gardner yanked a ground ball through the 3.5 hole to score Grandy for the walk-off win.
Gardner also singled in his first at-bat, that one also off Kirkman. So he came off the bench for defense and ended up with two hits, including the game winner. It's pretty obvious that if Girardi wants to platoon Andruw, he has to do it with Jorge Posada as the DH. Gardner has to play every game, period. He's simply too good (on both offense and defense) to platoon right now.
Brian Gordon's Big Day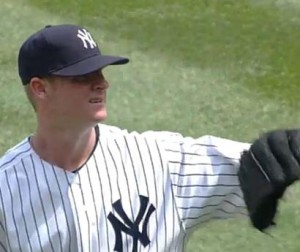 Three days ago, I had no idea that Brian Gordon even existed. Yet there he was Thursday afternoon, starting for the Yankees against the defending AL Champion Rangers. Five innings into the game, Yankee Stadium was chanting his name as he tried to wiggle out of a bases loaded, one out jam. I can't imagine how that must have felt for the 32-year-old.
The actual results are mixed. I would have signed up for two runs in 5.1 IP in a heartbeat, but Gordon did put a dozen men on base in that time. He gave up seven hits, walked three (one was intentional), and hit two batters, though he got some help from a pair of double plays and Russell Martin throwing out two would-be basestealers. The Rangers put three men on base against him the first time through the order, then four men the second time through the order, and then five men the third time through the order. Gordon's fastball sat 88-90 and his go to pitch was a slow, slooooow curveball that he got a little predictable with. If he was ahead in the count, you were getting the curve down and away.
I thought Gordon did a fine job of limiting the damage in the fifth, when he allowed his only two runs but escaped a second and third with no outs situation by allowing just one run. Taylor Teagarden walked to leadoff the inning, and a hit-and-run by Endy Chavez moved him up to second. It would have been a routine ground ball double play if Eduardo Nunez wasn't going to cover second, but he did a good job to recover and keep the ball on the infield and Teagarden at second. Ian Kinsler blooped in a double to score a run and setup the second and third situation, but Gordon recovered to strike out Elvis Andrus. An intentional walk to Josh Hamilton (more on that later) loaded the bases, then Michael Young popped out for the second out. Gordon was almost out of it, but he lost the handle on a curveball and hit Beltre (in a two strike count) to force in a run. Mitch Moreland ended the inning with a routine fly ball. All things considered, it was a fine job.
The Rangers are a strong offensive team despite their recent struggles, and Gordon handled the start about as well as we could have expected. I think he did enough to earn another look (Girardi confirmed that we will start again in five days), but if nothing else he looks like he could be a serviceable reliever with that fastball-curveball combo. That would solve the problem of having to go through a lineup multiple times, and he certainly has experience in that role (he didn't start until mid-April). We'll see.
Blown Chances
The last time the Yankees played a day game after clinching a series win, they blew some early opportunities against Carlos Carrasco before going quietly and taking the loss. This game had a similar feel to it. Two outs on the bases (more on that later) killed a potential first inning rally before it even had a chance to start, then Ramiro Pena stranded two runners on base in the second inning, then Cano and Jones struck out to strand runners at second and third in the third. The ninth inning was the icing on the blown opportunity cake; a single, sac bunt, and two walks loaded the bases with two outs, but Granderson struck out (after being in a 3-1 count) and Mark Teixeira grounded out to send the game to extras. The two best hitters on the team couldn't get it done. The next inning ended when Adrian Beltre turned a Posada line drive into a double play because Gardner was running on the pitch. Of course. At least they came away with the win.
IBB 4 Life
I'm not a big fan of the intentional walk, except in extreme situations. Something about free baserunners doesn't sit well with me. Intentionally walking Hamilton to a) loaded the bases with one out, and b) put men on first and second with no outs don't qualify as extreme situations to me. I mean, Young has killed the Yankees all season, absolutely killed them (came into this game hitting .400/.455/.600 against them this year), why put more runners on base in front of him. Yeah, the (literally) free passes worked in the sense that Hamilton did not come around to score, but the hit-by-pitch to Beltre forced in a run because the reigning AL MVP was put on first. Sometimes bad process leads to good results, like today.

Leftovers
It's Cory Wade's world, we're all just living in it. After just two days on the roster, he already has three times as many 1-2-3 innings as Rafael Soriano. Wade sat down all three men he faced on Wednesday and all six he faced in this game, ending his outing by striking out Hamilton, who swung and missed at three changeups. Gorgeous. All told, the Yankees' bullpen allowed two hits and a walk in 6.2 IP. Hector Noesi did a great job bridging the gap between Gordon and the regular late-game duo of David Robertson and Mariano Rivera.
Martin looked a million times better today than he did when he started on Sunday. He was moving around and running much more freely it seemed, and he answered the call when the Rangers tested him with some stolen bases attempts. Russ also singled in the first run of the game, and had another single plus a walk, so it was an all-around good return to the lineup for him. Tex took a big fat 0-for-6, which is never fun. Nick Swisher had a hit and a walk from the leadoff spot, Granderson had three hits, Cano two hits and a walk, and Posada a double (his first extra base hit off a lefty this year, and it drove in the tying run in the sixth). Eduamiro Penunez combined to go 0-for-6 with a walk and a sac bunt, though Alex Rodriguez pinch-hit for Ramiro Pena in the ninth only to be intentionally walked. Nunez had both the walk and the bunt.
The Yankees made a pair of outs on the bases in the very first inning, including the first out at third base when Swish over-slid the bag going first-to-third on a Granderson single. Grandy got caught stealing to end the inning shortly thereafter. Sigh.
In nine games against the Yankees this year, the Rangers managed to give up 22 homers, including shots by Pena, Nunez, Frankie Cervelli (a grand slam), and Derek Jeter (two!). Now that's impressive. Texas is now 2-8 in their last ten games while the Yankees are 18-9 since that ugly six game losing streak no one seems to remember.
WPA Graph & Box Score
So much leverage, so little time. MLB.com has the box score and video highlights, FanGraphs the other stuff.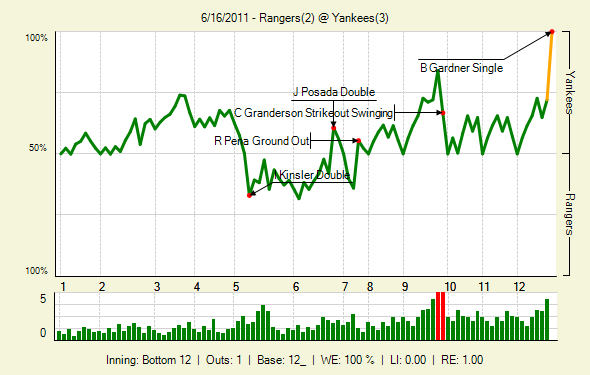 Up Next
Time to hit the road and visit the Chicago Cubs as the NL park leg of interleague play begins. Freddy Garcia gets the ball against Doug Davis in another afternoon game on Friday, this one at 2:20pm ET. The Cubbies play a lot of home games during the day, in case you're not familiar with the other side of the baseball world.