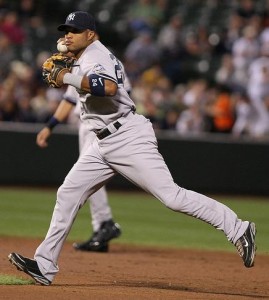 Although the draft gets most of the attention and rightfully so, the lifeblood of the Yankees' farm system has long been international free agency, particularly Latin America. The top three and six of the top ten players on my preseason top 30 prospects list were acquired via international free agency, a talent market the Yankees can dominate with just money and not have to worry about draft position or slot recommendations. Ben Badler of Baseball America covers the IFA market like no one else, and this week he rolled out his early coverage of the International Signing Period, which officially begins on July 2nd each year. All of his preview content is behind the subscriber wall and can be found here: top talents, outfielders, shortstops, and pitchers.
Three Dominican outfielders highlight this year's crop of talent, which is headlined by Ronald Guzman. He's the best pure hitter and top offensive talent on the market this season but is likely to be relegated to left field down the line. Elier Hernandez is the tools freak with big time foot speed and huge batting practice power. Nomar Mazara also puts on displays in batting practice, but he doesn't carry the same swing into games and is prone to swinging and missing, always a red flag with amateurs. Guzman has been connected to the Rangers, Red Sox and Blue Jays, Hernandez to the Royals. All three are expected to command seven figure signing bonuses.
The top two arms are righties Victor Sanchez (Venezuela) and Roberto Osuna (Mexico). Sanchez stands 6-foot-1 and has run his fastball as high as 94 while showing decent offspeed stuff, but the concern is that he doesn't miss as many bats as someone with his stuff should against the competition he's been facing. Osuna is the nephew of former Yankee Antonio Osuna, and he'll offer low-90's fastballs with a curveball and changeup. He turns 16 on July 2nd (so he just made the cut off), but he's already pitching in the Mexican League and holding his own as a 15-year-old playing against guys ten years his senior. Sanchez could command as much as $3.5M, Osuna less than that but still seven figures.
We'll hear much more about the Yankees and specific players in the coming weeks, but here's a quick recap of the guys connected to the Yankees according to Badler. Also check out the Dominican Prospect League's site for more info on way more players…
Manny Marcos, OF, Dominican Republic
A center fielder with a wiry strong 6-foot-0, 175 lb. frame, Marcos figures to stay at the position long-term and has good speed. He does have some power, but it's more to the gaps than over the fence right now.
Yairo Munoz, SS, Dominican Republic
Munoz is a "shortstop" more than a shortstop, meaning he's likely to wind up at another position down the road. Perez trains with former Yankees' infield coach Rafael Perez, and he's a switch hitter that has shown power from both sides of the plate, though his best tools are above-average speed and arm strength. Here's video.
Luis Reynoso, SS, Dominican Republic
Another "shortstop," Reynoso doesn't have one true standout tool according to Badler and is instead solid at everything. He has some athleticism and projection, and his offensive game relies more on contact from the right side than power. Here's video.
* * *
I recommend clicking through and watching the videos for no other reason to see how young and physically immature these kids are. They're just babies, and yet scouts and teams are trying to project who will grow into a big league body and develop big league tools. Much respect to all the scouts out there.