Ah interleague play, baseball's annual money and attention grab. Don't get me wrong, I completely understand why they do it and why they'll continue to do it, but I just don't like it. The novelty wore off a few years ago. Anyway, Friday's loss to the Cubs was a fairly standard "lack of offense loss," meaning the Yankees had no answer for a crummy pitcher and couldn't overcome an early but generally small deficit. Such is life.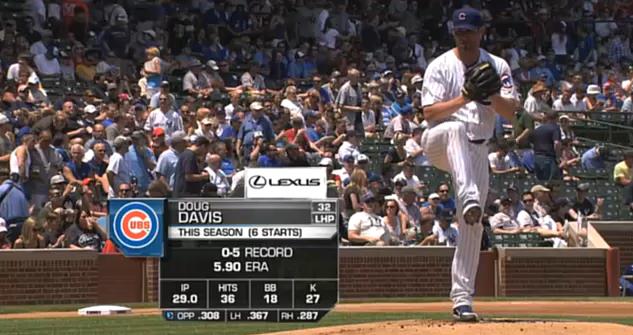 Doug Davis? Really???
Pretty much all you need to know about this game is that Davis batted for himself in the seventh inning. A pitcher like that shouldn't bat for himself in the fourth inning, nevermind the seventh. His slow, slower, slowest approach kept the Yankees off balance until the very last pitch he threw, number 111 that Nick Swisher clanked off the left field wall for a double with one out in the eighth. That was just their third hit off Davis, who walked three, struck out four, and got ten ground ball outs compared to eight fly ball outs. The only reason he was charged with a run was because reliever Sean Marshall allowed Swisher to score on a Mark Teixeira single. I really can't explain it, Davis threw "fast"balls and changeups and curveballs and the Yankees simply couldn't do anything. It was pretty gross.
Almost
Despite getting shutdown by Doug Davis – I can't even believe I'm writing that – the Yankees did have the tying run on base in the late innings. Carlos Marmol came out of the bullpen and blew Alex Rodriguez away to end the eighth, but the ninth inning was a little more interesting. Robinson Cano's would-be leadoff bloop single (maybe even double) was turned into an out thanks to a great catch by Reed Johnson, but then Russell Martin drew a walk to bring the tying run to the dish. Jorge Posada struck out look at a total meatball (grrrr), then Brett Gardner slashed a single to put the tying run on base. Alas, pinch-hitter Chris Dickerson (who has two plate appearances in the last two and half weeks) struck out on three pitches to end the threat and the game. For shame.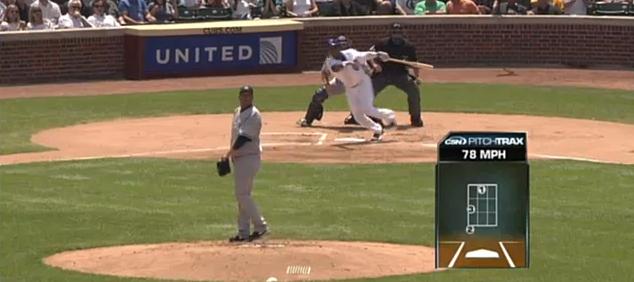 Freddy Settles Down
Two weeks ago we saw Freddy Garcia come out of the gate against the Red Sox and everything was up. It was up and over the heart of the plate, and that predictably led to disaster. Garcia started Friday's game much the same way, and the Cubs made him pay for it to the tune of three runs in the first three innings. They were up two runs before he even got the second out of the game, and it looked like one of those games where we would see a whole lot of Jeff Marquez. But then Freddy settled down.
After Aramis Ramirez singled in Chicago's third run of the game, Garcia got on a bit of a roll and retired the next eleven batters he faced before Tony Campana beat out a bunt infield single that was more the product of bad defense than good hitting. Freddy stranded Campana and sat down the side in order in the seventh, so he retired 15 of the final 16 men he faced. Six hits, two walks, and three runs in seven innings is usually enough to win with this kind of offense, but it wasn't meant to be on this day.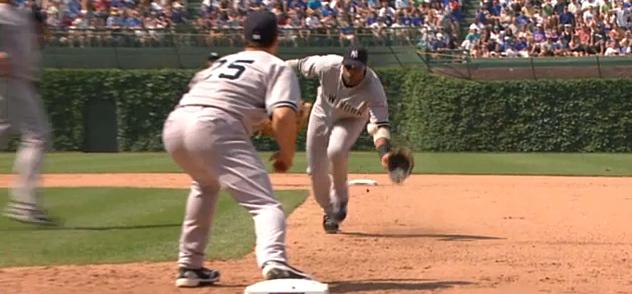 Leftovers
Swisher, Tex, and Gardner were the only Yankees' batters to reach base twice. They each had a hit and a walk. Cano, Martin, and Eduardo Nunez each reached once in some form or another, and Garcia had two sacrifice bunts in his two plate appearances. The three pinch-hitters – Posada, Dickerson, and Andruw Jones – all struck out. Sad face. Robbie did make a great defensive play on a ground ball though, flipping it to first with his glove. That was pretty cool.
Great exchange during the fourth inning…
John Flaherty: "I like [NL baseball], this is exciting."

Doug Davis takes called strike three right down the middle.

Ken Singleton: "There's your excitement."
Excellent, go Kenny. In a related note: Am I the only one that can't stand Michael Kay's manageable/unmanageable game stuff? Who is he to decide if the game was too long or just right? Bah, whatever.
WPA Graph & Box Score
MLB.com has the box score and video, FanGraphs has everything else.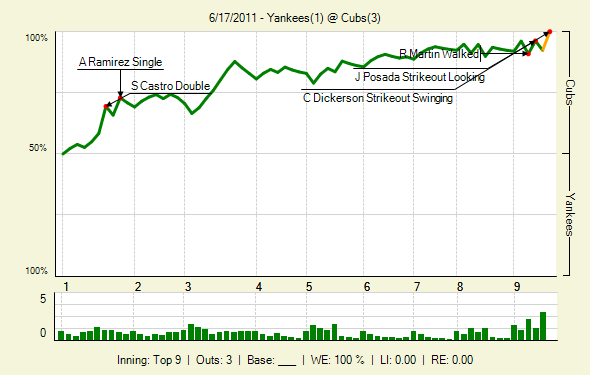 Up Next
Same two teams tomorrow afternoon in a (ugh) FOX broadcast. Those always suck. A.J. Burnett gets the ball against Ryan Dempster at 4pm ET.