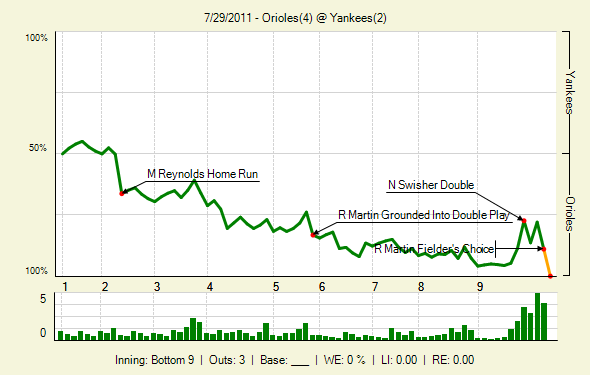 It's pretty late and it's Friday, so I'm going to do this as quickly as possible…
A.J. Burnett struck out a season-high ten (his most in a game since 2009), but he allowed five hits (all for extra bases) and three of them to the reanimated corpses of Vladimir Guerrero and Derrek Lee. I'll take eight innings and four runs from him all year, but I hate seeing him get beat by two over-the-hill guys like that. Oh well.
The Yankees didn't muster much offense until late, when the certifiably terrible Kevin Gregg put on an LOLshow. Brett Gardner struck out to end the game (with the tying run on base) after the pitch that should have been ball four was called strike two. He smashed his bat into the ground out of frustration, smashing it to pieces, and I'm pretty confident in saying that if some other players did that (not necessarily on the Yankees), we'd hear about what terrible people they were.
Mark Teixeira hit a solo homer, Robinson Cano and Nick Swisher had doubles, and Jorge Posada reached base four times (two singles and two walks). Luis Ayala needed 30 pitches to throw a scoreless ninth down three runs.
Here's the box score, here's the FanGraphs stuff, here's the standings.
These two teams will play two games tomorrow, with Bartolo Colon and some guy named TBA (either Zach Britton or Chris Tillman, most likely) going for the Orioles at 1pm ET.