Yanks win big in second game of doubleheader
By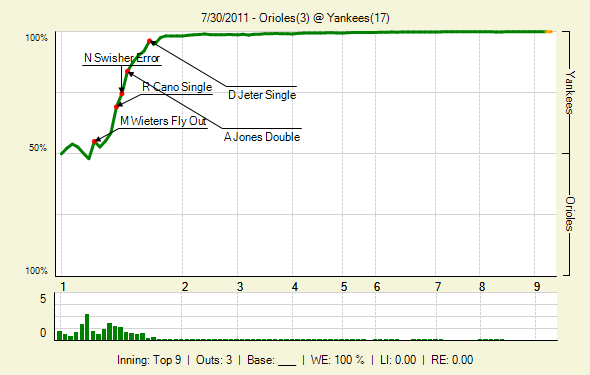 "That's why I like whipping [the Yankees] butt. It's great, knowing those guys with the $205 million payroll are saying, 'How the hell are they beating us?" — Orioles' manager Buck Showalter, March 2011
The twelve first inning runs are a new franchise record. Think about that. In the long and glorious history of the New York Yankees, they had never scored twelve runs in the first inning before this game. Insane.
The 24 hits are the Yankees' most in almost exactly four years, when they hung 25 on the (Devil) Rays on July 22nd, 2007. It's the first time they picked up 20 hits in a game since September 2009.
This was the 31st time since 1919 that the Yankees had eight players with two or more hits in a game. It's the second time they've done it this season.
Zach Britton was the first starter the Yankees have knocked out of a game after just 0.1 IP since Tim Corcoran of the (Devil) Rays in September 2006. Here are Britton's last two starts: 1 IP, 13 H, 17 R, 13 ER, 3 BB, 2 K. This kid was a top 10-15 prospect before the season. Fine example of what can happen when you rush young starters in the AL East.
Robinson Cano when the game started: .288/.333/.494. Cano when the final out was recorded: .297/.341/.505. Five-for-five with two doubles will do that for ya. Believe it or not, this was his first career five-hit game. That surprised me. Robbie has 17 career four-hit games.
I'm fairly certain that Andruw Jones has the most raw power on the Yankees. I'm talking brute strength, not hitting ability. When he gets a hold of one, they travel a frickin' mile. He hit a homerun off the sign in the back of the visitor's bullpen in this game, his 414th career homer. That's the 45th most in history.
Ivan Nova's return was a smashing success; he allowed two garbage time runs in seven innings. He wiggled out of a bases loaded jam in the first, but was on cruise control the rest of the way with the big lead. Nova's 97 pitches were broken down into 54 fastballs, 21 curveballs, 19 sliders, and three changeups. He got six swings and misses on the slide piece, the pitch they wanted him to work on in the minors.
I'm starting to think that Luis Ayala's 1.65 ERA is not really indicative of his true ability. [/sarcasm]
Rafael Soriano threw his first 1-2-3 since Opening Day. It's a Trade Deadline Eve miracle.
There's too much offense to recap, so ogle the box score. Everyone got in on the fun. Here's the FanGraphs stats, and here's the updated standings.
The final game of this makeshift four-game set will be played Sunday afternoon at 1pm ET. Freddy Garcia gets the start against Jake Arrieta. If you want to go, I hear RAB Tickets can get you into the Stadium on the cheap.