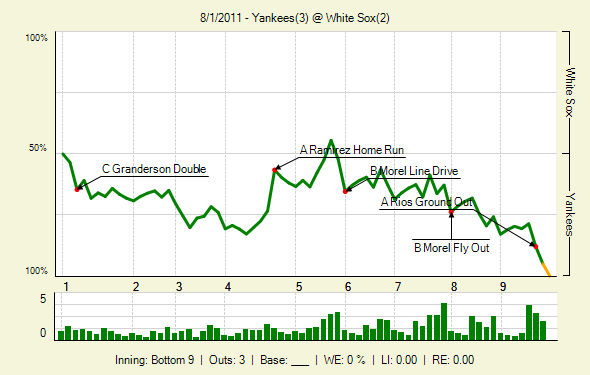 This game was dangerously close for far too long. The Yankees jumped out to quick 2-0 lead then tacked on another run, but the White Sox scored two and seemed to have a runner or two in scoring position with less than two outs all game long. But hey, a win's a win…
CC Sabathia really, and I mean really had to grind this one out. He didn't have his good slider and didn't have much command of his changeup, which is why he allowed ten hits to one of the weaker offenses in baseball. Alexei Ramirez touched him up for a two-run homer in fourth, but double plays helped him escape the second, third, and fifth innings. Adam Dunn, who went from awesome to embarrassingly bad in one winter, struck out to end rallies in the sixth and eighth. Sabathia only threw 104 pitches but they were 104 tough pitches, it's pretty impressive he completed eight full innings.
The Yankees had a run just seven pitches into the game. Brett Gardner started the game off with an infield single (stop sliding into first, kthxbye) and came around to score on Curtis Granderson's single. Grandy scored two batters later when Robinson Cano singled him, then scored two innings later on Cano's double play. It looked like the Yanks were on their way to another blowout win, but Jake Peavy settled down and allowed just three of the final 16 men he faced to reach base.
Granderson and Mark Teixeira were the only batters in the lineup with multiple hits, though Gardner (single), Cano (single), Eric Chavez (single), Jorge Posada (single), Andruw Jones (pinch-walk), and Eduardo Nunez (walk) all reached once. Nick Swisher and Frankie Cervelli combined for a particularly ugly 0-for-7 with two whiffs each. Just one of the final 14 men they sent to the plate reached base, and that was Andruw's pinch-walk.
How awful does Dunn look? As if the 0-for-4 with three strikeouts wasn't bad enough, he also misplayed a ball in the first and let another one that he should have handled get past him. He has three hits against left-handed pitchers this year (three!!!), the same number as the lefty hacking Clayton Kershaw. The boos were quite loud, and I can't imagine he's anything but miserable. As for Peavy, his stuff clearly isn't what it was in San Diego. I watched him quite a bit with the Padres, and the life just isn't there anymore. His fastball used to run all over the place in the mid-90's, now it just kinda wiggles in their right at 90. For shame. He did a fine job in this game though, obviously.
Mariano Rivera slammed the door in the ninth with nine pitches, all strikes. Here's the box score, here's the nerd stats, here's the standings.
Game two of this four-game set will be played Tuesday evening, when Phil Hughes could be pitching for his job against John Danks. Full-blown recaps will return then, it's been a hectic few days.