It was hard, it was tough, it as stressful, it was long, it was a Yankees-Red Sox game and it was a win. Just think, we've got two more of these to go.

The Big Man Does Big Things
Sometimes being an ace means giving up two hits in eight shutout innings, and sometimes being an ace means grinding out six innings on 128 pitches with a short bullpen. This was a big boy start for CC Sabathia, who had to work hard every single inning and fight through a tight strike zone against disciplined hitters. He allowed ten hits but also struck out ten, four of which ended innings with men on base. He struck out Adrian Gonzalez three times and got him to ground out weakly the fourth time. Sabathia didn't have a single 1-2-3 inning and half of the time he had runners in scoring position, but damn man, he gave up just two runs despite all that trouble.
The 128 pitches are Sabathia's most as a Yankee and the second most of his career, trailing only a 130-pitch effort with the Brewers back in August of 2008. He was starting on extra rest and I have to imagine he'll get an extra day off before his next start (Joe Girardi indicated he'll "see how he feels" next time around). That means the six-man rotation figures to stay in tack for one more turn. I don't have a problem with it, the big guy earned the extra rest. This is was a big performance tonight, the definition of ace-caliber. Pretty? No. Effective? Damn straight.

The King of the Fist Pumps
It's pretty amazing that Frankie Cervelli has three career homeruns, and all three have really meant something. His 2009 shot in Atlanta was basically the turning point of that season, and his grand slam in Texas earlier this year helped end an offensive malaise and a rather sizable losing skid. The homer in this game wasn't that dramatic, but it tacked on an all important insurance run in what had been a one-run game. Cervelli hit the ball clear out of the ballpark too, over the monster and off some dude's hands and into the parking lot behind the park. This wasn't a cheapie, it was a legit blast, and as he crossed the plate, Frankie clapped his hands with his usual enthusiasm.
Apparently John Lackey didn't like the clap, so he hit Cervelli with a first pitch fastball right between the numbers his next time up. The benches cleared but it wasn't anything serious, though Larry Rothschild did get himself ejected for yapping at the crew chief. I can't remember ever seeing a pitching coach getting tossed like that. Anyway, Cervelli eventually came around to score on a Derek Jeter double play, providing another important insurance run. It's okay though, Lackey really taught him a lesson (/rolls eyes). You gotta hand it to Frankie, this was quite a game from the backup backstop.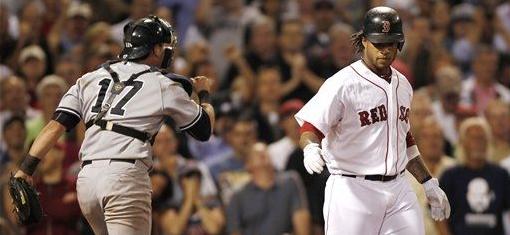 Ahhhh Bullpen!!!
Once Sabathia got through his six innings, it was time for the bullpen to take over. One problem though: David Robertson was unavailable after pitching in each of the last two games. That meant Cory Wade in the seventh with a 5-2 lead, and he gave up two hits and got just one out before Boone Logan came in to face Carl Crawford. The former Ray singled to load the bases with one out, and two right-handers were due up. Well, one switch-hitter and a right-hander.
Logan ran right over Jarrod Saltalamacchia with three straight sliders, getting the strikeout to bring Darnell McDonald to the plate. He ran the count full to Boston's right fielder, but escaped the jam by getting him to swing through a 95 mph heater upstairs. Huge pitch in a huge spot, and although he did it backwards again (gave up a hit to the lefty, retired the two righties), Logan got the job done in a big way. Rafael Soriano handled the eighth inning in Robertson's place, and pitched around a walk with some help from a fantastic running grab by Brett Gardner in left. That was one for the ol' UZR, I'll tell you that much.
Mariano Rivera closed the door in the ninth, but he had to work for it. David Ortiz doubled down the right field line to open the frame and Jarrod Saltalamacchia was awarded first on a hit-by-pitch even though replays showed that he clearly offered at the pitch. The resulting tirade got Girardi tossed. Anyway, Mo struck out Jed Lowrie and got Crawford to pop out in between baserunners before getting a game-ending fly ball out of Josh Reddick. Yankees pitchers did not have a single 1-2-3 inning all game, but you gotta hand it to these guys, they got the job done when they needed too. Gritty, gutty, all of that applies. The Sox went just 2-for-13 with runners in scoring position (seven strikeouts) and stranded 13 runners.

Leftovers
Unsung hero: Eric Chavez, who drove in the first and third runs with RBI singles back up the middle. Robinson Cano doubled off the wall in left to drive in Curtis Granderson for the second run, setting the tone for the offense. Nick Swisher remained en fuego, picking up three hits and a walk in his four trips to the plate. Brett Gardner had a bunt single that set up Jeter's run-scoring double play. The Cano-Swisher-Chavez trio combined to go 7-for-9 with two walks, pretty much driving the offense. Meanwhile, Jorge Posada really has this rally killing thing down pat, eh? A pair of poorly timed double play balls from the DH tonight.
One gripe with Sabathia: the pitch selection with Crawford. He started him off with two fastballs for strikes in his first at-bat, then threw four sliders for balls and ended up walking him after the 0-2 count. Next time up, he hung a first pitch slider and gave up a solo homer. Crawford has been a great player for a long time, but he came into the game with a .285 OBP overall and a .234 wOBA against left-handed pitchers. He's been garbage this season. They have to stop nibbling and instead show the guy zero respect, give him fastballs until he shows he can hit it consistently.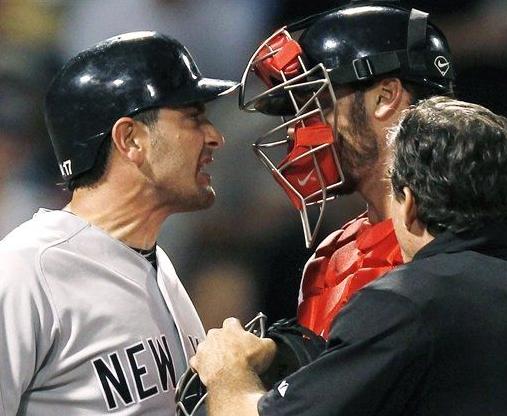 Also, I highly doubt Sabathia hit Jacoby Ellsbury on purpose to leadoff the first inning. Yeah, Granderson kinda sorta got hit in the top half of the inning, but Ellsbury's one of the game's best basestealers and he was in a two-strike count to lead off the game. If it was intentional, it was incredibly stupid. Also, CC is over 200 strikeouts for the first time as a Yankee, and there's a month left in the season. He whiffed 197 guys in both 2009 and 2010.
The Yankees are a Mo blown save away from taking three of their last four at Fenway, though I suspect we won't hear too much about that in the morning. The win moves them into a tie with Boston in the loss column atop the AL East, but more importantly the Rays lost to the Rangers. That gives the Yankees an 8.5 game lead for the wildcard and dwindles their magic number for a postseason berth down to 21, good old Paul O'Neill in the sidebar.
Box Score, WPA Graph & Standings
I for one do not believe this WPA graph accurately portrays how I felt during the game. MLB.com has the box score and video highlights, FanGraphs some other neat stuff, and ESPN the updated standings.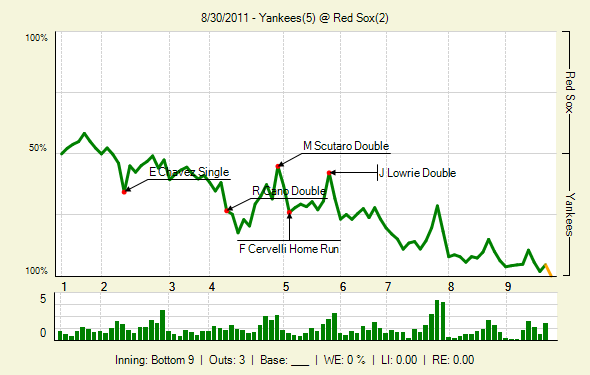 Up Next
Same two teams on Wednesday night, when Phil Hughes starts against Josh Beckett. RAB Tickets can get you into the game dirt cheap if you're going to be up in New England and want to catch the game.