After days of feeble ground outs and ugly swings, the Yankees offense returned to form in a hard fought win on Sunday. They're not all the way back yet, but it's certainly a step in the right direction.
A Run!
It had been so long, the first one deserves its own section. After going down 1-2-3 in the first inning, extending their scoreless stretch to 16 offensive innings (one run in their previous 26 innings), Robinson Cano got things going in the second inning with a leadoff single to the opposite field. He moved over to second on a wild pitch strike three to Jesus Montero, proving that even Montero's strikeouts are productive. The kid can't be stopped! Eric Chavez jumped on a 1-1 fastball and shot a hard grounder back up the middle, squeezing through the infield and bringing Cano home for the first run the Yankees have scored on something other than a homer since Thursday.
Freddy Sez: Shaky At Best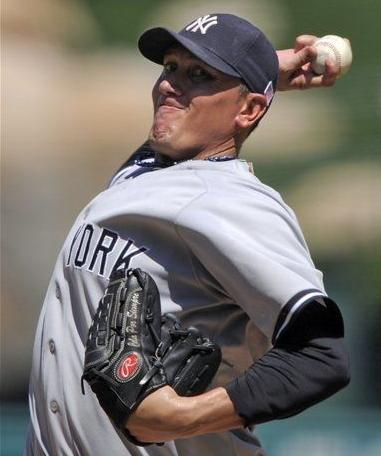 Last time out, the Orioles demolished Freddy Garcia for seven runs in just 2.2 IP. He was better this time around, but not much. Howie Kendrick hit a two-run homer in the first and Peter Bourjos did the same in the fourth, meaning Freddy has allowed five homers in 9.1 IP since his 69 IP homerless streak ended three starts ago.
The biggest moment of Garcia's start was easily the fifth inning, his last. Erick Aybar singled back up the middle then stole second. Bobby Abreu drew a walk after a Kendrick fly ball moved Aybar to third, and he stole second as well. With men at second and third with just one out in a one-run game, Garcia was ordered to intentionally walk Torii Hunter. I'm generally not a fan of free baserunners, and I'm especially not a fan of leaving a pitcher in after he issues an intentional walk. It always seems like they have trouble finding the strike zone after throwing four wide ones.
Sure enough, Freddy fell into a 3-1 count on Mark Trumbo, but the hacktastic rookie let it rip and popped up weakly to shallow right, not deep enough for Aybar to tag up. Garcia again fell behind on Alberto Callaspo, but eventually the Angels third baseman grounded out harmless to second to end the threat. Five runs on seven hits and three walks in five innings isn't good at all, but Sweaty Freddy really made some pitches when he had to in that fifth inning. Gotta love those veteran presents.
The Offense Returns
That Chavez RBI single in the second was a good sign, and the rest of the lineup started to breakout soon thereafter. Two innings later, Cano belted a solo homer to right, and one inning later Curtis Granderson clubbed a two-run homer to almost the exact same spot. The game stayed at 5-4 until the seventh inning, when the Yankees made their move.
Ervin Santana was left in for the proverbial "one more batter," allowing the first two men he faced in the inning (Brett Gardner and Derek Jeter) to reach on singles. The tying run was at third with no outs, but Granderson struck out for the 158th time this year, a new single season franchise record. A dubious record, but a record nonetheless. Mark Teixeira picked him up with a deep fly ball to center that would have been a sacrifice fly if Bourjos hadn't completely muffed the catch. He's arguably the best defensive outfielder in the game, right up there with Gardner, but he simply botched that one. Both Gardner and Jeter scored, and Tex would up on third on the three-base error.
You could kinda see the offensive rebounding taking shape. The at-bats were starting to get better, the number of ugly swings and misses were going down, and the number of well struck balls increased. They had runners on base every inning from the second through seventh, a welcome site after the previous night's futility. Bourjos' mistake was obviously a huge, huge part of the win for New York, but it wasn't all luck. The offense looked much more Yankee-like in this one.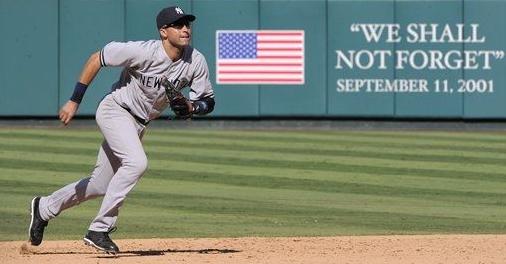 Leftovers
The bullpen held the Angels scoreless for four innings after Freddy exited, but of course Rafael Soriano made it interesting in the seventh. A single by Kendrick and a perfect hit-and-run by Abreu put runners at the corners with one out, but Abreu wound up at second on a rather weird play. Hunter worked the count full and checked his swing on the 3-2 pitch, then started walking towards first. He got in Austin Romine's way (more on him in a bit), so Abreu (who was running on the play) was safe at second. There was no obstruction call because there was no throw, but there's no doubt Hunter got in the way. Soriano managed to escape the inning on a ground ball, but it's never easy with him. Never.
Cory Wade, David Robertson, and Mariano Rivera were pretty flawless in the sixth, eighth, and ninth innings, respectively, save for a few infield singles. The Angels had nine (nine!) of those suckers in the three game series, creating perhaps the most unwatchable brand of baseball known to man. If I wanted to watch that stuff on a daily basis, I'd coach Little League.
Oh, and this was Mo's 599th career save. One more for 600, two more to tie Trevor Hoffman's all-time record, three more to break it. There's 17 games left, seems like he's got a pretty good chance to accomplish all three this year.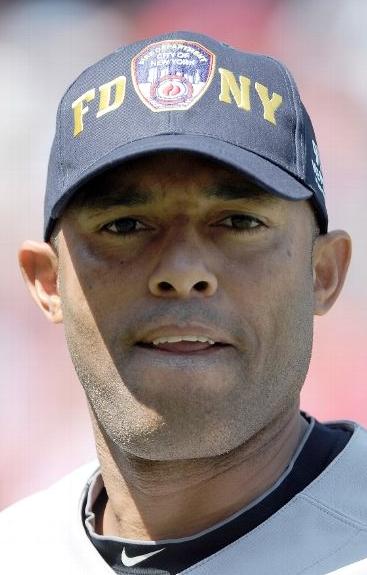 Montero made his first career start behind the plate due to the injuries to Russell Martin (bruised right thumb) and Frankie Cervelli (concussion symptoms), and he was pretty much what everyone said he'd be. He did throw out one attempted basestealer, but two others were safe without a throw. Montero also allowed a wild pitch to get throw his legs (allowing a run to come in) but also blocked quite a few of Garcia's splitters. Combined with his 0-for-3 (three strikeouts and an intentional walk) at the plate, it was easily the worst game of his young career.
Joe Girardi told us everything we need to know about Montero's defense when he replaced him with Romine in the seventh inning, Romine's big league debut. I wonder how many players have made their Major League debut as a defensive replacement behind the plate without an injury necessitating the move? Can't be many, I'm sure of that. Romine looked fine but wasn't really tested, just that weird play with Hunter walking in front of him.
Jeter had two hits, Granderson the homer, Tex a walk and the sacrifice fly/error, Cano two hits, Andruw Jones two walks, Eduardo Nunez one walk, and Gardner a hit and a walk. That last guy also got caught stealing. Like I said, it was a much better showing for the offense compared to the previous four games, hopefully something that gets them back on the right track. This lineup is too talented to be terrible for that long.
The Rays stomped all over the Red Sox and swept that series, moving them to within 3.5 games of Boston for the wildcard. The Yankees, however, moved to 3.5 games up (four in the loss column) in the division, their largest lead of the season. They also remain seven up for the wildcard. That's a pretty awesome place to be at this point of the season.
Box Score, WPA Graph & Standings
MLB.com has the box score and video highlights, FanGraphs has some other stats, and ESPN has the updated standings.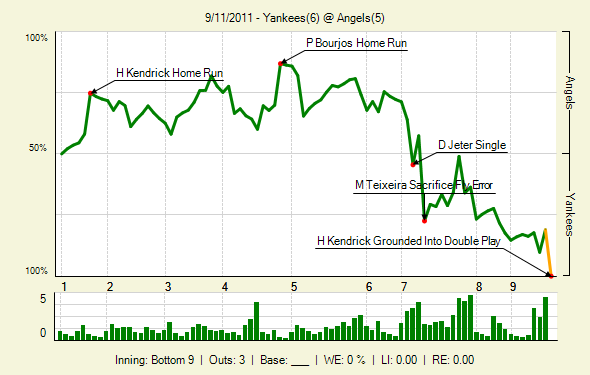 Up Next
Off to Seattle for the last three games of the season's final west coast trip. It'll be Phil Hughes against Felix Hernandez on Monday night, a 10:10pm ET start.