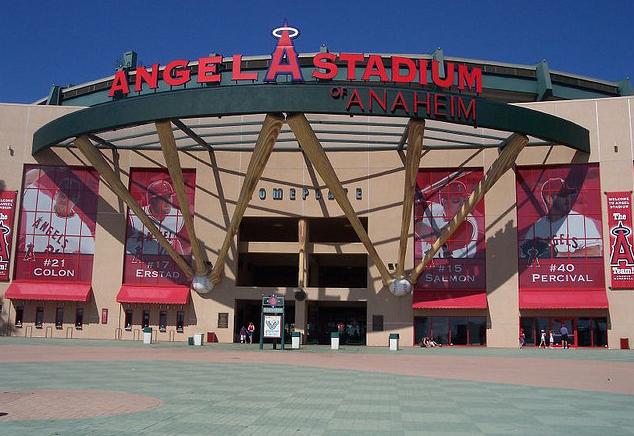 These September west coast trips are always the worst. It sucks having to stay up late for games, it sucks that the Yankees have to make two cross country flights so late in the season, and it really sucks having to stay up late for games. I think I said that already. The Yankees are in the Pacific time zone for the next six games, starting with three in SoCal against the Angels.
What Have The Angels Done Lately?
Life in the AL West means the Halos have played seven of their last ten games against the Mariners. In between the four-gamer and a three-gamer with Seattle was a three-game set with the Twins, and Angels went 6-4 during that ten game stretch. They have won four of their last five though, and remain 2.5 games back of the Rangers in the division. They're seven games back for the wildcard, so that's not really an option.
Angels On Offense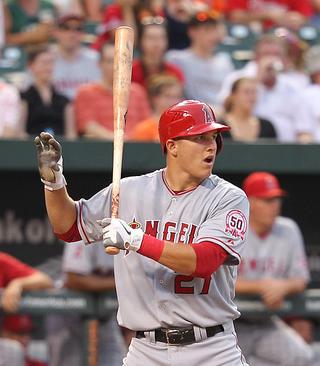 Despite having some pretty big names in the lineup, the Angels are a slightly below-average offense with a .313 wOBA. Bobby Abreu has essentially been reduced to platoon status of late, even though he's the team's top OBP (.356) threat. His power (.110 ISO) is gone, though. Torii Hunter (.330 wOBA) still plays everyday, and Vernon Wells (.282 wOBA) is out there most days as well. Mark Trumbo is the Angels' top power threat (26 homers and a .225 ISO), but that .295 OBP is atrocious. Howie Kendrick (.353 wOBA) has probably been their best hitter all year.
The rest of the lineup is subject to change by the day. Maicer Izturis (.322 wOBA) and Erick Aybar (.315 wOBA) have been tag teaming the leadoff spot, though the speedy Peter Bourjos (.339 wOBA) has seen time atop the order as well. Megaprospect Mike Trout (.328 wOBA in limited time) has been forcing his way into the lineup more and more each day, and if you think Brett Gardner is fast, wait until you see this kid run. Alberto Callaspo (.322 wOBA) and Russell Branyan (.328 wOBA) might show their faces as well. The catching trio of Jeff Mathis (.211 wOBA), Bobby Wilson (.239 wOBA), and Hank Conger (.277 wOBA) is just awful.
Overall, the Angels can do a little bit of everything but nothing outstandingly well. They're top ten in steals (116 with Aybar, Bourjos, Abreu and Trout being the biggest threats) and middle of the road in power (.146), but they're not very patient (just 7.4% walks) and aren't great at avoiding strike three (17.8%). Not a scary offense, but not a total pushover either.
Angels On The Mound
Friday, RHP Jered Weaver (vs. Bartolo Colon): The Yankees missed Weaver the last time these two clubs faced because the right-hander was serving a suspension for throwing at Carlos Guillen. He's having a great season (2.49 ERA and 3.02 FIP), but he's also got a 6.67 ERA over his last five starts, including three absolute disasters. The recent death of his grandfather surely has to be considered a factor. Weaver legitimately throws five pitches, including two high-80's fastballs (both two and four-seamers), a high-70's slider, a high-80's changeup, and low-70's curveball. He excels at limiting walks (2.22 BB/9) and gets plenty of strikeouts (7.68 K/9), but he is an extreme fly ball pitcher (just 32.6% ground balls). The Yankees have seen Weaver once before this year, when he held them to two runs in seven innings back in early-June.
Saturday, RHP Dan Haren (vs. CC Sabathia): As good as Jeff's kid brother has been this year, Haren has been even better. He doesn't walk anyone (1.21 BB/9) and gets a decent amount of grounders (42.1%), and his strikeout rate (7.20 K/9) is tolerable. The 2.93 FIP and 3.20 ERA are pretty good representations of his true talent level. Haren features four different fastballs: a four-seamer, a two-seamer, a cutter, and a split-finger. All of them reside in the mid-to-high-80's. A high-70's curve and a mid-80's change will also make an appearance. In his only start against the Yankees this year, Haren gave up four runs in six innings.

Sunday, RHP Ervin Santana (vs. Freddy Garcia): Another low walk (2.58 BB/9) starter, Santana lags behind Weaver and Haren in the strikeout (6.95 HR/9) department. A 3.18 ERA and 3.72 FIP certainly indicate quality though. Amazingly enough, Santana's basically a two-pitch pitcher, relying on his low-to-mid-90's heat and low-80's slider while throwing a mid-80's changeup about once every 33 pitches. You'd expect a big platoon split with that repertoire, but Santana doesn't have one this year. He does have one over the course of his career, however. The Yankees scored three runs in seven innings off him earlier this year.
Bullpen: Every team's bullpen is packed to the gills with call-ups this time of year, but Mike Scioscia's three primary bullpen guys are closer Jordan Walden (2.34 FIP), righty setup guy Fernando Rodney (4.55 FIP), and lefty setup guy Scott Downs (3.39 FIP). The versatile Hisanori Takahashi (4.06 FIP) and underrated Rich Thompson (3.28 FIP) are the next tier of relievers. A bunch of call-ups like Trevor Bell (3.48 FIP), Bobby Cassevah (3.61 FIP), and Horacio Ramirez (5.31 FIP) fill out the rest of the relief corps. Oh, and there's Joel Pineiro (4.64 FIP). Here's their long reliever after pitching his way out of the rotation.
Recommended Angels Reading: True Grich.