I hadn't been this excited about a regular season game in a long, long time. There's very little that could have happened to completely ruin Jesus Montero's debut for me, and frankly this might have been the most intense win of the season. Might have been? Who am I kidding. It absolutely was.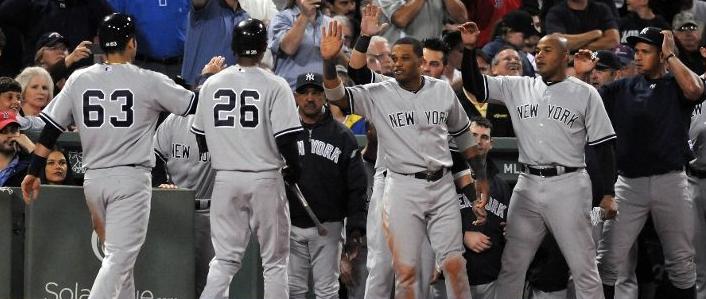 The Comeback
For the first six innings of the game, the Yankees were putting on a RISPFAIL clinic. I mean inning after inning, it was stranded runner after stranded runner. They left the bases juiced in the first, runners on corners in the second, a man on first in the third, a man on first in the fourth, men on corners in the fifth, and the bases loaded in the sixth. That's what, a dozen stranded baserunners in six innings? Ridiculous. In the seventh inning though, all was forgiven.
Former Yankee Al Aceves was on the bump for the Red Sox, and he started the inning by striking out Nick Swisher, who we'll talk about more later. Andruw Jones (more on him later too) started the comeback rally by fouling off nine pitches as part of a 14-pitch walk, an absolutely gorgeous at-bat from a veteran guy who's played through everything. It really defined the inning for New York, an inning in which none of the first four batters saw fewer than five pitches. Chris Dickerson pinch-ran for Jones, and moved to second with Aceves grazed Montero's jersey with a fastball for his first career time-on-base.
With the tying and go-ahead runners on base, Terry Francona went for the kill and brought in setup ace Josh Daniel Bard. Russell Martin swung through two straight sliders for a quick 0-2 count, and frankly I thought the at-bat was lost after that. Bard throws so hard that you have to cheat fastball, but you also have to watch for the slider and try not to get caught out front. He made it easy for Russ by missing with three straight heaters to run the count full, the second of which was close to the outside corner and an impressive take from Martin. The sixth pitch of the encounter was another fastball, this time over the plate, and Martin let it eat*, driving the pitch into the right-center field gap. The runners were on the move, so Dickerson scored with ease and Montero chugged in right behind him somewhat surprisingly.
At +.350 WPA, Martin's double was far and away the biggest play of the game. It was also the fifth biggest hit of the season by the Yankees (based on WPA), and the biggest before the ninth inning. Zombie Eric Chavez rose from the dead to pinch-hit for Eduardo Nunez, and he singled through the right side to plate Russ from third (he moved up on the throw home) with a big, huge, monster go-ahead run. The rally was classic Yankees, starting with Andruw's prolonged at-bat. They worked the count (38 pitches in the inning), took close pitches, fouled off tough pitches, ran the bases well, and came through in big spots. It was gorgeous, you couldn't dream up a better rally. After starting the inning down 2-1, the Yankees ended it up 4-2.
* Am I the only one that heard Martin talking about this a few weeks ago? How he and Kevin Long were working on just swinging as hard as possible, and how they'll yell "let it eat" from the dugout instead of "let it rip?" I remember hearing it and thinking it was pretty cool, but maybe that's just me.

Closing The Door
Because nothing is ever easy in Boston, the Yankees' three-headed bullpen monster had to work for the final nine outs. Rafael Soriano benefited from a(nother) great catch by Brett Gardner in a scoreless seventh, though he walked Jacoby Ellsbury with two outs. David Robertson started the eighth out with a four-pitch walk to Adrian Gonzalez, which is exactly what they didn't need. Dustin Pedroia hit a tailor made double play to short that the Yankees turned into two outs … except first base ump Mark Wegner called him safe. Fine, whatever. Robertson got out of the inning by striking out David Ortiz and getting Carl Crawford to fly out to left.
The ninth inning certainly got a little dicey, starting with Jed Lowrie's leadoff walk against Mariano Rivera. Josh Reddick followed with a fly ball to deep-ish right, then Jarrod Saltalamacchia struck out for the second out. Ellsbury worked another walk to put the tying run on base, then Marco Scutaro took a 0-1 cutter to the opposite field for a single. Lowrie did not score but the bases were juiced for Gonzalez, arguably the best hitter on the planet.
As far as I'm concerned, this at-bat was a pitching clinic. The first pitch cutter was down and out of the zone but Gonzalez hacked at it for strike one, and the second cutter was right in around his waist. Adrian fouled it off for strike two. The third and fourth pitches were again inside, and both of them nearly hit Gonzalez. He took the first for a ball, but fouled off the second. Mo and Martin pounded the Red Sox first baseman inside so he couldn't extend his arms, but the fifth pitch of the at-bat was … well look at it:
Look at that thing. It's perfect. Down and away after four straight cutters in, the pitch must have looked like it was in China. Gonzalez checked his swing but it didn't matter, Alfonso Marquez called it a strike and the game was over. Just a brilliant sequence from the Yankees' battery. The gif comes courtesy of the great Mike Fast, by the way.
The New Burnett?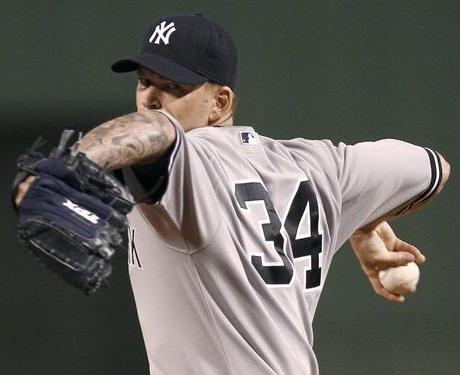 Let's start with the obvious: A.J. Burnett pitched better than anyone expected. Two runs in 5.1 IP? No one was thinking that given how awful he's been for the last two months. Burnett's two biggest mistakes came to back-to-back batters, when he allowed a ground rule double in a 2-0 count to Gonzalez to lead off the fourth before allowing a two-run homer to Pedroia in a 3-1 count. Nothing unusual here, he fell behind in the count and gave fastballs to fastball hitters. Overall, Burnett struck out four and walked two, giving up just the two runs on five hits. He got nine outs on the ground and just two in the air.
Obviously it was an encouraging outing, and you know what else was encouraging? A.J. showed off some new mechanics, so at least know they're doing some serious tinkering behind the scenes. That's not to say I thought they were sitting on their hands, but it's always reassuring to see something like that. The changes were pretty simple and Al Leiter said they were designed to keep his hands together and make his delivery more compact. Essentially all he was doing was starting with hands at his chest (they're usually at his waist) and with his legs a little bit spread apart on the mound (they're usually close together). The curveball was clearly a key pitch for Burnett; he threw 33 of them and 24 went for strikes (seven swings and misses). That just wasn't happening before, the pitch was always finishing out of the zone.
Anyway, did Burnett do enough to earn himself another start? Joe Girardi wants to get his rotation down to five guys but he did say they wouldn't base the decision on just one start, so … I dunno. Let's enjoy this one start for the time being and worry about the rotation tomorrow or the next day. Give A.J. some mad props, he showed up and took care of business today. Very nice to see.
The Debut
Sorry to make you wait this long, but you really didn't think I'd go the entire recap without talking about Montero's debut, did you? He went 0-for-4 with the hit-by-pitch, so it was hardly a spectacular debut, but I didn't think he looked overmatched or anything. His first inning at-bat was his best, a six-pitch strikeout against Jon Lester after falling behind in the count 0-2. I thought the outside changeup he took for ball two was impressive, because it was juuust off the plate and couldn't have been easy to lay off. I'm actually kinda glad he didn't hit a grand slam there, since the last three players to hit grannies in their first career at-bat (Kevin Kouzmanoff, Jeremy Hermida, and Daniel Nava) haven't exactly distinguished themselves. I may or may not be kidding.
Two of Montero's three balls in play were fly outs to right-ish center, so he showed off that opposite field stroke we've heard so much about. For a 21-year-old kid making his big league debut in Fenway Park in the middle of Yankees-Red Sox, I thought he did well. Plus, you know, he scored the game-winning run. He just knows how to win games! The good news is that it'll get easier from here, because nothing tops that kind of atmosphere. I'm very excited to see more.
Leftovers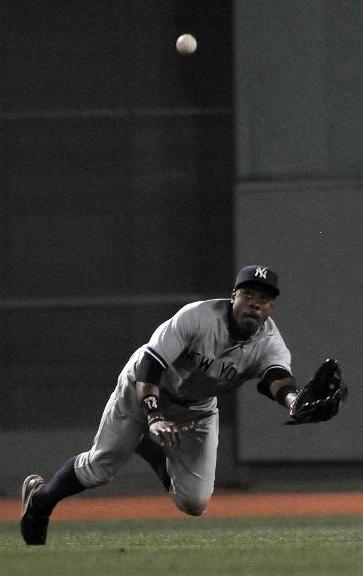 Underrated moment of the game: Curtis Granderson's diving catch to end the sixth. The Sox had runners on first and second, and if that ball lands, it's at least one run and possibly two because there were two outs. Huge play at the time that looks even bigger in hindsight.
Stupid moment of the game: Nick Swisher's sacrifice bunt in the fifth inning. The look on his face in the dugout told you the whole story, he simply forgot how many outs there were. So instead of swinging away with Robinson Cano on second with one out, he bunted him to third so Andruw Jones could take his hacks. Unsurprisingly, they did not score. Physical mistakes I can live with, mental mistakes like that (especially forgetting how many outs there are, give me a break) drive me nuts.
Speaking of Jones, that dude was a straight up beast tonight. He drew three walks and struck out once in his four plate appearances, and he saw a total of 36 pitches. Thirty-six pitches! He and Swisher combined to see 19 pitches in the first inning alone. That's nuts. The Yankees fouled off 30 strike-two pitches as a team, the most in a nine-inning game in the majors this season. Other than Swisher's stupid bunt, they just did not give away at-bats, not even the rookie.
Derek Jeter and Granderson each had two hits and a walk while Cano and Martin each had a pair of knocks. Jones had the three walks (undoubtedly, some of that was due to the rookie batting behind him), and both Swisher and Mark Teixeira had a hit. Tex, by the way, left the game after getting hit by a pitch and is day-to-day with a bruised right knee. I would not be shocked if he was out of the lineup tomorrow, no reason to push it now.
You know who was really on their game tonight? Ken Singleton and Leiter. They were all over Martin's at-bat in the seventh, breaking down what he was looking for and what not. Absolute announcing clinic. Those two killed it all game.
The Yankees are now tied with the Red Sox in the loss column for first place in the AL East, and because the Rays lost to the Rangers, they're 8.5 games up for the wildcard. The magic number to clinch a postseason berth is Aaron bleepin' Boone, number 19 in the sidebar. The win, by the way, was the Yankees' 82nd of the season, clinching their 19th straight winning season. That's the second longest streak in baseball history, behind the 1926-1964 Yankees. Yes, they had 38 consecutive winning seasons, so this squad is halfway there. Yeah.
Box Score, WPA Graph & Standings
Now that is the kind of WPA graph we were supposed to have on Wednesday. MLB.com has the box score and video highlights, FanGraphs some nerdy stuff nobody cares about, and ESPN the updated standings.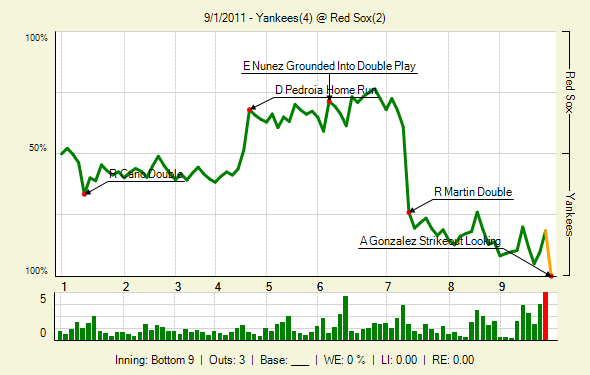 Up Next
Time for the Yankees to come back home to the Bronx. They'll open their six-game homestand on Friday night when Ivan Nova gets the ball against Brandon Morrow and the rest of the Blue Jays. RAB Tickets can get you into the Stadium dirt cheap if you want to catch the game.