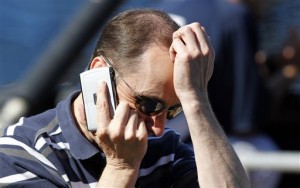 Brian Cashman has been the general manager of the Yankees for a long time now; he'll be entering his 14th year once Spring Training rolls around. As you've probably noticed by now, he's definitely got a sense of humor but also says a whole lot of words without adding much substance when he talks to the press. There will be words coming out of his mouth, but not many are meaningful. It's typical YankeeSpeak, and Joe Girardi is starting to master is as well.
Well, Cashman is the opposite when he starts exchanging texts. He's short and to the point, which is refreshing. Wally Matthews of ESPN New York exchanged some texts with Cash on Monday morning, and he was kind enough to post the conversation for all to see. You should head on over to check it out, it's worth your time. In an effort to fit in, I've decided to share some text conversations I've had with various members of the Yankees' brain trust recently…
* * *
Me: Have you called about Felix Hernandez recently?
Cashman: havent talked to jack z since cliff lee
Me: Are you holding a grudge because they backed out of the trade?
Cashman: lol no their roster just sux
* * *
Me: See anyone interesting in winter ball?
Billy Eppler: Paul Wilson is still pitching.
Me: Interested in signing him?
Eppler: No, but he's still pitching. Crazy, right?
Me: Yeah I guess.
Eppler: You'd be surprised who you see out here.
Me: Anyone else interesting?
Eppler: Not sure, but I haven't seen Bill Pulsipher yet.
Me: I take it he's pitching there too?
Eppler: Yeah, crazy.
Me: Would you sign him if he looks good?
Eppler: No idea, but dude, it's Bill [expletive deleted] Pulsipher.
Me: Looking forward to seeing Jason Isringhausen next?
Eppler: No Michael, that's just stupid. End of conversation.
* * *
Me: Happy with the CC Sabathia extension?
Hal Steinbrenner: We're extremely pleased.
Me: Would you have given him a sixth guaranteed year?
Hal: We have the best fans in the world, we would have done what it takes.
Me: What about seven years?
Hal: We have the best fans in the world, we would have done what it takes.
Me: Is there a point when you would have said enough is enough?
Hal: We have the best fans in the world, we would have done what it takes.
Me: …
Hal: :-P
* * *
Me: Any surprise signings this winter?
Randy Levine: TALKING TO KROD WILL CHECK ON MADSIN
Me: Even with Rafael Soriano and David Robertson?
Levine: TOLD SORIANO TO OPTOUT
Me: But he didn't.
Levine: SAID HE WOULD
Me: He didn't though, and the deadline has already passed.
Levine: THATS BRIANS FAULT
* * *
Me: I hear the Braves are interested in trading for Eduardo Nunez.
Cashman: i kno lmao
Disclaimer: I can not guarantee that these text exchanges actually happened.