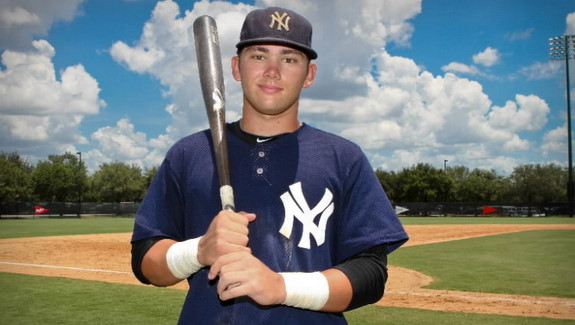 Dante Bichette Jr. | 3B
Background
The son of former big leaguer Dante Bichette Sr., Dante Jr. first popped up on the radar in 2005, when he helped his Maitland, Florida team to the Little League World Series. He went on to star at Orangewood Christian High School just outside of Orlando, twice being named the All-Central Florida Baseball Player of the Year. He also led the Rams to the state tournament his junior and senior years.
Baseball America (subs. req'd) ranked Bichette as 15th best prospect in Florida and 108th best prospect overall heading into the 2011 draft, so it was somewhat surprising when the Yankees drafted him with their first selection, the 51st overall pick. They'd received that pick as compensation for the loss of Javy Vazquez to the Marlins. Bichette signed quickly for a $750k, passing on his commitment to Georgia for roughly $55k over slot.
Pro Debut
The Yankees assigned Bichette to the Rookie Level Gulf Coast League after signing, though he got off to a pretty slow start. He was hitting just .151 about three weeks into the season, but then went on a 16-game hitting streak and didn't stop hitting the rest of the year. Bichette led the GCL Yankees to the league title thanks in part to his game-tying homer in the title game, then was named the GCL MVP after the season. He finished second in the league in AVG (.342), second in OBP (.446), eighth in SLG (.505), fourth in OPS (.951), first in hits (67), first in doubles (17), first in RBI (47), second in total bases (99), and third in walks (30). That earned him the top spot on Baseball America's list of the top 20 GCL prospects as well as a late season promotion to Short Season Staten Island, where homered and walked in eight plate appearances across two games.
Scouting Report
Like his father, Bichette is a bat first player. He generates big raw power and bat speed from his 6-foot-1, 215 lb. frame, using a discerning eye to work deep counts and take walks when he doesn't get anything to hit. He also makes a surprising amount of contact for a power hitter. The Yankees cleaned up some extraneous movement in his setup and swing after signing, changes he took to pretty quickly. Bichette has worked hard to improve his defense at the hot corner, specifically his arm angle and throwing. There's a still a chance he'll end up in a corner outfield spot or first base down the road. He's pretty much an average runner at this point.
The Yankees seem to have focused on makeup and work ethic lately, and Bichette is the prospect poster boy for intangibles. George King (subs. req'd) wrote that he took on a leadership role with the GCL club this year, helping unite the young American and Latin American players on the team and making sure no cliques formed. He also takes extra rounds of batting practice regularly. Here's some video.
2012 Outlook
The Yankees rave about Bichette's worth ethic and leadership qualities, so I wouldn't be surprised if they get a little agressive and jump him into full season ball with Low-A Charleston next season. The Yankees have generally hold their best high school draftees back in Extended Spring Training before assigning them to Short Season Staten Island during their first full pro season, at least over the last few years.
My Take
I'm not Bichette's biggest fan, but the kid can hit, there's little doubt about that. He fits right into the Yankees' mold of patience and power, and right-handed pop is a little more valuable to the team since they can sign pretty much any lefty hitter and watch him hit double-digit homers to right field. Can't do that with righties, they need legit pop to hit one out in the Bronx. The questions about Bichette's long-term position and defensive value are real, but it's a good sign that he's already shown some improvement. The microscope will be on Bichette though, just because he was a surprise high pick.