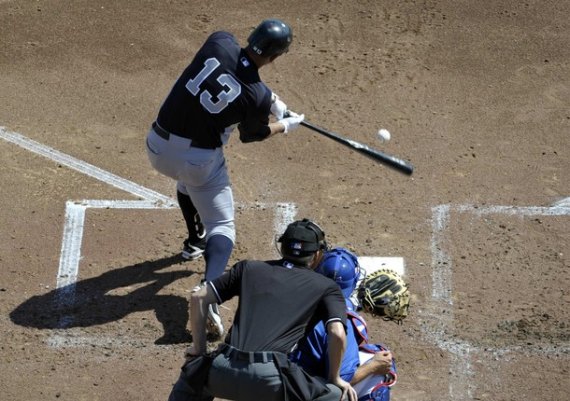 One day, very soon, the figure $189 million will disappear from these pages. It's a hot topic now, for sure. But that's only because there's no meaningful baseball. Once the games begin, it will be time to remove two-years-distant speculation and focus on the team taking the field. Until then, $189 million will remain prominent. And there might be no more prominent aspect of it than Alex Rodriguez.
The biggest obstacle the Yankees face in reaching the $189 million goal is their collection of existing contracts. They currently have three players under contract for 2014, and their average annual values are all over $20 million. Mark Teixeira will cost them $22.5 million on the luxury tax, and CC Sabathia will cost them $24.4 million. Alex Rodriguez, however, will cost them the most. Not only is his average annual value $27.5 million, but he has a number of milestone escalators that could kick in around that time. He remains the team's biggest obstacle to attaining its goal.
In terms of the $189 million payroll level, the escalators in A-Rod's contract could hurt more than the average annual value. If he reaches those milestones in 2014, he could send the Yankees over their luxury tax threshold, ruining the entire plan. Of course, his $27.5 million average annual value hurts as well, since it's the highest in the game. Yet there could be a way the Yankees could take care of both problems with one move. They could re-work A-Rod's contract.
Joel Sherman wrote about this idea recently. Some of the ideas he proposed make sense. For instance, approaching A-Rod about the extension following the 2013 makes the most sense. That gives the Yankees two years to determine if Alex can actually stay on the field for prolonged periods. They'll also have a better idea of when he'll activate his home run milestones. That can help inform them on the new contract.
Sherman proposes an actual contract extension, totaling five years and $100 million. After the 2013 season A-Rod will have four years and $86 million remaining on his deal, plus escalators. The extra year, then, would be to essentially drag out the contract and provide luxury cap relief, while the $14 million would go towards guaranteeing some of his home run milestone bonuses. That does extend Rodriguez until he's 43, but it does provide considerable cap relief — $7.5 million, to be exact. That would go a long way for the Yankees.
If Rodriguez hits his 660th, but not his 714th, home run before the end of the 2013 season, the reworked contract would total 11 years and $295 million guaranteed. That could be good enough a guarantee to entice him. After all, that guarantees him payment for Nos. 714 and 755, plus another $2 million. He might lose out a bit if he does indeed hit No. 763, but considering his health that's some wishful thinking. Again, that's why both he and the Yankees will want to wait until after 2013 to discuss this.
Where the Yankees could actually save is by working within the parameters of the old deal to create a new, cap-friendlier one. Because of the time value of money, teams often backload player deals. But the Yankees front-loaded Rodriguez's. Again, after the 2013 season he'll have four years and $86 million remaining, for an average annual value of $21.5 million. If the Yankees simply re-worked the deal under the same terms as previously, they could save $6 million per season on the luxury tax. They'd still have the home run escalators, though they could get creative in that manner, as Sherman suggests.
As long as Rodriguez is guaranteed more money than previously, chances are MLBPA will have no issue with the two parties re-working a deal. They have stepped in previously when Rodriguez tried to re-work his deal; he tried to take less money to facilitate a trade to Boston after the 2003 season, but the union would not allow it. But 10 years later, the Yankees won't be trying for the same end. They'd instead guarantee Rodriguez more money. In exchange, they'd improve their cap figures.
MLB might not like it, but it would likely take Bud Selig invoking the "best interests of Baseball" clause to act against it. Even then, it's hard to prove how it runs counter to Baseball's best interests. It's not as though every team has front-loaded contracts on the books. Most backload, making such a maneuver impossible. But in this one instance, the Yankees have an advantage. How could anyone argue that reworking Rodriguez's deal — and handing him more guaranteed money in the process — runs counter to Baseball's best interests?
Again, we have a while before any of this comes to the fore. Rodriguez still has two more seasons before his contract becomes an issue. After hitting the DL for four straight seasons, he has plenty to prove on the field. But come 2014, the Yankees could use his contract to their advantage.
Update: Commenter Needs Pitching notes that the savings might not be all that great. It would still amount to a few million, though, and the Yankees can use every possible dollar at this point.