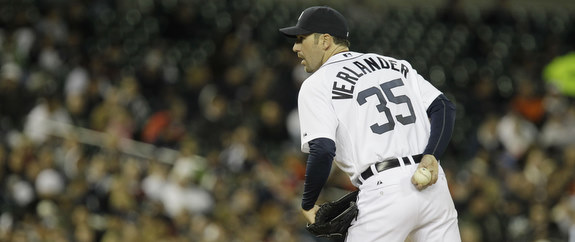 Less than eight months ago, it was this same Tigers team that knocked the Yankees out of the playoffs with a win in Game Five of the ALDS. Well, not this same exact Tigers team, they have added and subtracted some players since then. Revenge on the menu regardless.
What Have They Done Lately?
The big bad Tigers have lost their last four games and six of their last seven. They actually just got swept by the Mariners at home, and were outscored 21-9 during the three games. That's legit embarrassing. Detroit is now 10-9 with a -7 run differential, the fourth worst in the AL.
Offense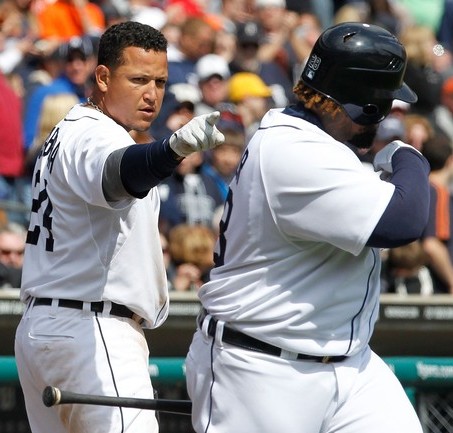 With the addition of Prince Fielder, this fearsome juggernaut offense is … off to a pretty sketchy start. The Tigers have an 88 wRC+ as a team, which ranks 20th in baseball. Their 79 runs scored and 4.16 runs per game both rank 15th among the 30 clubs. It's kinda hard to believe given the hype, but then again lineups run more than two deep.
While Fielder (120 wRC+) and Miguel Cabrera (140 wRC+) remain incredibly dangerous despite relatively slow starts, the supporting cast has left a lot to be desired in the early going. Austin Jackson (134 wRC+) tore the cover off the ball for about a week before falling into a tailspin, though catcher Alex Avila (125 wRC+) has managed to build on his breakout 2011 seasons. Those four guys are carrying the offense by themselves because no other player with even 30 plate appearances has been remotely close to average.
Jhonny Peralta (63 wRC+) and Brennan Boesch (46 wRC+) have done nothing, ditto the second base platoon of Ramon Santiago (35 wRC+) and Ryan Raburn (9 wRC+). Andy Dirks (116 wRC+) has performed well in very limited action, though Don Kelly (71 wRC+) has not. The Tigers released Brandon Inge (-4 wRC+) yesterday, replacing him with Quad-A masher Brad Eldred (13 HR and 293 wRC+ in Triple-A). The 31-year-old right-handed hitter is expected to DH against left-handers initially, though I suppose we could see him thrown right into full-time duty since he's been hitting and Detroit has received the third worst production from the DH spot (85 wRC+) this year.
The Tigers are unlikely to have the services of Delmon Young tonight and maybe through the weekend after he was arrested following a drunken brawl last night. He faces a hate crime-related charge, which is serious stuff. Young did some damage against the Yankees in the postseason but was off to a slow start this year, producing a 74 wRC+ in 74 plate appearances. His absence could make life a little easier for the Yankees, though the Cabrera and Fielder duo is a scary as it gets.
Pitching Matchups
Friday: RHP Ivan Nova vs. RHP Justin Verlander
You're not going to find a more dominant pitcher in baseball than Verlander right now. The reigning AL Cy Young and MVP Award winner has started this season almost exactly the same way he ended last season, with lots of strikeouts (8.90 K/9 and 26.1 K%), few walks (2.30 BB/9 and 6.7 BB%), and a fair number of ground balls (41.6%). Verlander is a machine, sitting in the mid-90s with the four and two-seamer before ratcheting it up into the high-90s and triple digits in the later innings. His upper-70s curve is arguably the best in the business, and his mid-80s changeup makes his fastball seem even harder than it really is. Jim Leyland will run his ace into the ground, so working the count against Verlander is futile. The guy is going to throw eight innings and 130 pitches regardless, so the Yankees have to take a cut if they get something decent to hit. No point in waiting around.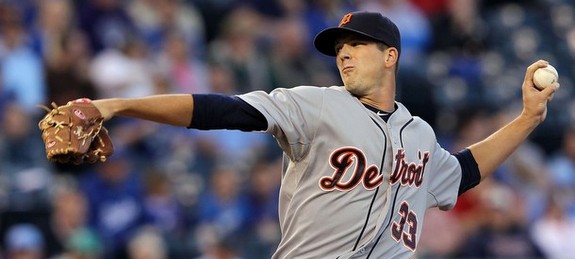 Saturday: RHP Freddy Garcia vs. LHP Drew Smyly
The big question for Detroit coming into the season was the back of their rotation, though Smyly has strung together three pretty good starts — including one against the Rays and one against the Rangerss — to begin his big league career. The 22-year-old southpaw has a history of missing bats in the minors and has shown the same skill in the show (8.44 K/9 and 22.1 K%), but he can be a little jittery with the walks (3.38 BB/9 and 8.8 BB%). Smyly relies very heavily on his low-90s four-seamer, mid-80s cutter, and low-80s slider, though he'll mix in one or two changeups a game. The whole "OMG a lefty they haven't seen before!" logic applies here, but I'm far more concerned about Garcia's performance in this game than Smyly's.
Sunday: LHP CC Sabathia vs. RHP Max Scherzer
It seems like every time the Yankees face Scherzer, they either light him up or he completely shuts them down. It doesn't feel like there's much of a middle ground. The right-hander is off to the best start of his career; you just wouldn't know it by looking at his bloated 8.48 ERA. He's still trying to work off a seven-run, 2.2 IP showing from earlier this month. Scherzer is missing bats (10.53 K/9 and 24.2 K%) and limiting walks (2.75 BB/9 and 6.3 BB%), though he remains fly ball heavy (35.5% grounders). A true three-pitch guy, he'll sit in the mid-90s with his fastball and back it up with a mid-80s to righties and a mid-80s changeup to lefties. He's traditionally had a harder time with batters of the opposite hand, however.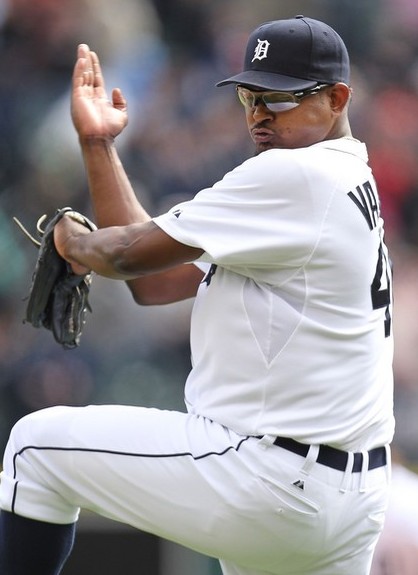 Bullpen Status
I doubt we'll see much of Detroit's bullpen tonight with Verlander on the bump, but their core bullpen arms are rested. Jose Valverde (3.59 FIP but the same number of walks as strikeouts) hasn't appeared in a game since Sunday, though his two primary setup men — Joaquin Benoit (2.42 FIP) and Octavio Dotel (1.75 FIP) — threw 21 and 14 pitches yesterday after not pitching since Sunday, respectively. Southpaw and former Yankee Phil Coke (1.98 FIP) threw two whole pitches yesterday following a two-inning, 24-pitch outing on Tuesday.
Second lefty Duane Below (1.40 FIP) was supposed to start the season as the Tigers' fifth starter, but apparently they stuck him in the bullpen at some point and just left him there. He threw two innings and 25 pitches on Wednesday and is more of a long man than a specialist. The recently recalled Luke Putkonen gives them a multi-inning mop-up guy. The right-hander has yet to make his big league debut and was actually a rotation-mate of Adam Warren's at UNC once upon a time. Pretty much the only reliever that might qualify as unavailable tonight is righty Collin Balester (5.21 FIP), who threw two innings and 32 pitches on Tuesday before throwing two innings and 27 pitches on Wednesday. Overall, the Tigers rank 12th in baseball with a 3.52 bullpen FIP.
Outside of David Phelps, who probably needs another day or two to recover from his 53-pitch outing on Wednesday, the Yankees' bullpen is fresh following yesterday's off day. For the latest and greatest on the Tigers, we recommend Bless You Boys and Tiger Tales.