Hiroki Kuroda was great on Friday, and Phil Hughes was the exact opposite on Saturday. The game was essentially over by the fourth inning as the Angels sailed to a 7-1 win.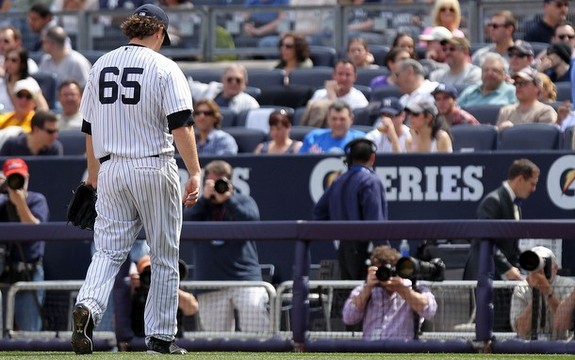 Inefficient and Ineffective
In his first start last week, Hughes couldn't make it through the fifth inning for pitch count reasons. In his second start on Saturday, he couldn't make it through the fourth because he was both inefficient and ineffective. The Halos roughed him up for six runs in 3.2 IP, with five of those runs coming on two homers. Chris Iannetta's two-run blast was a total Yankee Stadium cheapie, a fly ball down the line in right that hit the top of the wall above the 314 ft. sign. It probably traveled 314 ft. and two inches. Seriously.
The other homer was a mistake to Howie Kendrick, Phil's final pitch of the afternoon. He tried to throw a front door cutter for a called strike three — just as he had two batters earlier with Peter Bourjos — but the pitch was too far over the plate and hammered to left. A no-doubter. Mark Teixeira was unable to turn a hard-hit grounder into an out one batter earlier, compounding the problem. It happens, but we're used to seeing Tex make plays like that. The other run came on a double to Albert Pujols, which is just something that guy tends to do.
Hughes threw 84 pitches to 20 batters and only faced six batters with no one on base — four of those six were the leadoff man of the inning. The only significant difference between this Hughes and the Hughes of last year is his ability to miss bats with the fastball. Today he got five swings and misses out of 32 four-seamers (15.6%) compared to 6.63% in 2011. Night and day difference. With Andy Pettitte and Michael Pineda on the way, Phil has something like 3-4 starts left to prove that he deserves to remain in the rotation.
Phelps Makes His Case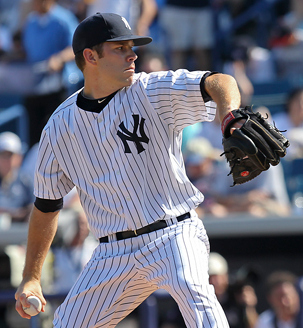 Replacing Hughes was David Phelps, who continued his stellar early season work. He retired the first four men he faced before finally allowing his first big league hit and run, a solo homer by Vernon Wells on a hanging slider. Phelps walked Iannetta one batter later, but he then retired 12 of the final 13 men he faced. He struck out four, walked two, and allowed the one hit while throwing just 78 pitches across 5.1 innings. Only four of the 19 men he faced hit the ball out of the infield.
The Yankees do have Pettitte and Pineda coming back sooner rather than later (hopefully), but Phelps certainly made a statement against the Angels. He pitched with confidence and showed that he can turn over a big league lineup multiple times, maintaining his stuff despite a relatively high pitch count. If the Yankees need a spot start at some point — or need to take Hughes out of the rotation before Pettitte/Pineda is ready — Phelps cemented his status as the first in line for a starting job. He was fantastic on Saturday.
Leftovers
The Yankees had C.J. Wilson bent over a few times but he did not break. The left-hander stranded runners on the corners in the first, a man on first in the second, and men on second and third in the fourth, fifth, and sixth. The only run came across when Robinson Cano grounded a seeing eye single through the left side after Eduardo Nunez and Derek Jeter singled. Ten of the final eleven Yankees made outs, the one exception being Alex Rodriguez with two outs in the ninth. He reached when Erick Aybar booted a ground ball. That was it offensively.
Jeter did lead the game off with a hard-hit ground ball single off Pujols' glove, his sixth first inning leadoff hit in eight games. At .361, he's the only starter on the team hitting over .250. Russell Martin did draw a walk, raising his team leading OBP to .448.
Box Score, WPA Graph & Standings
MLB.com has the box score and video highlights, FanGraphs the advanced stats, and ESPN the updated standings.

Source: FanGraphs
Up Next
ESPN will carry the rubber game on Sunday night, when Ivan Nova gives it a go against Jerome Williams. If you want to attend, RAB Tickets can help get you in the door.