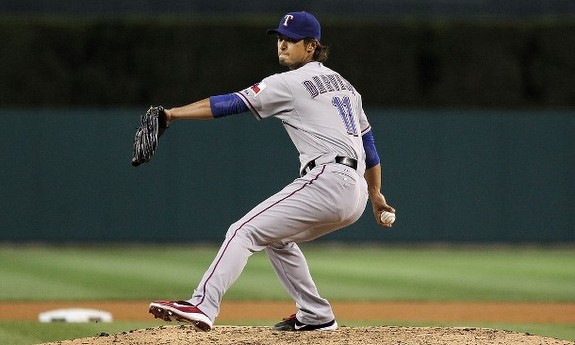 I was one of many fans that wanted the Yankees to sign Yu Darvish this past offseason. I liked that he was young (two months younger than Phil Hughes!) and had power stuff, plus the fact that a large chunk of the acquisition cost wouldn't count towards the luxury tax. Then again, I also didn't think the posting free to acquire his negotiating rights would come within $10M of Daisuke Matsuzaka's, let alone exceed it. The Yankees didn't bite and the Rangers did, though I have a hard time getting worked up over it after seeing the cost.
Like everyone else, I hope the Yankees pound Darvish into submission tonight. He's never faced a lineup this good before, so if he continues to show the typical Japanese pitcher tendency of nibbling at the edges of strike zone instead of challenging hitters, it could get really ugly, really quick for him. Here's the lineup…
SS Derek Jeter
CF Curtis Granderson
DH Alex Rodriguez
2B Robinson Cano
1B Mark Teixeira
RF Nick Swisher
LF Raul Ibanez
3B Eric Chavez
C  Russell Martin
RHP Hiroki Kuroda
This is only the seventh time in MLB history that two Japanese-born starting pitchers are facing each other. The game starts a little after 8pm ET and can be seen on YES locally and MLB Network nationally. Enjoy.