The Red Sox celebrated the 100th anniversary of Fenway Park with a great pregame ceremony on Friday afternoon, but the Yankees spoiled the day with a homerun-filled 6-2 win.

Homers For Everyone
I gotta say, I've missed the #toomanyhomers narrative this season. The Yankees rely on the long ball too much … they're never going to win hitting that many homers! That was fun last year, but we haven't heard much of it this month. Clay Buchholz was nice enough to change all that on Friday.
Already staked to a one-zip lead, Nick Swisher got the homer brigade started by driving a 2-2 fastball to the opposite field and over the Green Monster in the second inning. It was no cheapie, he got all of that one. Two batters later, Eric Chavez laid into an 0-2 changeup and hooked it into the Boston bullpen for another solo shot and three-run lead. Two innings later, Chavez did it again. He led off the fourth with homer, this one on a full count cutter. He crushed this ball, hitting it out to dead center. Chavez matched his homer output from a year ago in his first two at-bats of this game.
The Yankees weren't done though. Alex Rodriguez drove a ball over the monstah in the fifth inning, a leadoff shot on a first pitch cutter. One inning later, Russell Martin snapped an 0-for-16 skid by hitting his first homer of the season on a 1-0 fastball. After being robbed of a double by Jason Repko a few innings earlier, Russ got a little revenge with the dinger. He's had a rough start to 2012 outside of all the walks, and his two hardest hit balls of the season came in this game. Hopefully he's starting to come around.
The old saying is that solo homers don't beat you, but I think that only applies if you give up one or two. Five solo homers will beat you as the Yankees showed today. Buchholz threw 103 pitches in the game but generated only three swings and misses. He had nearly twice as many homers allowed as swings and misses. Think about that.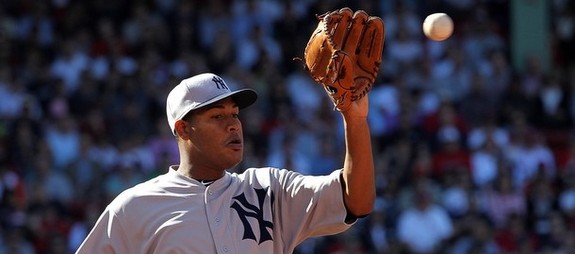 Standing Tall
The Yankees haven't even gone three full turns through the rotation this early in the season, but Ivan Nova has consistently been their best pitcher. While the offense was busy playing Homerun Derby with Buchholz, Nova was doing his best to pitch around trouble and keep the Red Sox's offense at bay. He had just one 1-2-3 inning in his six innings of work, but the only two runs he allowed came on a David Ortiz solo homer and on a play in which Swisher lost a fly ball in the sun.
"If you ask me who the best pitcher in the world is, I'd say me." – Ivan Nova

— Bryan Hoch (@BryanHoch) April 20, 2012
The biggest moment of the game for me came in the bottom of the sixth, after Martin's homer made it 6-2. Boston had the heart of order due up and Nova's pitch count was starting to climb, so if they were going to mount a comeback, that was probably their best chance. Adrian Gonzalez struck out to open the frame, but Ortiz snuck a single through the shift before Nova hit Kevin Youkilis in an elbow. All of a sudden the tying run was on deck, but Ivan fed Jarrod Saltalamacchia three curveballs in a four-pitch encounter to get the inning-ending double play. Whenever he needed to make a pitch, he went to the breaking ball. At .086 WPA, the double play was actually the second biggest play of the game behind Swisher's homer (.087 WPA).
The most impressive thing about Nova so far has been his command of the strike zone. He struck out five batters and walked zero in this game, giving him a 20/2 K/BB ratio in 19 IP so far this season. The strikeouts are coming at the expense of ground balls and it continues to show — five of the seven hits he allowed went for extra bases — but so far he's been able to wiggle out of jams by making pitches when needed. Hopefully he finds a way to marry his typically high ground ball rate with his newfound strikeout ways in the future.

The Bullpen of Doom
The starting pitching has been underwhelming and the offense has been inconsistent, but the Yankees' relief corps has been dynamite all season long. Joe Girardi lifted Nova at 93 pitches after that sixth inning, which I thought was just a tad early since the bottom of the order was due up. Oh well. Cory Wade threw a scoreless seventh inning, David Robertson blew through the middle of the order in a scoreless eighth inning, and the duo of Cody Eppley and Mariano Rivera combined for a scoreless ninth.
The Eppley thing was weird. The Yankees were up four and bottom of the order was due up, but Girardi lifted him after Salty reached on a worm-burning ground ball single to open the inning. He said after the game that he wanted to see if he could essentially steal three outs with the recently recalled right-handed specialist, but he was only giving him one baserunner. He didn't want to wait until things got really messy to bring in Mo, which makes sense. It was a weird sequence, but I'd like to think Eppley could navigate through Cody Ross, Nick Punto, and Mike Aviles with a four-run lead. Either way, the bullpen lowered their league-leading ERA to 1.71 with the three scoreless frames.
Leftovers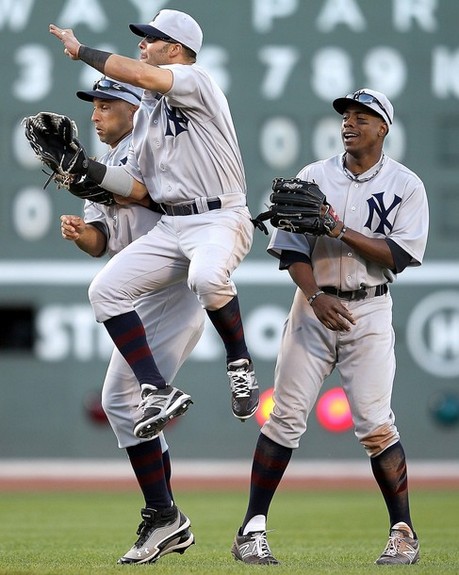 Both teams got some help from the sun. Dustin Pedroia dropped the most routine of routine pop-ups in the very first inning, leading to a run when A-Rod singled in Derek Jeter two batters later. Swisher lost an Aviles line drive in the sun in the fifth, allowing a run to score. Stuff like that happens in these weirdly timed late-afternoon games, but at least it evened out and hurt both teams equally.
Every player in the lineup had at least one hit except for Mark Teixeira, who had five straight two-hit games coming into the day. He is forgiven. Swisher walked, doubled, and homered. Raul Ibanez singled off a lefty when I didn't even thing he should have been batting. Swisher doubled to open the eighth, so Bobby Valentine brought in the left-handed Justin Thomas to face Ibanez and Chavez. That seemed like the perfect spot to pinch-hit with Andruw Jones, who would have faced the lefty and also improved the late-inning defense. Eh, whatever.
I don't think there's much more to add. It was just a rock solid, all-around win. There usually aren't many of those between these two teams.
Box Score, WPA Graph & Standings
MLB.com has the box score and video highlights, FanGraphs some other stats, and ESPN the updated standings.

Source: FanGraphs
Up Next
Game two of this three-game set will be played tomorrow afternoon as part of a FOX broadcast. Freddy Garcia gets the ball against the southpaw Felix Doubront.