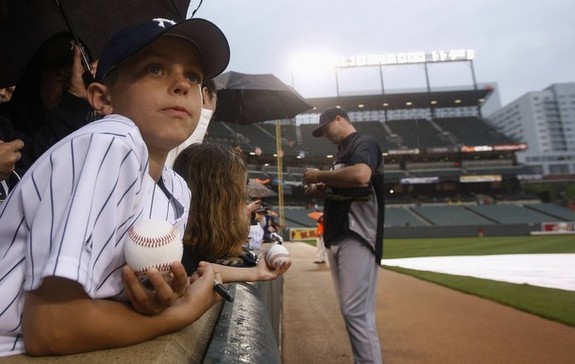 CC Sabathia has a chance to do something tonight that hasn't been done by a Yankee in 14 years. He's completed exactly eight innings in each of his last four starts, and another eight tonight would make him the first pinstriper to throw at least that many innings in five consecutive starts since David Cone in 1998. Justin Verlander managed to do it five times in a row last June and Cliff freakin' Lee put together a stretch of ten (!) straight starts of at least eight innings back in 2010. That's insane. Sabathia had a four-start stretch of eight innings each last summer and is the only Yankees hurler to do that many times since Cone. Hopefully he makes it five in a row tonight. Here's the lineup…
SS Derek Jeter
RF Nick Swisher
2B Robinson Cano
3B Alex Rodriguez
1B Mark Teixeira
CF Curtis Granderson
DH Andruw Jones
LF Jayson Nix
C  Chris Stewart
LHP CC Sabathia
The weather in Baltimore isn't great again, but it's better than last night so hopefully they'll get a full nine innings in. The game can be seen on My9 locally and MLB Network nationally. Enjoy.
Ivan Nova Update: Nova walked with a limp today and had his right foot and ankle wrapped, but he thinks he can make his next start. The Yankees don't have to make a final decision for another four days, obviously.
Clay Rapada Update: Rapada left last night's game with a viral infection but it's not a concern. He says he's been fighting it for a few days and doesn't anticipate being unavailable at any point soon. In case you missed it earlier, David Robertson was placed on the DL with a strained left oblique.