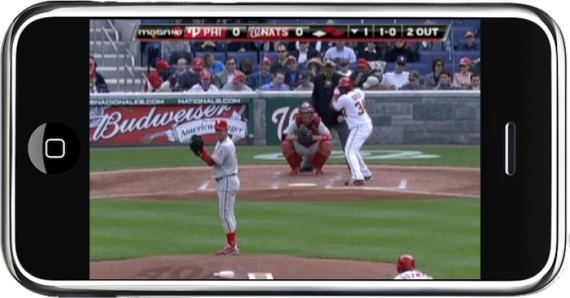 Every season it seems to amaze me more and more. Even though my day job involves technology, particularly mobile technology, I'm still in awe of all the ways I can follow baseball at any time. This isn't just knowing how the Yankees did and who did what for them. It's following the news as it happens, interacting with other fans, and even getting live accounts of the games while I'm not in front of a TV. All these new features and apps mean I can follow baseball as closely or as loosely as I desire. Better, I can alter my consumption habits to fit current circumstances.
Tablets in particular provide an excellent all-around media experience. Their relative light weight and unhinged hardware make it more like reading a book than using a laptop. That means I can sit back on the couch without something sitting on my lap and keep up to date on the latest news. This comes from a variety of sources.
The latest news always comes across Twitter, so if I'm using that and I'm following the right people I know what's going on. Many people I know think that Twitter is just a waste of time. In large part they are correct; I've never actively used something that has effectively wasted so much of my time. But at the same time it's also incredibly useful if you want to stay up to date. Follow beat writers and national reporters, and you'll see the news pass on your timeline as it happens.
(If you do decide to sign up and lurk on Twitter, you can always follow @RiverAveBlues. Mike (@mikeaxisa), Ben (@bkabak), Larry (@Larry_Koestler), Moshe (@yagottagotomo), Stephen (@sprotster), and I (@joepawl) all have individual accounts, but we're mostly time wasters. I also wouldn't recommend anyone follow me or Stephen. We're big jerks, apparently.)
The tablet brings more opportunities for recent news. For instance, a few times a day I'll open up the NBC Pro Sports Talk app, which quickly loads all the recent posts on Hardball Talk. At the very least I get the latest news. At the most I get some insightful commentary from Craig, Aaron and the crew. The key, to me, is that I can consume as much or as little as I'd like. If I just want the news, I can scan headlines and read the first paragraphs. If I want a bit more depth, the option is right there.
Both tablets and smartphones are perfect for consuming baseball itself. MLB has done a mostly wonderful job of offering up its product on mobile devices. If you're an MLB.tv subscriber you can link up to the At Bat app on both tablets and smartphones. This lets you not only watch the live Gameday account of every game, but if you have a subscription you can also listen to radio feeds of the games. If the game you want to watch is out of market, you can even watch it live. It might be kinda small on a smartphone screen, but small-screen baseball is better than no baseball.
The one area where MLB lags is with its in-market blackout restrictions. Obviously, TV networks want you watching on your television if possible. They run ads and their rates are largely determined by viewership size. If you're watching on a tablet rather than on television, they can't count you as a viewer. This kind of metric should change soon enough, given the rapidly changing media landscape, but for now it's a hindrance. If you're in the NY area but don't have access to a cable TV that has YES, you're out of luck. You have to be a savvy tech dude if you want to pull up the game.
The saving grace is that many cable companies offer apps for tablets. I'm stuck with Cablevision where I live, but they do have an app that lets me watch live TV on my tablet. This includes YES. This way when my fiancee is watching her shows, I can hang out with her on the couch and watch the Yankees at the same time. The live TV feature doesn't work off of your home WiFi network, unfortunately, but it's still something. Watching the Yankees while cooking dinner, for instance, becomes a bit easier.
What's even better about these technologies is that they're more widespread than ever. You can get a cheap smartphone or cheap tablet almost anywhere. I'm an iPhone/iPad user, and I make no apologies for it. These tend to be expensive, but with refurbished units showing up at stores such as GameStop, they're even more affordable. If you're not into that, there are plenty of Android phones and tablets to choose from. There's really something for everyone in mobile tech.
If there's one big issue with all this, it's cellular data. Previously carriers offered unlimited data plans, but with more and more people buying highly advanced devices, that got to be too much. In search of further profits, most carriers decided to restrict data usage — while, of course, charging the same rate. What used to be unlimited data on Verizon, for example, is limited to just 2GB. AT&T has a similar restriction. Sprint, however, has unlimited data. It also carries the iPhone and many Android devices. There are also many Android phones on T-Mobile that serve the same purposes. T-Mobile has generally cheap plans that allow for a decent amount of high-speed data usage.
It's getting to be an exciting time in the world of tech. We're able to use our smartphones and tablets to stay as up-to-date, and as in-depth, as we would like on any topic. For baseball it's a prefect fit. You can get anything you can imagine on both devices. And it's all about how much you want to consume.