Everyone once in a while we run into one of those game where the Yankees just look completely flat, but there's just nothing we can do about it other than sit back and wait for it to be over. The Orioles won 7-1 on Tuesday night and are now 7-26 in their last 33 games at Yankee Stadium.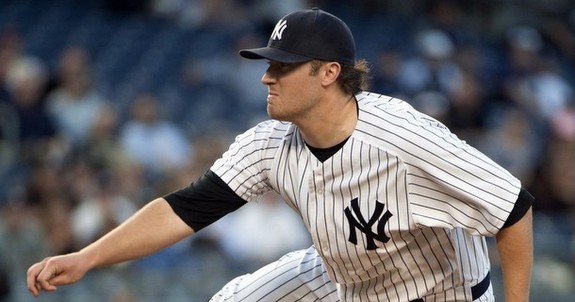 Best Start of the Season
I don't think Phil Hughes pitched demonstrably better than he had in previous starts, though the bottom line — three runs* in 5.2 IP — was decent enough. All three runs came on a pair of homers, a solo shot by Chris Davis and a two-run shot by J.J. Hardy. The two homer pitches were identical, fastballs that leaked right over the plate and into the wheelhouse. Hughes has now given up seven dingers in 21.2 IP this season, an unfathomably bat 2.9 HR/9.
* It's actually four runs allowed, but the last run charged to Hughes was a runner inherited and allowed to score by Boone Logan. I won't ding him for that because the reliever didn't do his job.
The plan to revert back to a "reliever mentality" resulted in a first inning's worth of a 95 mph fastballs — it tapered off after that — and just one cutter all night. Phil threw 67 fastballs, 27 curveballs, five changeups, and the one cutter for 100 pitches on the nose. He did strike out six and get nine swings and misses, but that's nothing new. Unfortunately Hughes will get another start because he pitched just well enough not to lose his rotation spot.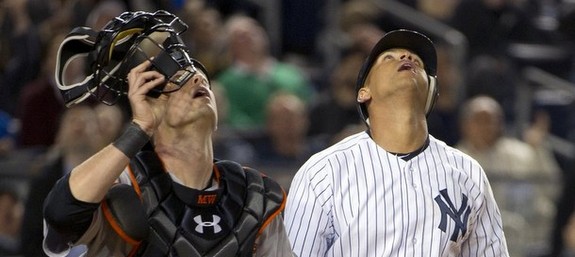 LOLffense
Unless the Yankees manage to get runners on base in front of Curtis Granderson and he drives them in, they don't score these days. The 3-4-5 hitters — Alex Rodriguez (8-for-33), Robinson Cano (5-for-23), and Mark Teixeira (4-for-31) — have all a) been mired in recent slumps, and b) not done much with the bat all season in general. It's gotten so bad that A-Rod resorted to bunting for a hit in the sixth inning. At some point they're going to have to shake things up to get rid of that black hole in the middle of the order; maybe bat Cano second and Granderson third, or Nick Swisher fifth (once healthy) and Teixeira sixth. I dunno, but they can only wait around for this stuff to fix itself for so long.
The only run the Yanks scored on Tuesday night came off the bat of Granderson, who clobbered a first inning solo homer off the facing of the upper deck in right. He and Derek Jeter went 5-for-8 while the rest of the lineup went a combined 2-for-26 with two walks. One of the two hits was A-Rod's bunt single, his first since 2004. Brian Matusz came into the game with a 5.66 ERA and a 4.74 FIP, but you would have never known it by watching this game. Pretty frustrating.

Leftovers
Eduardo Nunez gave the Yankees one error-free night in left field on Monday, but they went double-or-nothing on Tuesday and got nothing. He misread a routine fly ball off the bat of Nick Johnson in the sixth, allowing the ball to bloop in front of him for a two-run single that effectively put the game away. This is what happens when you make the conscious decision to not put injured players on the DL and play with a short bench and players out of position.
Eric Chavez was robbed of a hit off the bench during a pinch-hitting appearance in the seventh inning as replays showed that Adam Jones had trapped the ball in center field, not caught it on the fly. MLB was supposed to expand replay for trapped balls and fair/foul plays this year, but they preferred to hastily implement the new playoff system because that's where the money is.
Nicky J. managed to break an 0-for-29 start to the season with a run-scoring single off Rafael Soriano in the eighth inning. I'm fairly certain that has been the most notable event in both Johnson's and Soriano's seasons so far.
Last, but certainly not least, congrats to D.J. Mitchell for making his big league debut and starting his Hall of Fame career with a scoreless ninth. He allowed two ground ball hits, though Cano didn't help him any when he fumbled a flip from Jeter at the base and was unable to turn the double play.
Box Score, WPA Graph & Standings
MLB.com has the box score and video highlights, FanGraphs the nerd score and no highlights, and ESPN the updated standings.

Source: FanGraphs
Up Next
The series finale will be played on Wednesday night, when Ivan Nova gives it a go against Jake Arrieta. RAB Tickets has some great ticket deals if you want to head up to the Bronx.