Same old story. The Yankees didn't get a quality outing from their starting pitcher but it didn't really matter anyway because the offense put up nothing resembling a fight. This was the eighth time in their first 37 games they've been held to one run or less, the first time that's happened since 1990.

Lifeless
The Yankees have scored a total of three runs in their last 18 offensive innings, and two of those three came on a Curtis Granderson homer that a fan may or may not have kept out of Xavier Avery's glove on Tuesday. The only run they scored against Kyle Drabek — who entered the game with the ninth worst FIP (5.09) out of 118 qualified starters — came when Mark Teixeira's ground ball took a funny hop over first baseman Edwin Encarnacion in the sixth. Robinson Cano's double down the right field line one batter earlier was the only hard-hit ball I can remember. From the Yankees, that is.
After a run of offensive dominance last week, the Yankees have now scored two runs or fewer in eight of their last 16 games (!). Drabek was behind hitters all night and he didn't pay at all; in fact he recorded 19 of his 21 outs on the infield. I'm a patient guy, but at some point you have to stop tipping your cap to the opposing starter. Look in the mirror and realize that being offensively noncompetitive for two straight games is your own damn fault.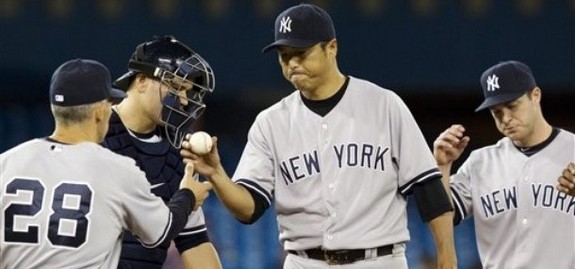 Consistently Inconsistent
Hiroki Kuroda came into Wednesday's start having allowed no more than two earned runs in any of his previous four starts, but he instead allowed six or more runs for the third time this year. Like I said, consistently inconsistent. The Blue Jays tagged Kuroda for three homers in five innings, the same number of dingers he allowed in those previous four starts combined. He didn't pitch well at all but it happens. Hopefully he improves on his 5-to-3 strong start-to-dud start ratio going forward.
Leftovers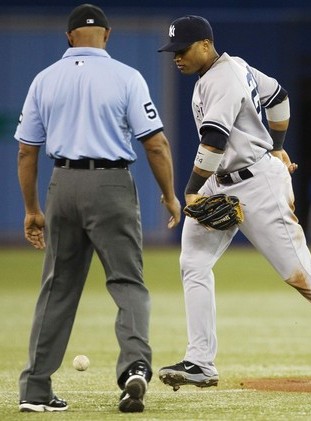 Cano is in the middle of his annual 3-4 game defensive slump, botching the transfer on a routine double play pivot — immediately prior to Encarnacion opening the scoring with a two-run homer — in the second and flubbing a ground ball in the seventh. This is after he made a poor flip to second on a force play in the previous game. Let's knock that off, mmmkay Robbie?
Downside of Raul Ibanez's hot start: Joe Girardi now leaves him in against lefties. He was left in to face a southpaw with men on-base in the late innings for the second time in three games, this time striking out after getting hit by a pitch on Monday. Andruw Jones is on the roster for these exact situations, use him please.
Clay Rapada gave up a homer to the left-handed hitting Kelly Johnson in an otherwise effective outing, but I can't help but wonder if his roster spot would be better used on a reliever capable of getting both righties and lefties out. It's tough to carry a true specialist like this with all the injuries. Cody Eppley allowed two dinky singles in 1.2 mop-up innings. He's got a chance to pitch his way into a role of more importance but I'm not sure if he can do it given his arm slot.
Cano (double and walk), Tex (single and walk), and Ibanez (single) had the only three hits while Alex Rodriguez, Eric Chavez, Russell Martin, and Jayson Nix drew walks. Curtis Granderson and Teixeira were the only players to see more than 16 pitches in their four plate appearances. That's pretty gross against a starting pitcher who came into the game with the highest percentage of full counts in baseball this year (19% according to YES broadcast).
The Yankees faced Wayne Tolleson's kid on Tuesday and Doug Drabek's kid on Wednesday. I can only assume Alvaro Espinosa Jr. will be in Toronto's lineup on Thursday.
Box Score, WPA Graph & Standings
MLB.com has the box score and video highlights, FanGraphs the nerd score, and ESPN the updated standings.

Source: FanGraphs
Up Next
The second game of this two-game trip to Toronto will be played Thursday night. Phil Hughes will try to stop the bleeding against the rookie right-hander Drew Hutchinson.