For the first time since the losing two of three in Anaheim, the Yankees have lost a series. The Braves beat New York at their own game by clubbing homer after homer en route to a blowout win.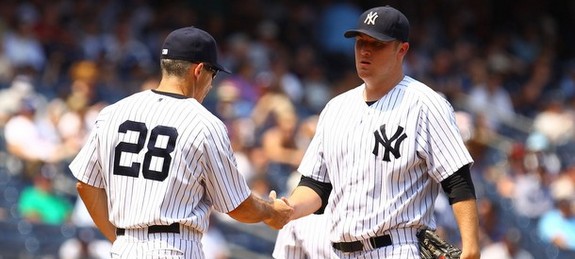 Homerun Hughes
Phil Hughes' homerun problem isn't exactly a secret. His last start against the Nationals was the first time all year he did not allow a dinger in an outing, but he more than made up for it on Wednesday. Atlanta tagged him for a career-high four homers allowed in 4.1 innings, a two-run shot by Freddie Freeman and solo jacks by Jason Heyward, Martin Prado, and David Ross. It was crazy hot this afternoon and the ball was flying out of the park, a disaster combination for Phil.
The end result was six runs in those 4.1 innings, only the second time Hughes has allowed more than two runs in his last eight starts and more than four runs in his last eleven starts. He did manage to strike out five while walking zero, but that's hardly any kind of consolation. Phil has pitched very well of late and fell off the wagon for a start, hopefully it's nothing more than that.
Homerun Yankees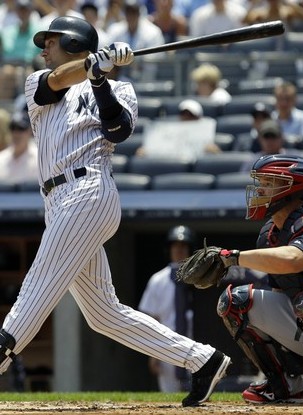 It wasn't just the Braves that were teeing off, the Yankees hit four dingers of their own. Derek Jeter hit Tommy Hanson's first pitch out of the yard for a solo blast, his fourth leadoff homer of the season. Doesn't that seem like an awful lot? Four leadoff homers seems like a season's worth. Eric Chavez clubbed a fifth inning solo blast off Hanson, then Alex Rodriguez and Robinson Cano went back-to-back off Atlanta's starter to open the sixth and end his afternoon. They were all solo homers though, and as they say, those won't kill you. Four usually does though. Usually.
Where's Andruw? Part Two
For the second straight game, Raul Ibanez was left in to face the left-handed Jonny Venters with men on-base in the late innings of a close ballgame. He struck out to end the seventh on Tuesday night, then grounded into a double play on Wednesday afternoon. The Yankees were down two runs, the first three batters of the inning reached base, but Andruw Jones was nowhere to be found*. We're not splitting atoms here, Ibanez is terrible against same-side pitchers and shouldn't face them, especially in close games.
* Jones did eventually pinch-hit for Ibanez with one man on in the eighth, after the deficit had swelled from two runs to four. Annoying.
Blown Open
The Yankees were down just one as late as the eighth inning, but the Braves blew things open off the bullpen. Chavez booted a potential double play ball and not only allowed a run to score in that eighth inning, but it extended the rally. One batter later, Heyward hit his second homer of the game, a two-run shot to really blow things open. The usually reliable Cory Wade and Boone Logan really let things get out of hand that inning. The deficit grew from one-run to five and that was that.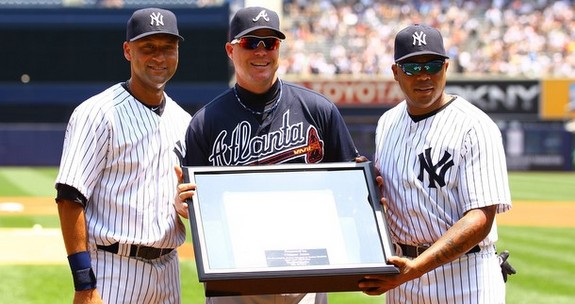 Leftovers
The nine total homers are the most in New Stadium history — eight had been done three previous times and not since 2010 — and tied for the most in the history of any Yankee Stadium. That's a long time. Hughes and Hanson became the 11th pair of opposing starters to each allow four homers in a game in baseball history. This was the first time the Yankees were involved. Again, that's a long time. The Yankees hit four homers and lost for the first time since the third game of last season, another Hughes start.
Hughes, Wade, Logan, and Freddy Garcia all got smacked around pretty well, but Cody Eppley and Clay Rapada really held the Braves down in the middle inning. Eppley retired all three men he faced — one strikeout, one grounder, one fly ball — and Rapada struck out all four dudes he faced. One of them was even a righty, so hooray for that. He hasn't allowed a hit since the last Rays series, a span of 20 batters faced. Bravo.
Every hitter in the starting lineup had a hit except for Ibanez and Jayson Nix while Jeter (homer and a walk), Cano (homer and a single), Chavez (homer and a walk), and Russell Martin (double and two walks) each reached base multiple times. I'm sure you were expecting a massive RISPFAIL number, but they were only 1-for-4. Lots of solo homers will do that.
Fun fact: this is the first time all the season the Yankees allowed double-digit runs. Bet you didn't see that coming. They had allowed nine runs just twice, once in the massive Fenway Park comeback win and then once during that nightmare series in Anaheim. The Yankees have lost two in a row after winning ten straight and are still 20-6 in their last 26 games. I'll take it.
Box score, WPA Graph & Standings
MLB.com has the box score and video highlights, FanGraphs the nerd score, ESPN the updated standings.

Source: FanGraphs
Up Next
The Yankees are off on Thursday then will head to Flushing for the final series of interleague play, a three-game set with the Mets. Left-handers Andy Pettitte and Jon Niese will start Friday evening. Check out RAB Tickets if you want to head to the game.