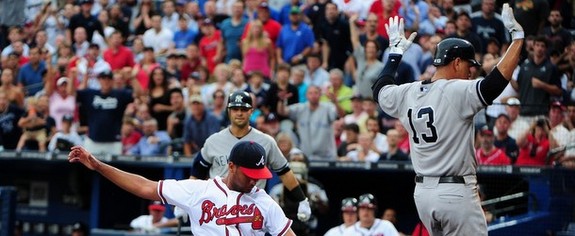 The Yankees have won four in a row and seem poised for number five tonight, when ace CC Sabathia takes on arguably the least effective pitcher in baseball in Mike Minor. Opposing hitters have hit .283/.352/.521 with a league-leading 14 homers off the 24-year-old southpaw this season, who owns the highest ERA (6.57) and sixth highest FIP (5.52) among qualified pitchers this year. On paper, this one is in the bag. In reality, it's a trap game. Here's the starting nine…
SS Derek Jeter
CF Curtis Granderson
1B Mark Teixeira
3B Alex Rodriguez
2B Robinson Cano
RF Nick Swisher
LF Andruw Jones — gotta think he'll get a pretty nice hand, no?
C  Chris Stewart
LHP CC Sabathia
Tonight's game starts a little after 7pm ET and can be seen on My9 locally and MLB Network nationally. There's a little bit of rain in the forecast but nothing that will force a postponement or anything. Enjoy.
Brett Gardner Update: Gardner (elbow) was a surprise visitor in the clubhouse today, cryptically saying "I believe I'm going to play (again this year) … hopefully relatively soon." He wouldn't reveal any details about yesterday's visit to Dr. Andrews, though Joe Girardi did confirm that the injury is not ligament related. That means no Tommy John surgery. "I really, legitimately, thought I was there," said the frustrated outfielder about his rehab.
Mariano Rivera Update: Rivera (knee) had surgery to repair his torn right ACL today and everything went well. The typical rehab schedule will have him ready for Spring Training.