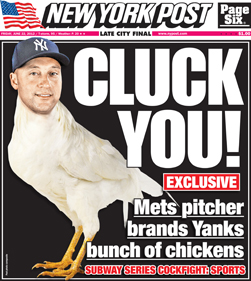 "[I] can't wait to face those chickens."
Apparently Frank Francisco thinks the Yankees complain a little too much. The Mets closer referred to the Bombers as a bunch of chickens in an exclusive interview with the NY Post yesterday, adding just a little ripple to the latest edition of the Subway Series. This is the same Frankie Frank who once broke a woman's nose by throwing a chair, which apparently qualifies him to be the arbiter of all things chicken-related.
Anyway, the Yankees laughed off the remark prior to today's game, just as you'd expect. They have more important things on their plate than the comments of a second-rate closer on a second-rate team. New York's favorite ballclub has lost two straight after winning ten in a row, and tonight they would like to get back in the win column. Here's the lineup…
SS Derek Jeter
CF Curtis Granderson
1B Mark Teixeira
3B Alex Rodriguez
2B Robinson Cano
RF Nick Swisher
LF Andruw Jones
C  Russell Martin
LHP Andy Pettitte
Tonight's game is scheduled to start a little after 7pm ET and can be seen on both My9 and WPIX locally as well as MLB Network nationally. The weather forecast isn't great but it looks like most of the heavy stuff won't arrive until later tonight, like 11pm or so. Enjoy the game.
Update: … and we're in a rain delay. No official word on a start time yet, but apparently 7:45pm is the target.
Update Part Two: Now they're saying first pitch is scheduled for 8pm. This one might not last a full nine innings.