All good things must come to an end. After ten consecutive wins, the Yankees lost Tuesday night's affair to the Braves by the score of 4-3. It was their first one-run loss in nearly three weeks, since the middle game of the three-game set in Detroit.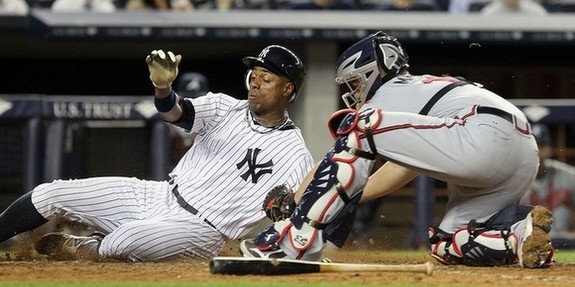 Gunned Down
The Yankees had not one, but two runners thrown out at home plate in this game. Nick Swisher singled to right with men on first and second with two outs in the fifth, but Jason Heyward scooped the ball and made a quick throw home to nab Mark Teixeira by a good three or four steps. I didn't particularly care for the send — it was hit to shallow right and the bases would have been loaded with Tim Hudson's pitch count at 109 — but I can understand it. Heyward made a very good throw and that was that. The run would have broken a three-all tie.
Curtis Granderson was cut down at the plate with one out in the seventh on the contact play. He was at third and Alex Rodriguez was at second, but Teixeira grounded sharply to third and Chipper Jones had plenty of time to make the throw home. I'm not a fan of the contact play in general but whatever, understandable again. Having one runner thrown out at home is annoying enough, two is just awful.
Not Good Enough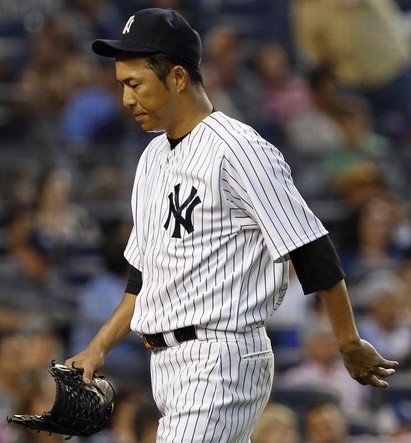 Hiroki Kuroda's night boils down to two bad innings. He allowed a pair of two-out runs in the fourth and it would have been three had Heyward not been thrown out at third before Chipper touched the plate. Walking Freddie Freeman and his .296 OBP to bring Jones to the plate with a chance to tie the game with two outs was the real back breaker, that's the out Kuroda had to get. Hiroki allowed another two-out run in the sixth when Heyward lined a single off Teixeira's foot with men on the corners, a run that proved to be the game winning. It was a rocket, far from a routine play even for a stellar gloveman like Tex.
Overall, Kuroda allowed four runs in seven innings of work, not great but not terrible. It was the team's 19th consecutive start of at least six innings, their longest streak since the days of Dave Righetti the starting pitcher in 1981. He struck out six and got nine ground ball outs, cruising outside of the fourth and sixth innings. It was only the second time Hiroki allowed more than three runs in his last eleven starts.

Where's Andruw?
Jonny Venters has really struggled this year, and the Yankees had him on the ropes in that seventh inning. After Granderson was thrown out on the contact play, Joe Girardi left Raul Ibanez in to face the left-handed sinker baller. Why? Because he was 5-for-11 in his career against Venters. Nevermind that he came into the game a .200/.231/.320 hitter against lefties this year and has struggled against them for years, those 11 at-bats spread across three seasons were enough of a reason to leave him in. Ibanez predictably struck out to end the threat while Andruw Jones — who is on the roster for these exact situations — watched from the dugout. That right there was the biggest mistake of the game, not sending Teixeira in the fourth or sending Granderson on the contact play. There's no way Ibanez should be allowed to hit against a tough lefty in that spot.
To make matters worse, Andruw eventually did pinch-hit … for Eric Chavez with one out and no one on-base against southpaw Eric O'Flaherty in the eighth. He took a slider to the foot and reached base before being replaced by a pinch-runner. Annoying.
Leftovers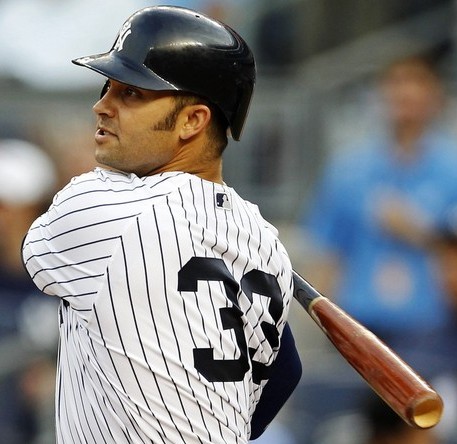 The top four hitters in the lineup went a combined 1-for-16 with six strikeouts. Granderson singled to open that seventh inning for the only hit, though A-Rod had one walk while Derek Jeter had a pair. Swisher returned from a brief quad contusion-induced hiatus to continue his hot hitting, driving in a pair of runs with a loud double in the second before singling on the play that resulted in Teixeira getting thrown out at home. The Yankees drew more walks (six) than they had hits (five).
Boone Logan threw a perfect eighth inning while David Robertson allowed a single in an otherwise uneventful ninth. It was his second appearance since coming off the DL four days ago. The bullpen is in really good shape given all the innings the starter shave been eating lately.
When Kuroda allowed a run in the top of the third, it was the first time all season he allowed a run in an inning immediately after the Yankees scored. In other words, it was his first non-shutdown inning of the year. Considering that this was his 14th start, that's pretty impressive.
The loss was New York's first in eleven games and just their fifth in the last 25 games. They still have a three game lead (in the loss column) over the Orioles and Rays in the AL East. Too bad there are 95 games left and not like, five eh?
Box Score, WPA Graph & Standings
MLB.com has the box score and video highlights, FanGraphs the advanced stats, and ESPN the updated standings.

Source: FanGraphs
Up Next
Phil Hughes will square off against Tommy Hanson in the rubber game of this three-game set on Wednesday afternoon. Check out RAB Tickets if you make a last-minute decision to head up to the Bronx for that one.