Blowing leads in the ninth inning is never a fun way to lose a game, especially when a pitcher throws away what would have been a double play ball. What is it with pitchers and throwing to second? They're usually okay when going to first but I feel like the success rate when they go to second is like, 50%. Maybe less. Anyway, the five-game winning streak is over.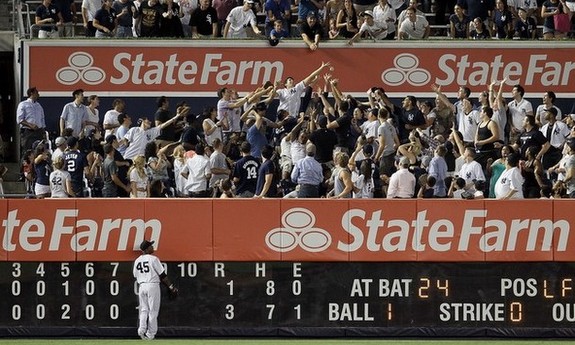 Mix & Matched
I didn't particularly care for Joe Girardi's explanation about why David Robertson did not start the ninth inning — he was trying to stay away from him as long as possible after he pitched on Wednesday — but the bottom line is that Clay Rapada got a tailor made 1-6-3 double play ball and he threw it into center field. The pitching part of Girardi's mixing and matching worked fine there, but the fielding part failed. It happens. It's annoying, but what can you do.
Anyway, Robertson ended up recording three outs and throwing 15 pitches anyway, but not before he missed out and over the plate with a fastball that Dayan Viciedo hit for a go-ahead three-run homer. Girardi's strength as a manager is his bullpen management, but there were just some weird decisions made in this one. If Robertson was available then use him to start the inning so he has a clean slate. He's been off the DL for two weeks now, if they still have reservations about using him on back-to-back days then they should probably ask themselves if they rushed him back before he was ready.

Hard Contact
Ivan Nova's pitching line — 7.1 IP, 6 H, 1 R, 1 ER, 3 BB, 5 K, 6/9 GB/FB — looks an awful lot better than how he actually pitched. The White Sox made a ton of hard contact against him, especially early in the game. Nova escaped a first and third with no outs situation in the fourth because A.J. Pierzynski scorched a line drive right at Robinson Cano for a double play, Mark Teixeira made a diving stop to end the third, and Derek Jeter made a nice leaping catch in the fifth. If you watched the game on television, you saw an awful lot of 14 because Curtis Granderson had his back turned and was running down balls hit to deep center all night.
That said, sometimes a starting pitcher won't have his best stuff and he has to fight through it. This was one of those games for Nova and he got some serious help from his defense. You need that sometimes during a 162-game season. Outside of Alejandro De Aza, who went 4-for-4 with a solo homer off Nova, Ivan kept the Yankees in the game and made pitches when he had too. Not everything needs to be micro-analyzed, Nova got lucky a number of times and that's that.
Leftovers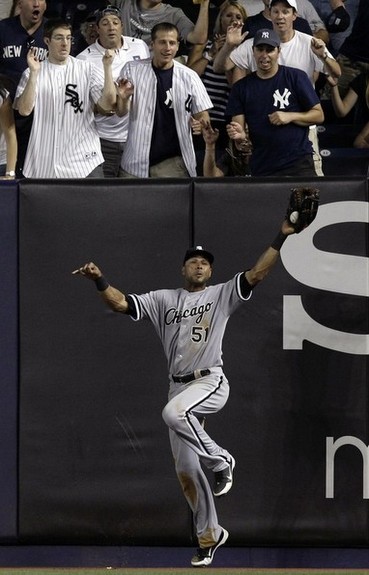 The Yankees scored their first two runs on back-to-back doubles by Alex Rodriguez and Cano in the fifth before Teixeira plated an insurance run with a solo homer in the eighth. It wasn't enough insurance, unfortunately. Scoring two runs in seven innings off some guy named Dylan Axelrod is quite annoying.
The top five hitters in the lineup went a combined 6-for-20 with three doubles and a homer while the other four hitters mustered just two singles and two walks in 16 trips to the plate. Granderson stole a base early in the game but I through Dewayne Wise waited to long to steal in the ninth. When you lead off the inning with a single down a run, you have to get to second as soon as possible so everyone else has as many chances to drive you in as possible.
Robertson and Rapada really blew it in the ninth, but Boone Logan — three-pitch strikeout of Adam Dunn — and Cody Eppley — four-pitch strikeout of Paul Konerko — really took care of business with the tying run in scoring position in the eighth. Eppley did allow a leadoff single to Alex Rios in the ninth, but Rapada muffed the double play ball.
The video isn't up on MLB.com yet, but the Yankees visited a nursing home with Glamour Gals for Thursday's HOPE Week event. Glamour Gals is an organization of volunteers who visit and spend time with seniors in nursing homes, building relationships with people who are easily neglected. Here's the HOPE Week video archive, I'm sure the clip will be posted sometime overnight.
Box Score, WPA Graph & Standings
MLB.com has the box score and video highlights, FanGraphs the nerd score, and ESPN the updated standings. The good news is that every AL East team other than the Red Sox lost on Thursday, so the Yankees didn't see their lead in the division shrink. Boston is playing the Mariners out on the West Coast and is six back in the loss column anyway.

Source: FanGraphs
Up Next
Game two of this four-game set will feature two pitchers who spent last season in the Yankees' farm system. Adam Warren will make his big league debut for New York against the left-handed Jose Quintana, who signed with the ChiSox as a minor league free agent this past offseason. Check out RAB Tickets if you want to head up to the Stadium on Friday night.