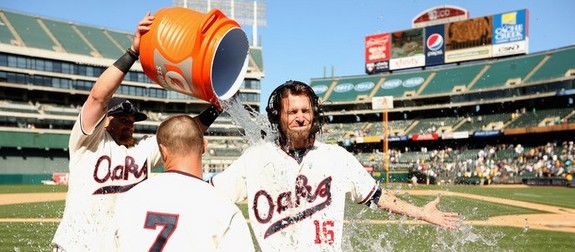 It all started with the trip out to Oakland. The Yankees were in fourth place with a 23-21 record when they arrived at the Coliseum in late-May, but they swept that series and have since won 34 of 47 games to vault into first place in the division. This weekend they'll be in the East Bay for a four-game set.
What Have They Done Lately?
The A's are on fire. They walked off with a win over the Rangers yesterday and have won four of five since the All-Star break. If you back to the first of the month, they've won ten of their last 12. At 47-44 with a +13 run differential, Oakland is in third place in the AL West and is right in the mix for one of the two Wild Card spots.
Offense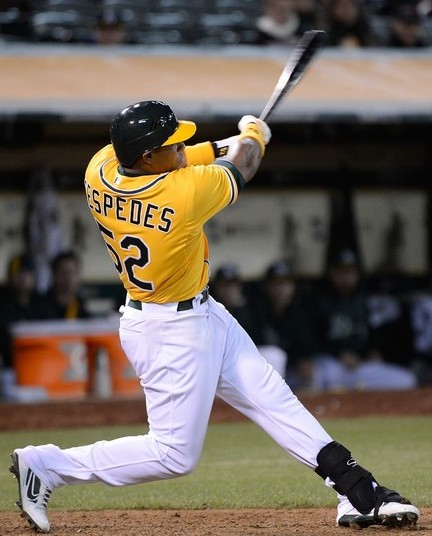 Although they average just 3.8 runs per game, the A's have scored 51 runs during this 12-game hot streak (4.3 per game). Their best hitter all season has been Josh Reddick (140 wRC+), who leads the club in every meaningful offensive statistic. Big money signing Yoenis Cespedes was out with a hand injury the last time these two clubs met, but he's healthy now and brings 134 wRC+ to the cleanup spot. It's been a while since they've had a middle of the order that powerful; you probably have to go back to the Milton Bradley/Frank Thomas/Nick Swisher trio in 2006.
Recent call-ups Brandon Moss (159 wRC+ in 104 PA) and Chris Carter (243 wRC+ in 36 PA) have hit the snot out of the ball lately, adding some depth to the lineup. Seth Smith (128 wRC+ vs. RHP) and Jonny Gomes (146 wRC+ vs. LHP) form a mean DH platoon while Coco Crisp (80 wRC+) is flanked by Reddick and Cespedes in the outfield. Infielders Jemile Weeks (75 wRC+), Brandon Inge (68 wRC+), and Cliff Pennington (53 wRC+) haven't done much of anything, ditto backstops Kurt Suzuki (40 wRC+) and Derek Norris (56 wRC+). Spare infielder Brandon Hicks (49 wRC+ in limited time) hit the walk-off dinger yesterday.
Pitching Matchups
Thursday: RHP Freddy Garcia vs. RHP A.J. Griffin
A former college reliever turned starter, Griffin will be making his fifth career big league start tonight. He's pitched to a shiny 2.63 ERA (4.65 FIP) in his first four starts (24 IP) with less than stellar rate stats: 6.00 K/9 (17.2 K%), 2.25 BB/9 (16.5 BB%), 1.50 HR/9, and 39.4% grounders. My expert analysis says his .194 BABIP will correct at some point. The 24-year-old sits right around 90 with his four-seamer fastball, but his upper-60s (!) curveball is his bread-and-butter. Here, check it out. Griffin also throws low-80s sliders and changeups.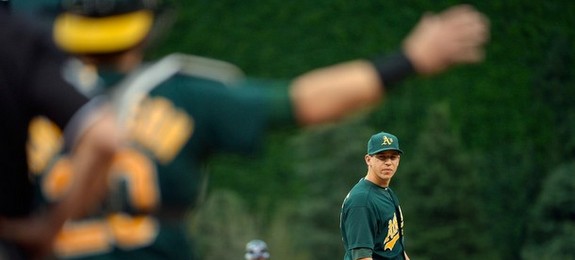 Friday: RHP Ivan Nova vs. LHP Tommy Milone
The Yankees didn't do anything to debunk the whole "can't hit soft-tossing lefties they've never seen before" narrative by scoring just two runs off Milone in 6.2 innings back in April. Part of the Gio Gonzalez trade, Milone owns a 3.54 ERA (4.29 FIP) in 18 starts this season, relying on control (2.05 BB/9 and 5.5 BB%) more than anything else. He doesn't strike guys out (5.98 K/9 and 16.2 K%), doesn't limit homers (1.26 HR/9), and doesn't get ground balls (39.4%). A mid-to-upper-80s fastball sets up a wide array of offspeed pitches, including a changeup right around 80, a mid-70s curve, and a mid-80s cutter. The changeup is his top secondary pitch and he has a reverse split because of it, so stacking the lineup with righties only helps him out.
Saturday: RHP Phil Hughes vs. RHP Jarrod Parker
Everyone's talking about Mike Trout and rightfully so, but Parker is having himself one helluva rookie campaign as well. The 23-year-old right-hander came over from the Diamondbacks in the Trevor Cahill trade and has pitched to a 3.16 ERA (3.49 FIP) in 91 innings across 15 starts. His strikeout rate is solid (7.02 K/9 and 18.9 K%) and he limits homers (0.40 HR/9), but he will walk guys (4.05 BB/9 and 10.9 BB%) and give up fly balls (39.3% grounders). Parker works off his two low-to-mid-90s fastballs (two and four-seamer) and mixes in low-80s changeups and sliders. The Yankees have never seen him and he's had some really good starts against good teams — like this one, this one, and this one — so this will be an interesting one.
Sunday: LHP CC Sabathia vs. RHP Bartolo Colon
The Yankees tagged their former teammate for six runs in six innings back in May, but otherwise Colon has provided the A's with a 3.88 ERA (3.99 FIP) in 111.1 innings this year. His strikeouts (5.50 K/9 and 14.6 K%) are way down from last year, though his ground ball (47.7%) and walk (1.46 BB/9 and 3.9 BB%) rates have improved to help mitigate the damage. Bartolo remains a fastball-only pitcher, though he's mostly low-90s with a four-seamer and upper-80s with the two-seamer now. Those 95s and 96s of last year are a thing of the past. Colon will break out a low-90s slider and low-80s changeup but very rarely. Handful of times per start, if that.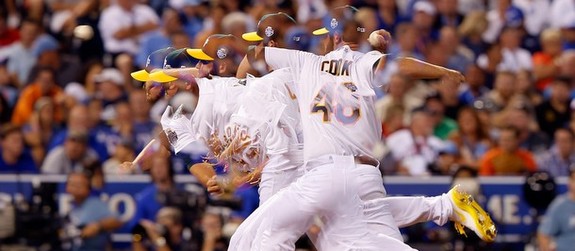 Bullpen Status
Manager Bob Melvin ran through half his bullpen yesterday, including closer Ryan Cook (2.77 FIP), right-handed setup man Grant Balfour (3.63 FIP), and left-handed setup man Sean Doolittle (0.76 FIP in limited time). The recently recalled Evan Scribner (2.37 FIP) has pitched his way into higher leveraged work despite only making seven appearances. Lefty Jordan Norberto (4.15 FIP) is more of a multi-inning guy than a specialist while Jerry Blevins (3.89 FIP) is that one batter matchup southpaw. Right-hander Jim Miller (4.47 FIP) rounds out the seven-man bullpen. Oakland had Monday off and none of their relievers have pitched in even two straight games, so the bullpen is fresh.
The Yankees' relief corps got a much needed break yesterday thanks to Hiroki Kuroda's rain-shortened complete game. The late-game guys, particularly Rafael Soriano, had been worked pretty hard since the All-Star break. Check out our Bullpen Workload page for exact reliever usage and both Athletics Nation and Beaneball for the latest and greatest on the Athletics.