The Yankees have Rays have already played three different series this season, with Tampa taking the first three games but New York rebounding to win four of the last six. Believe it or not, the Yankees have not won a game at Tropicana Field since last July, a span of seven games.
What Have They Done Lately?
The Rays are reeling, having just lost three of four to the Tigers and six of their last seven overall. They've also won just nine of their last 26 home games, if you can believe that. Tampa is 41-38 overall with a -1 run differential, both the second worst in the AL East.
Offense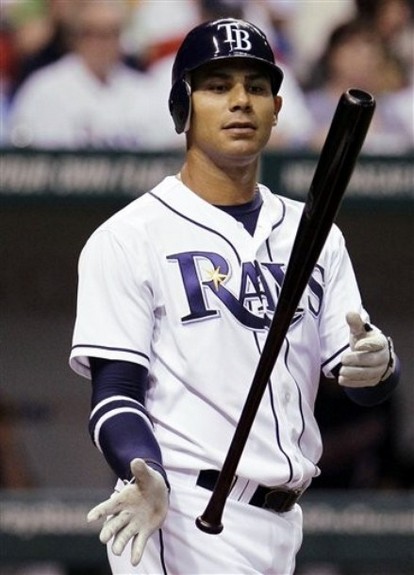 A slightly below average offensive team at 4.12 runs per game overall, the Rays have scored two or fewer runs six times in their last dozen games. I suppose that's what happens when your two best hitters — Evan Longoria and Matt Joyce — are on the disabled list at the same time. The most productive hitter on their active roster right now is Ben Zobrist (129 wRC+), who joins Jeff Keppinger (124 wRC+ in 124 PA) and Elliot Johnson (109 wRC+ in 205 PA) as their only three above average contributors. Carlos Pena (101 wRC+) has been essentially league average.
Tampa hasn't gotten a ton out of Desmond Jennings (95 wRC+) or B.J. Upton (86 wRC+), both of whom have visited the DL at different times this season. Luke Scott (83 wRC+) just came back from injury to take over DH duties from Hideki Matsui (40 wRC+), who will probably get the Ol' Yeller treatment soon. Random infielders like Sean Rodriguez (63 wRC+), Will Rhymes (45 wRC+), and Brooks Conrad (39 wRC+) fill out the roster while catching duties fall on the shoulder of two Joses — Lobaton (80 wRC+) and Molina (70 wRC+). Overall, the Rays have hit just .220/.305/.365 at the Trop this year. Kinda hard to believe a team could hit so poorly in its home park.
Pitching Matchups
Monday: RHP Freddy Garcia vs. LHP Matt Moore
Moore made his first career start against the Yankees last season, striking out 11 in five scoreless innings. He's been much more human this year, pitching to a 4.19 ERA (4.47 FIP) in 88 innings across 15 starts. The strikeout rate (9.20 K/9 and 23.6 K%) is fantastic, but the walk (4.30 BB/9 and 11.0 BB%), homer (1.33 HR/9), and ground ball (40.2%) numbers aren't all that impressive. The 23-year-old southpaw throws some of the easiest mid-90s cheese you'll ever see, and he backs up the fastball with a mid-80s changeup and a low-80s slider. Oddly enough, left-handed batters have tattooed Moore for a .398 wOBA this season with nearly as many walks (11) as strikeouts (12). It's a small sample (83 batters faced) thing and unlikely to continue going forward, but it's very weird.

Tuesday: RHP Ivan Nova vs. RHP Jamie Shields
The Yankees have already seen Shields three times this season, getting to him twice (5 IP, 6 R on Opening Day and 5 IP, 7 R in early-June) with another okay game (6 IP, 3 R in early-May) mixed in. He's allowed four or more runs in four of his last six starts and in six of his last nine starts, contributed to his 4.04 ERA (3.70 FIP). Shields currently owns career bests in strikeout (8.51 K/9 and 21.5 K%) and ground ball (53.6%) rates but a career worst walk rate (2.75 BB/9 and 7.0 BB%). He's also giving up a decent amount of homers (1.03 HR/9). Shields will pitch backwards with six pitches, setting up his three fastballs — low-90s two-seamer, four-seamer, and cutter — with three offspeed pitches — mid-80s changeup, low-80s curve, and upper-80s slider. You folks all know how good he can be by now, we've seen him enough through the years.
Wednesday: RHP David Phelps vs. LHP David Price
Like Shields, the Yankees have seen Price three times this season — 6.1 IP, 2 R in April, 7 IP, 5 R in May, and 5 IP, 1 R in June. His overall season performance is borderline Cy Young caliber, a 2.92 ERA (3.42 FIP) with strong strikeout (8.34 K/9 and 22.8 K%), walk (3.01 BB/9 and 8.2 BB%), and ground ball (54.2%) rates. Price has as added a low-90s cutter this year and uses it to freeze right-handed batters with called strikes outside. It looks like this and is basically unhittable. He'll still use mid-90s two and four-seamers to go along with his low-80s changeup, upper-80s slider, and upper-70s curveball. Again, you folks know how good Price can be. He's no stranger.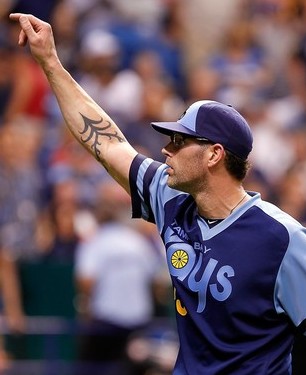 Bullpen Status
The Rays welcomed former Yankee Kyle Farnsworth back over the weekend, and he's now setting up annoyingly good closer Fernando Rodney (1.97 FIP). It's a big help with Joel Peralta (4.00 FIP) stinking up the joint (and getting suspended for having pine tar in his glove). Lefty setup man Jake McGee (2.15 FIP) pitched yesterday and in four of the last five days, so he might be on the shelf tonight. Ditto middle man Wade Davis (3.63 FIP), who has appeared in two straight. Rodney pitched yesterday as well. The rest of Joe Maddon's bullpen features ground ball specialist Burke Badenhop (4.29 FIP) and soft-tossing left-hander J.P. Howell (4.92 FIP). Pretty much an Island of Misfit Relievers cast of characters.
Joe Girardi's bullpen is in pretty good shape after getting eight innings out of Phil Hughes on Sunday and seven out of Hiroki Kuroda on Saturday. Former Ray Rafael Soriano has pitched in two straight games, so he might be working at a reduced level of effectiveness tonight if he's even available. Everyone else is good to go though; check out our Bullpen Workload page for the exact details. For everything you need to know on the Rays, the best place to go is DRays Bay.