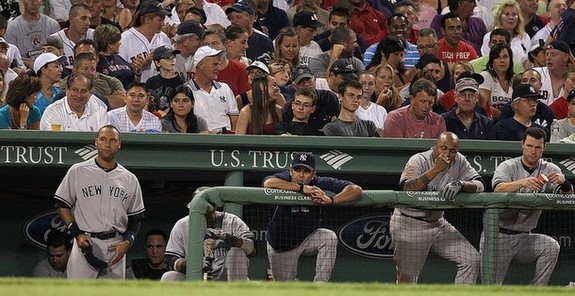 The Yankees looked like a team playing their third game in 28 hours last night, botching routine plays and making lots of foolish mistakes. Hopefully that won't be the case tonight after some rest earlier today. New York has a chance to win the series, putting the Red Sox in a ten-game hole heading into the All-Star break. With all that rest on tap next week, Joe Girardi can work David Robertson and Rafael Soriano a little harder than usual and the players can just go all-out without having to worry about tomorrow. Here's the lineup…
SS Derek Jeter
CF Curtis Granderson
1B Mark Teixeira
3B Alex Rodriguez
DH Robinson Cano
RF Nick Swisher
LF Andruw Jones
2B Jayson Nix
C  Chris Stewart
RHP Ivan Nova
The game is scheduled to start a little after 8pm ET and can be seen on ESPN and ESPN3.com. Enjoy.
CC Sabathia Update: Sabathia (groin) had no problems during today's bullpen session. He'll throw another bullpen on Tuesday and will follow up with a simulated game on Friday. Hooray for that.
Brett Gardner Update: Gardner (elbow) hit off a tee today but still has a long way to go in his rehab. Hitting in the cage and then on the field in batting practice are the next two steps before a minor league rehab stint becomes realistic.
Rotation Update: Joe Girardi announced that Hiroki Kuroda will start the first game after the All-Star break and be followed in order by Freddy Garcia, Ivan Nova, and Phil Hughes. If all goes well during Sabathia's simulated game, he'll return to the rotation and start the fifth game.