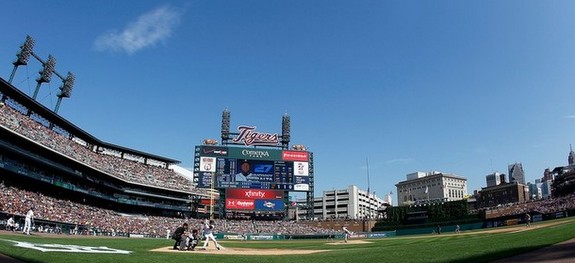 The Tigers knocked the Yankees out of the ALDS last season, though the Bombers have taken care of business against Detroit this year by winning four of six games. They're headed back to MoTown for four games this week, the last time they'll see the Tigers in 2012 barring another potential postseason matchup.
What Have They Done Lately?
Detroit just took three straight from the hard-falling Indians, scoring five runs in the bottom of the tenth for the walk-off win yesterday. They've won four straight overall, but prior to that they'd lost five of six. At 58-50 with a +24 run differential, the Tigers just can't seem to get over the AL Central hump and currently sit two back of the White Sox in the loss column.
Offense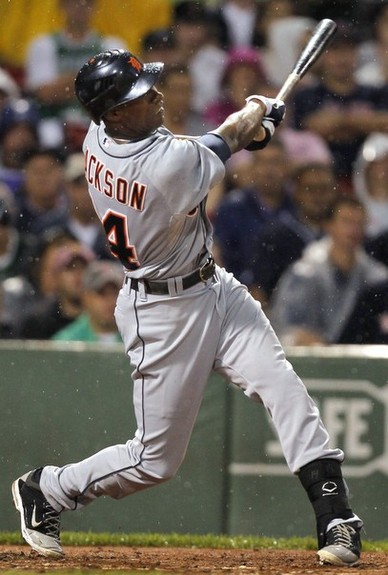 Any team with both Miguel Cabrera and Prince Fielder is going to score a boatload of runs, and sure enough the Tigers have averaged 4.6 runs per game this year. Miggy (157 wRC+) and Prince (141 wRC+) have been hitting the snot out of the ball as usual, but former Yankees farmhand Austin Jackson (153 wRC+) should not be lost in the mix. He's having a breakout season and is easily the best leadoff hitter in the game not named Mike Trout.
The rest of the offense after those three can be a little sketchy, though Andy Dirks (148 wRC+) and Quintin Berry (120 wRC+) have performed very well in limited time — Dirks just came off the DL and Berry started the year in the minors. Alex Avila (101 wRC+) and Jhonny Peralta (101 wRC+) have both been league average with the stick, ditto the recently acquired Omar Infante (104 wRC+) for all intents and purposes. Delmon Young (83 wRC+), Brennan Boesch (79 wRC+), Ramon Santiago (63 wRC+), Danny Worth (63 wRC+), and backup catcher Gerald Laird (104 wRC+ in limited time) are slightly less intimidating. The one thing the Tigers will not do offensively is steal bases — Jackson and Berry are the only guys on the team with more than four steals and they're at 10 and 15, respectively.
Pitching Matchups
Monday: RHP Ivan Nova vs. RHP Justin Verlander
The Tigers have won 13 of Verlander's 22 starts this season, but two of the losses have come at the hands of the Yankees. They tagged him for five runs in six innings in the walk-off passed ball game, then for five runs in 6.1 innings in the Phil Hughes complete game. Other than that, Verlander is pretty awesome. He's pitched to a 2.63 ERA (3.11 FIP) with dynamite strikeout (8.51 K/9 and 24.2 K%) and walk (2.24 BB/9 and 6.4 BB%) rates to go along with a mediocre ground ball rate (40.5%). It's a lot of weak pop-ups though, don't get too excited. Verlander averages 94.5 mph with the fastball but will start the game in the low-90s and ramp it up to the high-90s and triple-digits in the late innings. His mid-80s slider, mid-80s changeup, and upper-70s curve are among the very best offspeed pitches in the world. The Yankees have beaten him twice this year, a third time would be very cool.

Tuesday: RHP Phil Hughes vs. RHP Rick Porcello
It's easy to forget that Porcello is only 23 years old despite several disappointing years in the big leagues. He owns a 4.65 ERA (3.62 FIP) with a career-high strikeout rate (5.39 K/9 and 13.5 K%) to go with solid walk (2.29 BB/9 and 5.8 BB%) and ground ball (52.9%) numbers. The Jersey kid relies heavily on his low-90s two-seamer but will also use a low-90s four-seamer to setup a mid-80s slider and a low-80s changeup. He'll break out an upper-70s curveball on the rarest of occasions. Porcello held the Yankees to one run in six innings in his only start against them earlier this year, but they've seen him enough times through the years.
Wednesday: LHP CC Sabathia vs. RHP Anibal Sanchez
Acquired from the Marlins prior to the trade deadline, Sanchez has thrown one dud (five runs in six innings) and one strong start (two runs in six innings) since joining the Tigers. The 28-year-old free agent-to-be has posted a 3.99 ERA (3.68 FIP) overall this season with rock solid peripherals — 7.98 K/9 (21.1 K%), 2.57 BB/9 (6.8 BB%), and 47.3% grounders. Sanchez is very offspeed heavy, using his low-90s two and four-seamers a touch more than 40% of the time. Sliders and changeups in the mid-80s are his offspeed weapons of choice, and he'll occasionally mix in an upper-70s curveball. It's worth noting that Sanchez has a substantial reverse split this season (.359 wOBA for RHB, .285 for LHB), something that has held true in recent years but not quite his significantly.
Thursday: RHP Hiroki Kuroda vs. RHP Doug Fister
Fister missed a bunch of time in the first half with an oblique strain and a subsequent setback, though he's allowed no more than one earned run in four of his last five starts. His 3.52 ERA is backed up by a 3.21 FIP, and he does it mostly by limiting walks (1.81 BB/9 and 4.9 BB%) and getting grounders (50.5%). The 7.68 K/9 (20.8 K%) is a career-high but strikeouts usually aren't his thing. Let's see if it lasts. Fister is a true five-pitch pitcher, using two and four-seamers in the upper-80s as well as a mid-80s slider, a low-80s changeup, and a mid-70s curveball. He uses all five pitches at least 15% of the time, so a big part of his success comes from keeping hitters guessing. The Yankees haven't seen Fister since the ALDS.

Bullpen Status
The Indians did the Yankees a solid yesterday, pushing Tigers manager Jim Leyland to use his bullpen heavily in the extra-innings win. Setup man Joaquin Benoit (4.12 FIP) gave up two homers in 1.1 IP (22 pitches) and lefty specialist/former Yankee Phil Coke (3.51 FIP) threw 30 pitches across 1.1 IP. The recently recalled Darin Downs (2.99 FIP in limited time) needed 20 pitches to record two outs. Right-handers Brayan Villarreal (2.25 FIP) and Octavio Dotel (1.78 FIP) also pitched yesterday, though closer Jose Valverde (3.98 FIP) and lefty long man Duane Below (3.66 FIP) did not. I suppose it's not out of the question that they'll send down Downs in favor of a fresh arm today, but who knows.
The Yankees are in decent bullpen shape even though Freddy Garcia only went five innings yesterday. Both Boone Logan and David Robertson have pitched in two straight days and could be unavailable tonight, potentially leaving setup duties in the hands of David Phelps and I suppose Joba Chamberlain. Check out our Bullpen Workload page for the full details, and check out Tiger Tales and Bless You Boys for the latest and greatest on the Tigers.