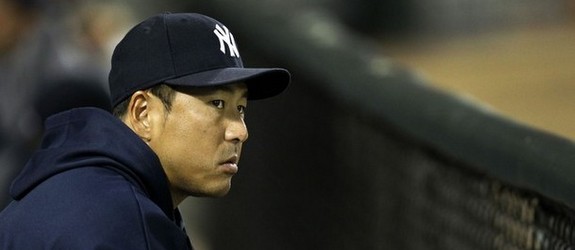 The Yankees welcomed their ace left-hander back to the rotation last night, and tonight they have their ace right-hander on the mound. Hiroki Kuroda has been one of the very best pitchers in all of baseball this season — sixth most valuable pitcher overall in bWAR — and he's been especially dominant of late, allowing no more than two earned runs in six of his last seven starts and no more than one earned run in five of his last seven starts. It's been some run, let me tell you.
The Rays already lost to the Athletics, so the Yankees are guaranteed to lose no ground in the standings regardless of what happens tonight. Of course, I would prefer to see them stretch that AL East lead a little bit. Here's the starting nine…
SS Derek Jeter
RHP Nick Swisher
2B Robinson Cano
1B Mark Teixeira
CF Curtis Granderson
3B Eric Chavez
C  Russell Martin
DH Raul Ibanez
LF Ichiro Suzuki
RHP Hiroki Kuroda
Today's game is scheduled to start a little after 7pm ET and can be seen on YES locally and MLB Network nationally. Enjoy.
CC Sabathia Update: Just in case you were wondering, Sabathia told reporters that he feels fine and had no problems with his elbow the day after his first start off the DL. He went through his regular between-start routine without a problem.
Rotation Update: David Phelps, who was available last night in the bullpen, will start on Monday against the Blue Jays. Thursday's off-day gave the Yankees a little flexibility this week, and they've opted to give Phil Hughes an extra day of rest rather than start him on normal rest against Toronto.