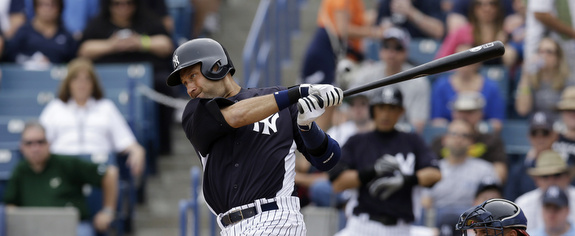 This afternoon's Grapefruit League game against the Cardinals is notable for two reasons. First, Derek Jeter is back in the lineup as the DH just two days after making his Spring Training. I wondered if the Yankees would give him two or three days between games — even just as the DH — following his late-October ankle surgery, so I suppose playing again so soon is an indication he and his ankle are feeling well.
Secondly, Ronnie Mustelier is at third base again. It will be his fourth game at the hot corner since Mark Teixeira's wrist injury, and the Yankees have admitted they are giving him a look at the position prior to Opening Day. Will it work? Who the hell knows. It is certainly worth a shot though. Here's the starting lineup…
LF Brett Gardner
DH Derek Jeter
RF Ichiro Suzuki
1B Kevin Youkilis
SS Eduardo Nunez
C Chris Stewart
2B Corban Joseph
3B Ronnie Mustelier
CF Slade Heathcott
On the mound is New York's top right-hander, Hiroki Kuroda. Here are the second stringers, courtesy of Chad Jennings.
Available Pitchers: RHP David Robertson, RHP Joba Chamberlain, RHP Shawn Kelley, RHP Cody Eppley, RHP Dellin Betances, and LHP Francisco Rondon will all come out of the bullpen. Robertson is notable given his recent shoulder scare.
Available Position Players: C J.R. Murphy, 1B Luke Murton, SS Addison Maruszak, 3B Jose Pirela, LF Matt Diaz, CF Ramon Flores, RF Zoilo Almonte, and DH Travis Hafner are all scheduled to come off the bench.
This afternoon's game is scheduled to start a little after 1pm ET and can be seen on YES, ESPN, and MLB.tv (no local blackout). Lots of viewing options today. Enjoy the game.