This one had ugly potential and you know exactly what I'm talking about. The starter struggled early and the offense hasn't done much of late, so for a while it looked like we would all be tuning into the NFL Draft by the middle innings. Instead, the Yankees mounted a comeback and held on to take the series opener from the Blue Jays by the score of 5-3.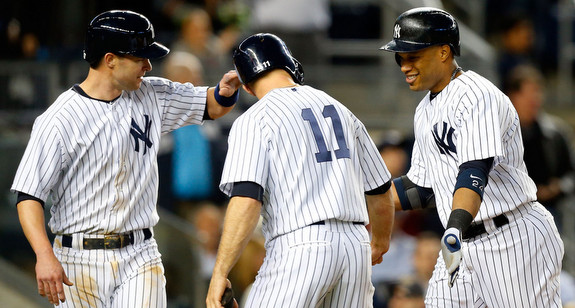 What They Do Best
The Yankees were held to five runs and just one extra-base hit during the three games against the Rays earlier this week, but they got back to pounding the ball against left-hander Mark Buehrle in the series opener against the Jays. Vernon Wells continued to pummel both his former team by clubbing a second inning solo homer to straight-away center field and into Monument Park. Frankie Cervelli continued to show surprising power with a solo homer to left in the fourth inning — he fell behind in the count 0-2, worked it full, fouled off two two-strike pitches, then homered — but it was what happened between the solo dingers that made the difference.
The third inning started innocently enough with a Lyle Overbay strikeout, by Jayson Nix got the rally started with an infield single to the shortstop. Brett Gardner followed with another infield-ish single as the ball glanced off the second baseman's glove and into very shallow center. Ben Francisco flied out harmlessly to left for the second out, which I considered a positive result. Francisco's been terrible this year and anything that didn't end the inning (i.e. a double play) was a win for the Yankees.
So, anyway, that brought Robinson Cano to the plate with two outs and two on. He took a first pitch fastball on the inner third for a strike, but then Buehrle fed him three straight … cutters? sliders? junkballs? who knows … down and away that were ruled balls. They were very borderline pitches I thought. Buehrle and catcher J.P. Arencibia talked out the next pitch, which ultimately was the same as the first, a fastball on the inner half. Cano pulled his hands in and yanked the ball deep to right for a three-run homer that turned a two-run deficit into a one-run lead. No-doubter, gone off the bat. Not many hitters can hit that pitch that far and keep it fair, but then again not many hitters are Robinson Cano.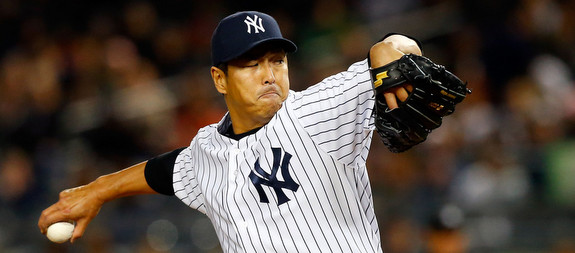 My Kingdom For A Scoreless First Inning
For the 11th time overall and sixth time in the last eight games, the Yankees surrendered runs in the very first inning. Hiroki Kuroda did the honors on Thursday, coughing up a two-run homer to Edwin Encarnacion as part of an ugly inning that included four hits and a walk. Kuroda allowed a solo homer and a double in the second inning before settling down and throwing four more scoreless innings. He retired 13 of the final 14 men he faced, and the one base-runner reached when Overbay booted a routine ground ball at first.
This was a classic grind-it-out start for Kuroda, who threw 65 strikes out of 103 total pitches (63%). More than a few of those pitches were up in the zone or way wide, especially early on. Kuroda's command wasn't sharp and his splitter tumbled more than it fell off the table, so this was a tough one. He hung in and gave the team six innings rather than folding after two though, something the Yankees have seen their starters do more than they would like of late. It certainly wasn't pretty, but three runs in six innings is plenty good considering how ugly things were early on.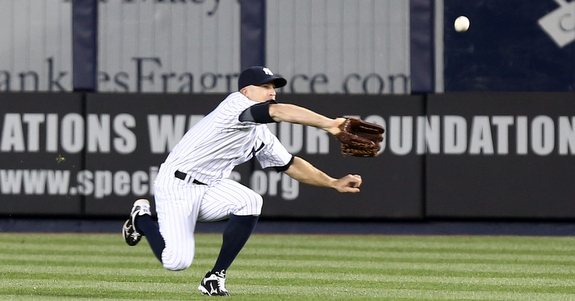 Leftovers
The Blue Jays had just two base-runners after the second inning — the Overbay error in the fourth and an infield single off Joba Chamberlain's barehand in the seventh. Joba, David Robertson, and Mariano Rivera finished things off in relief of Kuroda and were all pretty dominant. Very excellent job by the bullpen in this one. Joba was fine, by the way.
Nix and Ichiro Suzuki were the only Yankees with multiple hits, and they had two singles a piece. Nix also made two very nice plays at third base on hard-hit balls to his right, ranging before making a strong throw to first. Ichiro stole a base, his first of the season. BGardner made a very nice diving (lunging, really) catch to go with his single and walk. Overbay was the only Yankee who failed to reach base.
The Yankees had runners at first and second with one out in the sixth, seventh, and eighth innings, and not only did they fail to score any tack-on runs, but they didn't even manage to advance those runners to third base. Nitpicking, I know, but it was still annoying. They do remain undefeated (7-0) when scoring at least five runs this year, so that's cool.
We saw something in this game we almost never see: the umpires changed their call on a bang-bang play at first base after having a conference. Francisco tried to bunt for a hit and although the throw beat him to first, the umpires felt Edwin Encarnacion bobbled the low throw. First base ump Chad Fairchild must have originally thought he snowconed it. Honestly can't remember the last time I saw a call on a bang-bang play at first overturned like that. Never happens. So weird.
Cano fouled a pitch off his right foot in the first inning, right off the toes, but he remained in the game after being looked at my trainer Steve Donohue between innings. He was walking gingerly just a bit after that but played the rest of the game without a problem. Bullet dodged.
The Yankees have allowed 87 total runs this season, and 18 of those 87 have come in the first inning (21%). They haven't allowed more than 13 runs in any other inning. Is it a sample size thing? Will this even out as the season progresses? Do they need to change their game plans the first time through the order? Who knows, but that has to stop. They can't keep playing from behind every night.
Box Score, WPA Graph & Standings
That's a solid graph. Love them comebacks. MLB.com has the box score and video highlights, FanGraphs some other statistics, and ESPN the updated standings.

Source: FanGraphs
Up Next
Same two teams will play game two of this four-game set on Friday night, when Ivan Nova gets (yet) another opportunity to prove he belongs in a big league rotation. Right-hander Josh Johnson will be on the bump for the Blue Jays. RAB Tickets is the place to go for last-minute ticket deals.