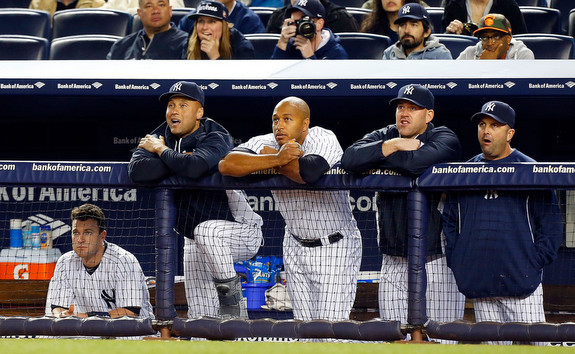 I do 162 of these a year not counting Spring Training and the postseason. I'm allowed a cheesy headline once in a while.
Anyway, the Yankees will not be facing hard-throwing right-hander Josh Johnson tonight as originally scheduled. The former Marlin has a triceps issue and has been scratched, so former Yankee and slow-tossing left-hander Aaron Laffey will make the start instead. Talking about replacing someone with their polar opposite. The Yankees stink against lefties — last night's beatdown of Mark Buehrle aside — but I'd much rather see them face Laffey than Johnson. No doubt about it. Here's the starting lineup…
CF Brett Gardner
3B Jayson Nix
2B Robinson Cano
LF Vernon Wells
C Frankie Cervelli
RF Ichiro Suzuki
SS Eduardo Nunez
LF Lyle Overbay
DH Ben Francisco
And on the mound is the man an awful lot on the line, right-hander Ivan Nova. His leash is getting shorter by the start and he absolutely needs to start pitching well if he wants to remain in the rotation. Everyone's patience is starting to wear thin.
Lovely weather in New York tonight, great for baseball. The game is scheduled to start a little after 7pm ET and can be seen on YES locally and MLB Network nationally. Enjoy.
Kevin Youkilis Update: Youkilis (back) still isn't ready to rejoin the lineup. Joe Girardi indicated he could be placed on the DL if he isn't able to play in tomorrow's game.
Mark Teixeira Update: Teixeira (wrist) is still limited to dry swings right now. He has not been cleared to hit off a tee or anything like that.