The first winning streak of the new season has come to an end, as the Orioles beat the Yankees in a mostly forgettable Saturday matinee. Unlike Friday night, there were no catastrophic dropped fly balls by Adam Jones or triple plays turned by all four infielders, it was a rather generic 5-3 loss.
Phooling No One
The Orioles pounded Phil Hughes and there was no silver lining at all. He faced 19 hitters and allowed three doubles, three homers, three singles (one off the wall), and two walks (both on four pitches). Fourteen of the 19 hitters did see a first pitch strike, but only one of his 60 pitches generated a swing and a miss (1.7%). That's awful. Hughes had nothing working and the Baltimore hitters did a good job of making sure everyone knew. He was throwing batting practice.
At this time last year I was practically begging the Yankees to pull Phil from the rotation and stick him back in the bullpen, but they didn't listen and were rewarded with the strong final 20-something starts to end the season. I've learned my lesson and won't demand Hughes to be taken out of the rotation, but the team is in a more dire situation and can't really wait around forever for him to figure it out. The division race figures to be very tight and every game is too important. I know he had the back trouble in camp and everything, but Phil is going to have to show some improvement and soon. These first two starts won't cut it.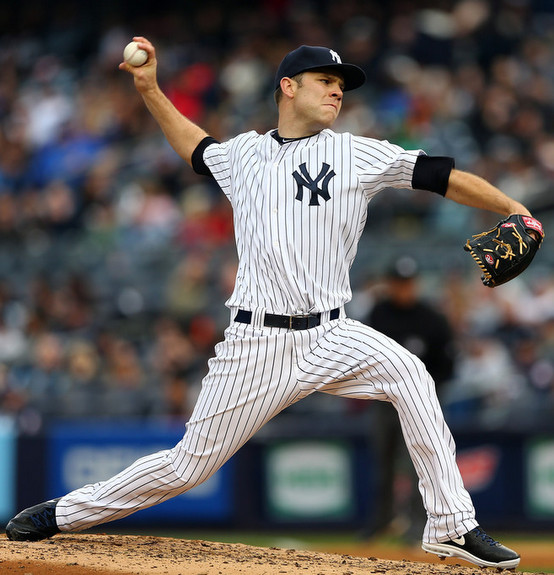 Bailed Out
David Phelps did an excellent job of cleaning up Hughes' mess in the fourth — inherited a runner on second with no outs, then escaped the inning with a grounder and two strikeouts — before throwing three more scoreless innings of his own to keep the Yankees in the game. He allowed two base runners (hit-by-pitch and a single, and the runner was thrown out at second trying to stretch it into a double) and struck out six in the four innings of work. Thirty-seven of his 55 pitches were strikes, including six swings and misses (10.9%). Couldn't ask for much more from your long reliever.
Joba Chamberlain (one single) and David Robertson (retired all three men he faced) each tossed a scoreless inning to further give the Yankees a chance to mount a comeback. All told, the bullpen allowed just three base runners (hit batsman and two singles) with no walks and seven strikeouts in six innings of work. Rock solid and exactly what the team needed.
Not Enough Offense
The Yankees actually had more opportunities to score than I realized. A Travis Hafner solo homer and a Lyle Overbay bloop single — scoring Frankie Cervelli, who was on second base following an Orioles error — led to two runs in the second before Vernon Wells hit a solo homer in the sixth. That was New York's three runs right there.
In their other seven innings, the Yankees put seven men on-base and stranded runners in scoring position in the third (runner on second, one out), fourth (first and second, one out), seventh (runner on second, two outs), and eighth (first and second, two outs). Their best opportunity came in the eighth, when pinch-hitter Brennan Boesch struck out against Darren O'Day while representing the go-ahead run with two outs. They had some chances but couldn't capitalize. So it goes.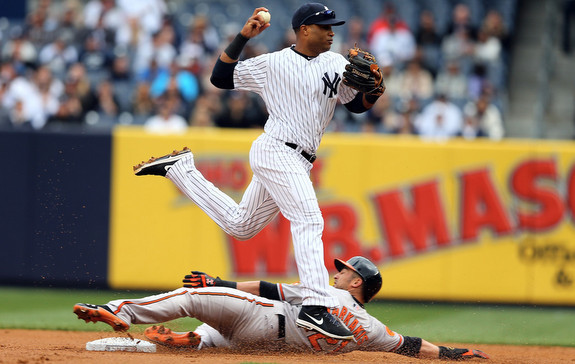 Leftovers
It wasn't nearly as fun as Jorge Posada playing second base a few years ago, but Robinson Cano spent the ninth inning at shortstop after Jayson Nix was lifted for the pinch-hitter one inning earlier. It was the first time he played any position other than second base as a big leaguer and his first time playing short since 2003, when he was in Double-A. Robbie didn't have to make any defensive plays, nor did Cervelli, who moved from catcher to second base for that one inning. That would have been fun.
Hughes allowed one run in the second inning and escaped further damage thanks to a great relay play from Ichiro Suzuki and Cano, who made a pair of quick throws to get Nate McLouth at the plate by a good ten feet for the third out. I don't know if the third base coach sent him home of if McLouth blew through the stop sign, but it was an awful decision given how terrible Hughes was pitching.
Cano stayed hot with a single and double, and he's now 11-for-19 (.579) with four doubles and three homers since the start of the Indians series. He's en fuego. Wells (homer and single), Cervelli (two singles), and Overbay (two singles) all had multiple hits as well. Brett Gardner had a drag bunt single and for the first time as a Yankee, Kevin Youkilis was held hitless. Took ten games for that to happen.
Box Score, WPA Graph & Standings
MLB.com has the box score and video highlights, FanGraphs the nerd score, and ESPN the updated standings.

Source: FanGraphs
Up Next
Rubber game on Sunday night, the ESPN game, when Hiroki Kuroda gets the ball against Wei-Yin Chen. Kuroda had an abbreviated first start due to the line drive off his fingertips and he had the really battle through 5+ innings in his second start, so hopefully he'll shake off any lingering effects and get back to being the guy we saw for most of last season. Check out RAB Tickets for last-minute ticket deals.