Well that was an incredibly satisfying series. Four games against the offseason champion Blue Jays, four wins. Love it. They should do this more often. Sunday's final score was 3-2.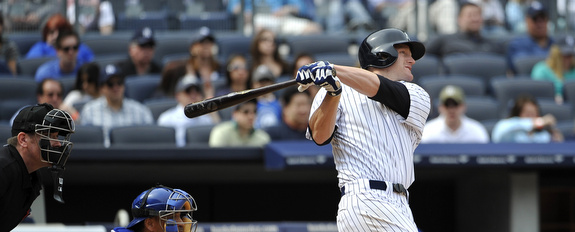 Brennan & Lyle
The Yankees used homers from Brennan Boesch and Lyle Overbay to win a game over reigning Cy Young Award winner R.A. Dickey on Sunday afternoon. Imagine if I had told you that like, 13 months ago. You would have thought I was crazy. I would have thought I was crazy. Yet, here we are.
Boesch's solo homer came in the second inning, the first time the Yankees had scored first in their last eight games. That dates back to the last series against the Blue Jays in Toronto. It was a cheap Yankee Stadium homer off the end of the bat, but Boesch hit it just well enough to clear the fence. The Yankees didn't hit much of anything with authority for the first six innings really, Dickey had them way off balance.
Five innings after the Boesch homer, the Yankees mounted their latest comeback rally, this one a simple two-run homer. Travis Hafner led off the seventh with a single to center and after two quick fly ball outs, Lyle Overbay turned on a hanging knuckleball in a 1-1 count and hit it right to David Robertson in the bullpen. I didn't think he got enough of it off the bat, yet the ball cleared the fence and suddenly the one-run deficit was a one-run lead. These come from behind wins sure are fun, even if they are a bit nerve-wracking.
InePHicient Phil
Two runs in six innings is a pretty good outing for most pitchers, but I can't help but feel like Sunday's start could have been so much better for Phil Hughes. He came out of gate throwing hard and missing bats — eight whiffs in his first three innings — but a weak-hit two-out rally in the fourth put the Blue Jays on the board. The first hit was a infield single that hugged the third base foul line, the second hit a bloop to shallow left, the third a ground ball just beyond Robinson Cano's reach at second. Three seeing-eye hits with two outs. Yuck.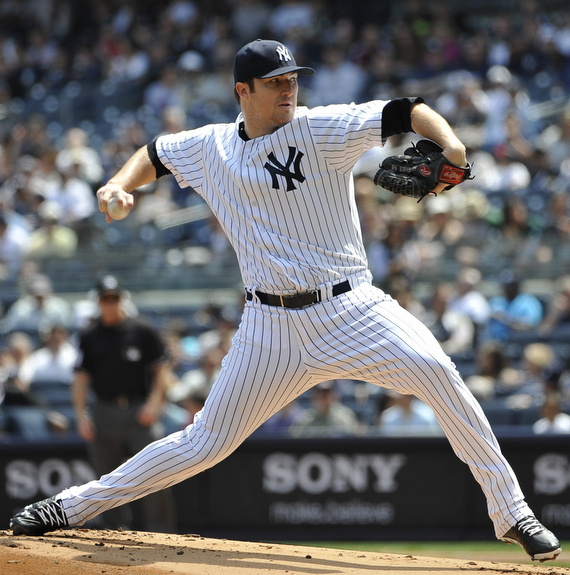 The second run was well-earned in the sense that it involved some hard-hit balls. The sixth inning rally started with a Jose Bautista leadoff double into the left field corner and ended with a two-out Maicer Izturis double into the right field corner. In between were two strikeouts, a stolen base, and an intentional walk to Adam Lind (!). The Yankees pitch to Lind like he's Barry Bonds or something. Anyway, Hughes has to get Izturis in that spot and he didn't. He's lucky it wasn't the #obligatoryhomer.
Speaking of #obligatoryhomers, this is two straight starts for Phil without one now. Last homer he surrendered was 15 innings ago, when Martin Prado took him deep. He's actually had three homerless starts out of five total this year. Hughes only had one stretch of two consecutive homer-free starts last year, and that was a stretch of three straight from late-June into the All-Star break. He's going to give up plenty of dingers, they're coming at some point, but he's been able to avoid them for two starts now. Hooray for that.
Hughes struck out nine in his six innings of work, and he was again aggressive on the mound: 76 strikes out of 111 total pitches (69%) and first pitch strikes to 16 of 26 batters faced. Not quick as ridiculous as last time out, but still pretty good. This start feels like it could have been better, but that three straight strong outings for Philbert after two dreadful starts to begin the year. I'll take it.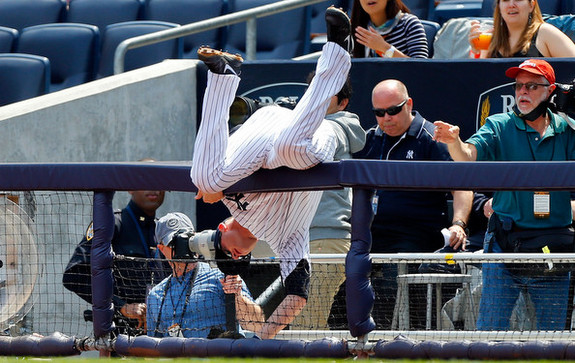 Leftovers
The Yankees only had four hits on the afternoon, two by Overbay (single and homer) and one apiece from Boesch (homer) and Hafner (single). That's it. They did draw three walks (Cano, Ichiro Suzuki, Eduardo Nunez), but Dickey kept them off balance almost all afternoon. There was an awful lot of weak contact before that seventh inning.
The bullpen was stellar, as the late-game trio of Boone Logan, Robertson, and Mariano Rivera slammed the door over the final three innings. Logan allowed a soft line drive single and that was it, no other base runners. The three combined for four strikeouts. The relief corps has really settled down after a shaky start to the season.
This was the team's first four-game sweep of the Blue Jays at home since September 1995, basically a baseball lifetime ago. In the span of six days, the Yankees have managed to beat both reigning Cy Young Award winners — remember they beat David Price in the last series against the Rays.
Box Score, WPA Graph & Standings
That's a fun graph. MLB.com has the box score and video highlights, FanGraphs some additional stats, and ESPN the updated standings.

Source: FanGraphs
Up Next
The Houston Astros, otherwise known as the worst team in the AL and arguably the worst in all of baseball, are coming to the Bronx for a three-game series. It's tough to expect a sweep against any big league team, but it goes without saying the Yankees need to take advantage and pile up some wins against Houston. Andy Pettitte and right-hander Lucas Harrell will be your Monday night pitching matchup. Check out RAB Tickets if you want to attend the game.